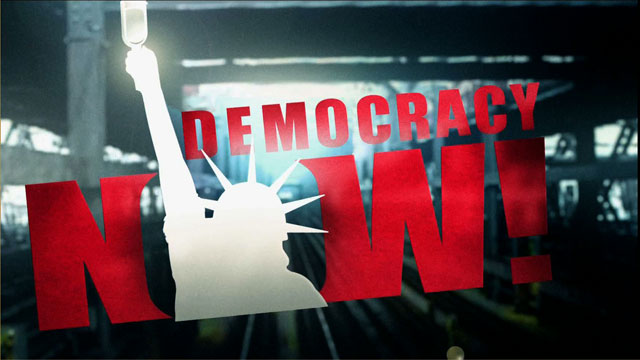 This is viewer supported news. Please do your part today.
Donate
Philadelphia Inquirer
Posted on Thu, May. 13, 2004
She's taking the watchdog to task
To journalist Amy Goodman, the American press sold out. "Mainstream media has beat the drums of war," she says.
By Tanya Barrientos Inquirer Staff Writer
Don't call Amy Goodman a member of the mass media.
Yes, she's a journalist with a daily radio and television program broadcast on more than 200 stations across the country.
Yes, she's won the prestigious George Polk Award and the coveted Robert F. Kennedy Prize for her international reporting.
But Goodman believes American journalism is corrupt. Particularly news outlets owned by giant corporations.
"In the old Soviet Union, people knew that they had to read between the lines of state-sponsored news to get to the truth," she said. "But in this country there is the illusion that there is great diversity in the media because of all the channels that are available. But who owns the media?
"Journalists are supposed to be the check and balance of government, but in America, especially during the build-up to this war, that just didn't happen," she said.
Goodman, 47, a graduate of Harvard University who lives in New York, calls herself an independent journalist searching for the unfiltered truth. Her one-hour show, Democracy Now!, is produced by Pacifica Radio, a politically progressive public radio network that describes itself as "an independent community voice for peace and justice."
The weekday current events/interview show ran for about a year on WRTI (90.1 FM) at Temple University, but was pulled off the air in 1997 when Goodman announced she would broadcast commentaries by death-row inmate Mumia Abu-Jamal. Abu-Jamal was convicted of killing Philadelphia Police Officer Daniel Faulkner in 1981, and the Fraternal Order of Police in Philadelphia protested the broadcast of the prisoner's commentaries.
Now, Goodman's radio show doesn't run on any stations in the Philadelphia area, and the televised version is shown only on the hard-to-find Drexel University cable television channel, DUTV.
But the show's low profile didn't stop almost 300 fans from coming on Tuesday to hear Goodman speak against the war in Iraq, President Bush and the corporate media.
"The mainstream media has beat the drums of war, putting retired generals on the payroll but not the leaders of the peace movement, or even doctors," she said, speaking at the Free Library of Philadelphia. "Where are the doctors talking about the injuries and the deaths?" she asked the lunchtime crowd of college-age fans and retirees.
"I believe that if for one week we saw the real face of war, the babies on the ground killed by a cluster bomb, war would be eradicated."
Speaking as part of a 70-city tour promoting her book, The Exception to the Rulers: Exposing Oily Politicians, War Profiteers and the Media that Love Them (Hyperion, $21.95), written with her brother, David, Goodman did what Goodman does best.
She questioned the objectivity of established media, which, she said, "trades truth for access." She questioned the government's motives for the war in Iraq, calling the nation's leaders an "oily-archy."
And she asked her listeners to demand different viewpoints from professionals gathering the news.
Some consider Goodman's stance controversial, but Michael Della Carpini, dean of the Annenberg School for Communication at the University of Pennsylvania, said she is carrying on the tradition of muckraking journalism.
"She's not an editorialist. She sticks to the facts. She's not a Rush Limbaugh-type who is simply letting her ideology drive what she does," he said. "She provides points of view that make you think, and she comes at it by saying, 'Who are we not hearing from in the traditional media?' "
Her fans love it.
"I'm an ardent consumer of independent media and she's one of the most important voices out there right now," said West Chester University English professor Seth Kahn, 35, who listens to Goodman over the Internet site democracynow.org.
Lawyer John Dorfman, 75, and his wife, Liz Wolf, 63, said they watch Goodman on cable TV every weekday.
"She gives us the news not sanitized by the networks," Wolf said. "We don't miss it."
For the time being, Goodman will continue to be found only on Drexel's TV channel. Harriet Goodman, a spokeswoman for Temple University, said WRTI has no plans to reinstate her program.
WHYY (90.9 FM), the city's leading public radio station, said it has no room on its schedule for Democracy Now!
For a long while, Goodman said, her skepticism about the war was seen by many as controversial.
But, she said, the release of disturbing photographs showing American soldiers mistreating Iraqi prisoners has dramatically shifted public opinion, bringing conservatives and liberals together in anger and drawing more listeners to her program.
On the day Goodman visited Philadelphia, a CNN/Gallup poll showed that for the first time since the war began, a majority of Americans felt dissatisfied with the way the war is progressing. Asked whether "it was worth going to war in Iraq," 54 percent said no.
"I think those categories–leftist, conservative, whatever–are breaking down because of what's happening," Goodman said. "You have people from across the political spectrum concerned about corporate greed and the manipulation of intelligence in this country."
And, she added, "my job is to give voice to that silenced majority."
---