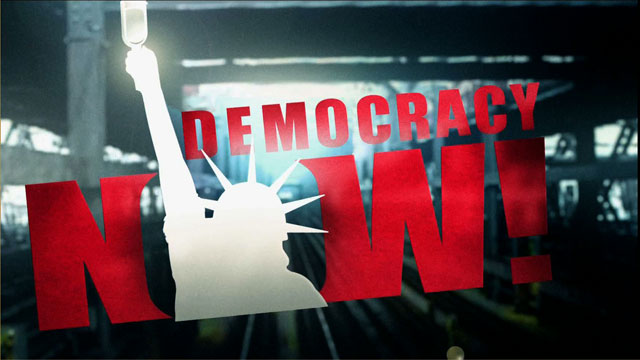 HARDBALL 3/30/05
Amy speaking about Terry Schiavo case.
TRANSCRIPT:
DAVID GREGORY: Welcome back to HARDBALL. I'm David Gregory, in for Chris Matthews tonight.
The Schiavo case has become a news staple on television, radio, in print. In a story like this, where emotions run high, has the coverage been fair? Amy Goodman is host of the liberal radio and TV snow "Democracy Now" and author of "The Exception to the Rulers: Exposing Oily Politicians, War Profiteers, and the Media That Love Them," now out in paperback. And Terry Jeffrey is here, syndicated columnist and editor of the conservative newspaper "Human Events."
Welcome, both of you.
AMY GOODMAN, HOST, "DEMOCRACY NOW": It's great to be here.
TERRY JEFFREY, EDITOR, "HUMAN EVENTS": Good to be here, David.
GREGORY: Terry, are we getting it right? Is the media getting this right on the Schiavo case?
JEFFREY: Well, you know, I think, since they disconnected her feeding tube, David, the establishment media has done an outstanding job, particularly cable TV. I think the nation has become familiarized with the facts of the case.
Before that, I don't think that's true. I think the earlier press coverage, before this became a huge national issue, where it was all over the Internet and everywhere else, there was a shorthand used by the major press when they dealt with this, which didn't give people the critical facts for them to make an intelligent decision. And I think, fortunately, the Internet was there.
(CROSSTALK)
GREGORY: All right. But what facts, what facts are you talking about?
JEFFREY: Well, you know, they would say she's in a persistent vegetative state, which I think gave people a false idea of what her situation really was. You would go to the Web and see videotape her that was posted by her family.
GREGORY: Right.
JEFFREY: That would give you a quite different picture of her situation than you would get from reading the typical newspaper article.
GREGORY: OK, a different picture, but, you know, you really can't tell her condition by looking at these pictures. We know what a vegetative state is medically.
(CROSSTALK)
JEFFREY: Well, you can tell—you can tell the critical fact. This is a living person. This is a living person.
GREGORY: Right.
JEFFREY: And that drives home the fact that the actions that are being taken now in Pinellas Park are intended to kill her. And so far, the state of Florida, through Judge Greer, has spent 13 days trying to kill this person that we all know is very much alive.
GREGORY: That's also part of the language that is being used that is driving thing debate, frankly, the idea that somebody is trying to kill her and that removing the feeding tube is an act of starvation, which is a disputable point.
What is your take?
GOODMAN: Well, David, I would like to go outside the hospice to where the protesters are.
I think that the model the media has used is continually going to this small group of a couple dozen protesters—they hold—Randall Terry holds a news conference, they are right there going live to it—should be the model used to cover other protests in this country. We just passed the second anniversary of the invasion of Iraq. Tens of thousands people marched in more than 800 actions around this country. On no major nightly newscast on that second anniversary was a protester interviewed. So, let this be the model for treatment of protesters.
GREGORY: Well, why do you think it different now?
GOODMAN: I think that we're talking about is an extremely conservative media and right now a couple dozen protesters are being heard. I think it's a good thing to be heard.
GREGORY: Now, see, I haven't heard that a lot, the conservative mainstream media.
(CROSSTALK)
JEFFREY: Well, David, before I came over this afternoon, I got on LexisNexis and I looked at the editorials in "The New York Times," "The Washington Post", ""The L.A. Times" and "The Chicago Tribune."
GREGORY: Yes.
JEFFREY: Now, they've all taken the position against preserving Terri Schiavo's life. They all opposed the bill passed by Congress that Senator Santorum talked about on this show. So, I don't think you can say the establishment media, as exemplified by those four major newspapers…
(CROSSTALK)
GREGORY: But let's not take it all one argument. It's on different bases, why people opposed federal intervention. Some conservatives do, too. I mean, what I'm hearing from you is an attempt to say that this is basically one point of view to kill her.
(CROSSTALK)
JEFFREY: Well, let me say why I think the liberal establishment here is inconsistent and why I think Reverend Jesse Jackson has appropriately stepped into this case.
This is a civil rights issue. The 14th Amendment gives the federal government the duty to make sure that the states do not deprive the citizens of their constitutional rights. Now, once upon a time, we had Jim Crow and segregation in the South, where Southern states discriminated against blacks, didn't let them use public facilities in the schools.
Here we have the state of Florida discriminating against the right to life of Terri Schiavo, literally putting her to death. This is a civil rights issue where the federal government had a 14th Amendment mandate to do what they could to protect and defend her life.
GREGORY: What do you think about that?
GOODMAN: I was—I was very interested to hear Senator Santorum talk about even death row prisoners have more rights when it comes to federal appeals, yet Senator Santorum himself voted to limit those federal appeals when it comes to death row prisoners.
I think it's very important that all people have full review when it comes to ending their lives. And I also think on this issue it is a very complicated issue. And I think it goes to another point in this country. I think conservative and liberal lines are breaking down on many different issues, on issues of corporate control, on issues of privacy.
But what the media hasn't emphasized as much in this case, no matter how painful and tragic it is, is that the overwhelming majority of people in this country were opposed to congressional intervention. In fact, the majority of evangelicals were opposed to congressional intervention. And it really goes to people like Tom DeLay, who now has stepped back because of those polls.
(CROSSTALK)
GOODMAN: It was very politically motivated, what they did.
JEFFREY: Even if you—every if you credit those polls—and for the sake of argument, I'm willing to credit them—if 99 percent of the people in this country said it was OK for the state to deliberately kill an innocent person, that would not make it right for the state to deliberately kill an innocent person.
GOODMAN: I agree with that.
(CROSSTALK)
GREGORY: This is what I think is actually significant about where the coverage has gone.
I think that people are having serious discussions about life in this country, about the meaning of life, about how we determine whether life is worth living. So, I think this has been an incredibly positive discussion out of a terribly tragic story. Unfortunately, it's on her sort of head, but, nevertheless, an important discussion. Don't you think?
(CROSSTALK)
GOODMAN: David, what I would say about that is that's absolutely true. And if only we had these life-and-death discussions when it came to, for example, issues of war and peace, because the corporate media—and I wouldn't call it mainstream and I would include all the media, and not just Fox in this—when it came to coverage of war, icing out dissent. And that dissent was the views of the majority of people in this country.
Let there be such a full discussion…
GREGORY: I'm sorry, but what dissent was absent from the coverage about the run-up to the Iraq war?
GOODMAN: Oh, please.
I mean, Fairness and Accuracy in Reporting, a media watch group, did a study of the four major nightly newscasts in the two weeks around Powell giving his address to war.
JEFFREY: David, I—I—I…
GOODMAN: Three of 393 interviews done were with anti-war representatives. Across the board, people who are opposed to war were iced out of that discussion.
JEFFREY: Well, I'll agree with Amy on this point.
I think the issue of war and peace is the same issue here. It's respect for human life. You have to have grave reasons to go to war, to risk human life, to defend something that is seriously important. I do believe—I agree with you on the importance of this discussion. I believe what Saint Paul said, that God wrote the truth on men's hearts. It cannot be erased.
I think, when people see government allowing the killing of innocent people, whether it's an abortion or whether it's in Pinellas Park with the attempted killing of Terri Schiavo, they know in their hearts it's wrong. And to the degree that we intelligently discuss these things, we look them in the face, we're going to move this country in a pro-life direction. That's in terms of seriously considering when we go to war and not allowing the state to take the life of Terri Schiavo.
(CROSSTALK)
GOODMAN: … the death penalty in that.
(CROSSTALK)
JEFFREY: Well, there's a distinction.
Terri Schiavo has not committed a capital offense.
GOODMAN: I'm talking about the death penalty, not Terri Schiavo now.
JEFFREY: But I do think there is a distinction.
I think it is sometimes justified to take the life of a cold-blooded murderer. I think you have to demonstrate the person is guilty. I do believe that they deserve due process. It should be reviewed in the federal courts. But if you had an al Qaeda terrorist who let loose a radiological bomb in Los Angeles and you know that person was guilty, I think justice would say that person deserves to be executed.
GREGORY: Just to button this up, as part of this debate, I think there are theologians who would say, it's really not the decision of any man or woman to take another life. And, if that's the case in Terri Schiavo, why is it not the case even in the death penalties? I mean, I think it's part of the debate.
JEFFREY: Well, Saint Thomas Aquinas would say that, underneath the positive law is the natural law and beyond that is the law of God.
GREGORY: Right.
JEFFREY: The law of the United States has to comport with the natural law and the law of God.
(CROSSTALK)
GREGORY: We're going to leave it there. This is a great debate. We could keep going.
Thanks to both of you, Amy Goodman and Terry Jeffrey, for a lively discussion.
---