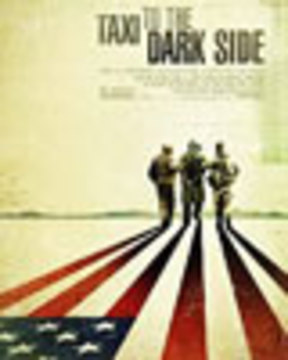 Media Options
---
Guests
Alex Gibney

Award-winning documentary filmmaker. He is the writer, director, producer and narrator of Taxi to the Dark Side.
Days after its Academy Award nomination, the documentary Taxi to the Dark Side was dropped by the Discovery Channel over concerns it was "controversial." The film investigates some of the most egregious abuses associated with the so-called "war on terror," including the US torture of prisoners. We get reaction from filmmaker Alex Gibney. [includes rush transcript]
---
Transcript
This is a rush transcript. Copy may not be in its final form.
AMY GOODMAN: I wanted to turn to the issue of the media. A new documentary called Taxi to the Dark Side was recently nominated for an Academy Award. The film investigates some of the most egregious abuses associated with the so-called war on terror, including the US torture of prisoners.


PFC. DAMIEN CORSETTI: You put people in a crazy situation, and people do crazy things.



SGT. KEN DAVIS: People were being told to rough up Iraqis that wouldn't cooperate. We were also told they're nothing but dogs.



SPC. TONY LAGOURANIS: Interrogators were telling the guards, strip this guy naked, chain him up to the bed in an uncomfortable position, do whatever you can.



TIM GOLDEN: You had these young soldiers, very little training, just as the rules were changing, and they weren't told what the new rules were.



SGT. KEN DAVIS: You start looking at these people as less than human, and you start doing things to them you would never dream of. And that's where it got scary.



GEN. RICHARD MYERS: It was only the night shift. There's always a few bad apples.



PFC. DAMIEN CORSETTI: The brass knew. They saw them shackled and hooded, and they said, "Right on! Y'all are doing a great job."



SEN. CARL LEVIN: There were emails from FBI personnel down at Guantanamo saying, "You won't believe what's going on down here. We've got to disassociate ourselves."



CLIVE STAFFORD SMITH: You have no right to a lawyer. You have no right to witnesses. You don't really know what the charges are. And you certainly don't know what the secret evidence is against you.



SCOTT HORTON: They saw an intentional decision taken at the height of the Pentagon to put out a fog of ambiguity.
AMY GOODMAN: Excerpts of Taxi to the Dark Side. The Discovery Channel has bought the rights to the Oscar-nominated film and had planned on airing it, but this week filmmaker Alex Gibney learned Discovery has dropped plans to air the film because it's, quote, "controversial." Alex Gibney is the award-winning director, writer and producer of Taxi to the Dark Side. He joined us about a week ago to talk about the Oscar-nominated film, but today he's back to respond to Discovery.

What happened, Alex?


ALEX GIBNEY: Well, it turns out that the Discovery Channel isn't so interested in discovery. I mean, I heard that — I was told a little bit before my Academy Award nomination that they had no intention of airing the film, that new management had come in and they were about to go through a public offering, so it was probably too controversial for that. They didn't want to cause any waves. It turns out, Discovery turns out to be the see-no-evil/hear-no-evil channel.


AMY GOODMAN: They bought the rights, though.


ALEX GIBNEY: They did.


AMY GOODMAN: So they own it.


ALEX GIBNEY: They own the rights for the next three years. They own the broadcast rights. It's currently playing in theaters, where people can see it, but we had hoped that it would have a broad airing on television. And indeed, you know, one of the reasons I went with Discovery was because they had told me, "Look, we love this film. We're going to give it a broad and very prominent airing."


AMY GOODMAN: But if they still own the rights, can they just not air it for three years and keep you from airing it anywhere else?


ALEX GIBNEY: Yes, they can. That's their right, because they paid for it. Now, we're hoping that they'll agree to sell it to somebody else, you know, maybe for a profit, if they need to do that. But I'm hoping at the very least that they'll allow somebody else to take it on so it can be shown to the American people.


AMY GOODMAN: And this comes just before the Oscars.


ALEX GIBNEY: That's right.


AMY GOODMAN: The film opens with a taxi driver. Say briefly, though we talked about it last week, though, for those listeners and viewers who might not have watched it, the significance now of Discovery not airing this.


ALEX GIBNEY: Well, the film follows a taxi driver, an Afghan taxi driver, who was taken into American custody, and after — in the course of a five-day interrogation, he was so badly beaten that he died. And indeed the Army coroner classified it a homicide. We used the case of Dilawar, this young man, to look at the de facto and indeed sometimes-stated policy of torture used by the Bush administration. And we follow — indeed, we also look at Mohammed al-Qahtani in Guantanamo and the interrogation techniques used on him there, the man who is now on trial in the — or supposed to go on trial through the military commission process.


AMY GOODMAN: So we get to see 24 — well, perhaps when the writers' strike is over — where Jack Bauer tortures people right and left. But we don't get to see your film, Taxi to the Dark Side.


ALEX GIBNEY: That appears to be the case now, and I'm hoping, like I say, that Discovery will relent and sell it to somebody else, so we can see it. But at the moment, they appear to be sitting on it, and they've told us unambiguously that they have no intention of airing it, and, indeed, they asked our distributor to take its logo off. But then, when they were told how much it would cost, they said, OK, leave the logo on.


AMY GOODMAN: Let me ask lawyer Vincent Warren, the effect of popular awareness that comes from movies like Taxi to the Dark Side, if they get a showing on television, the effect that has in the legal arena, in the kind of work that you do representing prisoners?


VINCENT WARREN: It is extremely important that Taxi to the Dark Side and other films like that are out there open for public view, because I think, as you were pointing out, this is a government-sponsored program of torture. We all know that it's happening. But the government is not telling us that. And it's up to filmmakers and up to reporters and journalists, people like Alex, people like yourself, to be able to get the information out there. It is literally the only way that we can have public currency about the issues.

And let's remember that all of the concessions and admissions, such as they are by this government, were not done out of the goodness of their heart. They've been done by public pressure. They admit what they can't deny, and they deny what they can't admit. And as long as films like Taxi to the Dark Side are out there, it allows us to put pressure on this government to admit to what they've done, because they won't tell us that on their own.


AMY GOODMAN: Does the public have any role in this, Alex Gibney, can have any effect on Discovery?


ALEX GIBNEY: I hope so. I hope the letters and phone calls will start coming to Discovery and say, "Let us see the program."


AMY GOODMAN: But your film does go to the Oscars, the Academy Award ceremony.


ALEX GIBNEY: The film does go to the Oscars, to the Academy Awards ceremony, in a little less than two weeks. And it's in theaters now.


AMY GOODMAN: Well, Alex Gibney, I want to thank you for being with us, and congratulations on the Oscar nomination, not only for this, but you're also executive producer of No End in Sight —

ALEX GIBNEY: That's right.


AMY GOODMAN: — which is another documentary that was nominated —


ALEX GIBNEY: Thank you.


AMY GOODMAN: — Oscar-nominated. I want to thank you both for being with us. Alex Gibney, Taxi to the Dark Side is his film. You can go to theaters, or perhaps you'll get to see it on television. Vincent Warren, executive director of the Center for Constitutional Rights.