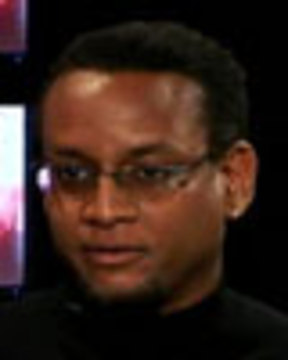 Media Options
---
Guests
Vincent Warren

Executive Director of the New York-based Center for Constitutional Rights.
The Pentagon is seeking the death penalty for six prisoners at Guantanamo Bay for their alleged involvement in the 9/11 attacks. But questions are being raised about evidence obtained through torture and the legitimacy of the military commissions used to try the suspects. We speak to Vincent Warren, executive director of the Center for Constitutional Rights, which represents hundreds of Guantanamo prisoners, including one of the accused. [includes rush transcript]
---
Transcript
This is a rush transcript. Copy may not be in its final form.
AMY GOODMAN: Six-and-a-half years after 9/11, the Pentagon announced Monday it's charging six prisoners at Guantanamo with conspiracy to commit war crimes for their alleged involvement in the attacks. Military prosecutors are seeking the death penalty for the six men. Pentagon legal adviser Brigadier General Thomas Hartmann made the formal announcement at a news conference Monday.


BRIG. GEN. THOMAS HARTMANN: Today, the convening authority for military commissions received sworn charges against six individuals alleged to be responsible for the planning and execution of the attacks upon the United States of America which occurred on September the 11th, 2001.



The chief prosecutor has requested that the charges be tried jointly and that they be referred as capital for each defendant. If the convening authority, Mrs. Susan Crawford, in her sole discretion decides to refer the cases as capital, the defendants will face the possibility of being sentenced to death.
AMY GOODMAN: Rights groups brought up the question of evidence obtained from torture, particularly with respect to two of the six men being charged, Khalid Sheikh Mohammed and Mohammed al-Qahtani. The CIA recently admitted to waterboarding Khalid Sheikh Mohammed, and Pentagon investigators concluded in 2005 Qahtani had been subjected to aggressive interrogation methods at Guantanamo.


During his news conference at the Pentagon yesterday, Brigadier General Hartmann was questioned about the admissibility of evidence obtained through torture.


REPORTER: Can you tell us, was any of the information that was derived from aggressive interrogations of either KSM or any of the other five defendants used in preferring these charges?



BRIG. GEN. THOMAS HARTMANN: I don't know the answer to that question. The prosecutors will make a determination about what evidence they are going to produce in the case in chief. I haven't seen the files yet, and that will identify to us what evidence is used.



But let me be clear: we are a nation of law and not of men. And the question of what evidence will be admitted, whether waterboarding or otherwise, will be decided in the courts, in front of a judge, after it's fought out between the defense and the prosecution in these cases. That's the rule of law. That's the procedure that Congress has provided to us. And that's what we will use to finally answer these questions.



REPORTER: But just based — excuse me, a follow-up. But just based on your own legal expertise, is that kind of evidence normally permissible against a defendant if it's achieved through duress?



BRIG. GEN. THOMAS HARTMANN: Well, I'll answer the same question. This issue is not based upon my legal experience. This issue is based upon the rule of law. And the military judge will decide if this evidence is going to be admitted. That's the procedure we have set up. That's the American standard of justice, that the court decides, the judge decides.



In this process — and it's quite a unique process — if the accused is found guilty of anything, he gets an automatic right of appeal to the Court of Military Commission Review, very similar to the military process, but very dissimilar to any other process. It's an extra right for the accused in this case.



And in addition, let me say this, before he even gets to that, his sentence and the charges would again be reviewed by the convening authority, again, another right that doesn't exist anywhere on earth except in the military system. So it's an extraordinary set of rights that we're providing to the accused. And just so you know, at Nuremberg, there were no rights of appeal.



REPORTER: In fact, the military process here, you basically have to take whatever the intelligence community tells you at face value. You have no independent means of discovery on the US intelligence community.



BRIG. GEN. THOMAS HARTMANN: Well, we receive — whatever evidence we receive, we receive it from the various communities and the law enforcement intelligence community, and we use that evidence and proceed with the evidence that's been provided. It's been a very cooperative effort.
AMY GOODMAN: Brigadier General Thomas Hartmann, responding to questions at a Pentagon news conference Monday. Journalists also brought up the issue of torture with White House Press Secretary Dana Perino at a separate news conference later in the day.


REPORTER: Dana, is the White House at all concerned that some of the evidence of the confessions by any of these men may not be admissible because they were obtained through waterboarding, which the administration admitted to last week?



DANA PERINO: Kathleen, I'm not going to able to comment about the trial from this podium. And so, I'm not able to comment on that, but I'm sure that if you call the Department of Defense, they'll be able to talk about it further.



REPORTER: What about the timing of all this? Again, it was just Thursday that the Vice President, Hayden admitted the United States had used waterboarding against some of these suspects. And then, lo and behold, Monday the DOD announces they're going forward on these cases.



DANA PERINO: I can see conspiracy written all over your face, but there was none. And this decision — as the military said, that they were ready to bring the charges, and they did that today, when they were ready.



REPORTER: So it's a mere coincidence then?



DANA PERINO: As I said this morning, yes.



REPORTER: One more, following up on that, though. When the President made his decision initially to authorize the interrogations of Khalid Sheikh Mohammed and the other two, did he weigh the possibility of criminal prosecutions and the admissibility of evidence?



DANA PERINO: I don't know, Mark. Obviously you're talking about time frames that are years and years ago. I just — I don't know.



REPORTER: Does the filing of charges against the 9/11 suspects bring the administration any closer to shutting down Guantanamo?



DANA PERINO: Well, the issue of shutting down Guantanamo Bay is separate from the issue of these — from this trial.
AMY GOODMAN: White House Press Secretary Dana Perino, answering journalists' questions Monday . The Center for Constitutional Rights represents Guantanamo prisoner Mohammed al-Qahtani, one of the six men charged with war crimes connected to September 11th. Vincent Warren is executive director of CCR, joining us here in the firehouse studio.

Welcome to Democracy Now! The significance of these trial in a military commission tribunal?


VINCENT WARREN: Amy, the purpose of having a trial is really to seek two things: truth and justice. And with this military commission process set up by the government, you're going to find neither. There's going to be neither truth nor justice. These commissions are based on the use of secret evidence, of evidence obtained by torture and by abusive tactics. And it's based on hearsay, the idea that you can convict someone based upon what someone else said someone else said. And these are very clear — there are very clear prohibitions against secret evidence, torture, and hearsay evidence in a normal trial setting, but this is going to be the currency of this particular process.


AMY GOODMAN: Who established the rules in this military tribunal?


VINCENT WARREN: The — well, initially, the military commission process was set up by executive order by George Bush, and a fellow by the name of Salim Hamdan, who was charged under that commission, filed a lawsuit, went to the Supreme Court. The Supreme Court said that the President didn't have the authority to do that; Congress had to authorize it. And then, with the Military Commissions Act passed last year, Congress authorized the military commissions, and the process was essentially set up by the Pentagon.


AMY GOODMAN: General Hartmann said there is room for appeal.


VINCENT WARREN: There is room for appeal in this process, as they've defined it. But, you know, General Hartmann is really misleading the American public about what's happening here. One of the things that he said — it wasn't in your clip, but I thought was really interesting — one of the great rights that he said that these detainees were going to have was a right to remain silent at trial. Let's just sort of think about it for a second. What that means is, they didn't have the right to remain silent when the government was torturing them and interrogating them and abusing them, and so they have — they can sit idly by during this commissions process and listen to the stream of evidence that was brought in against them through torture, and they have a right not to say anything about it, and it is an illusory right.

You know, there's another point that is really important here. It's not — part of the process is what happens when you're convicted, but the other part of the process is what happens if you're not. Military officials have said that even if these men are found not guilty, the government has no intention of letting them go. So the absolute best they can do — the best you can do in this military commissions is to remain in jail for the rest of your life illegally. And, of course, the worst you can do is to be executed. These are sham show trials, and there is nothing about this that comports with due process.


AMY GOODMAN: And the evidence that you have of your own, CCR's own client being tortured?


VINCENT WARREN: You know, we represent Mohammed al-Qahtani, who, unlike some of these other men, was abused very, very drastically at Guantanamo Bay itself. And he was subjected to extreme temperatures and was isolated for a tremendous period of time. He was forced to wear women's underwear. He, of course, was interrogated well before any lawyer was able to come and talk with him. And, you know, we have a situation in which the — you know, you have to be concerned for the mental state of a lot of these men, because they were just serially abused in order to get statements.


AMY GOODMAN: The CIA director, Michael Hayden, has confirmed the CIA waterboarded three prisoners in 2002 and 2003 and admitted that waterboarding may be illegal under current law. What does that mean?


VINCENT WARREN: Well, I think what — they're trying to continue their facade, pretending — first of all, they're still pretending that waterboarding is not torture. But we have to look at this in steps. At first, they said that they didn't torture, which we know was a lie. And then they said that they didn't waterboard, which we know is a lie. Now they're saying that they do waterboard, but it's not clear that waterboarding was torture. And now they're saying it may be torture, but it might not have been torture under the rules a couple of years ago. What they're trying to do, I believe, is set up a situation where they use the legal framework that they used at the time to be able to avoid a legal classification of waterboarding as torture currently.


AMY GOODMAN: The CIA director also said that private contractors might have been involved in the waterboarding of prisoners.


VINCENT WARREN: Yes, and that can hardly be surprising to anybody, because this government has had a very distinct record of outsourcing torture and other abusive treatments to contractors.


AMY GOODMAN: Will the lawyers for the prisoners be raising the issue of torture?


VINCENT WARREN: There is no question in my mind that the issue of torture and the issue of secret evidence will be absolutely at issue as these commissions move forward.


AMY GOODMAN: And the whole question that has been continually now put to the Attorney General Michael Mukasey around waterboarding and if it's illegal, if it's torture, after a series of questions, he finally said he might consider it torture if it was done to him.


VINCENT WARREN: Yes, that's — you know, luckily, that we've had some good questioning from the press about this. And I think, you know, the bottom line is this: you can pretend that waterboarding is not torture until you really confront what it involves. And it is clearly torture. And they can put lipstick on that pig all that they want, but waterboarding is torture. Torture is illegal, and it will be at issue in these military commissions.