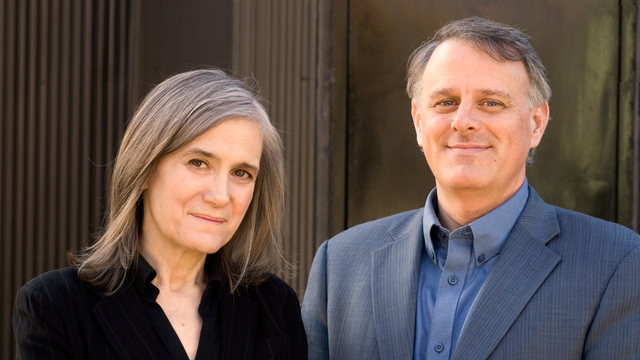 By Amy Goodman
We just passed the grim milestone of 4,000 U.S. military members killed in Iraq since the invasion five years ago. Still, the death toll climbs.
Typically unmentioned alongside the count of U.S. war dead are the tens of thousands of wounded (not to mention the Iraqi dead). The Pentagon doesn't tout the number of U.S. injured, but the Web site icasualties.org reports an official number of more than 40,000 soldiers requiring medical airlifts out of Iraq, a good indicator of the scale of major injuries. That doesn't include many others. Dr. Arthur Blank, an expert on post-traumatic stress disorder (PTSD), estimates that 30 percent of Iraq veterans will suffer from PTSD.
Tomas Young was one of those injured, on April 4, 2004, in Sadr City. Young is the subject of a new feature documentary by legendary TV talk-show host Phil Donahue and filmmaker Ellen Spiro, called "Body of War." In it, Young describes the incident that has left him paralyzed from the chest down:
"I only managed to spend maybe five days in Iraq until I got picked to go on my first mission. There were 25 of us crammed into the back of a two-and-a-half-ton truck with no covering on top or armor on the sides. For the Iraqis on the top of the roof, it just looked like, you know, ducks in a barrel. They didn't even have to aim."
The film documents his struggle, coping with severe paralysis and life in a wheelchair, its impact on his psyche, his wrecked marriage, his family and his political development from military enlistee into a member of Iraq Veterans Against the War.
Donahue has his own personal link to the anniversary of the invasion of Iraq. It was just weeks before the invasion that his nightly program, MSNBC's top-rated show, was canceled. As revealed shortly thereafter in a leaked memo, Donahue presented a "difficult public face for NBC in a time of war. He seems to delight in presenting guests who are anti-war, anti-Bush and skeptical of the administration's motives … at the same time that our competitors are waving the flag at every opportunity."
Tomas Young enlisted in the military soon after Sept. 11, 2001. Earlier this week, Vice President Dick Cheney said: "The president carries the biggest burden, obviously. He's the one who has to make the decision to commit young Americans, but we are fortunate to have a group of men and women, an all-volunteer force, who voluntarily put on the uniform and go in harm's way for the rest of us."
Young, speaking to me from Kansas City, Mo., where he lives, responded to Cheney: "From one of those soldiers who volunteered to go to Afghanistan after Sept. 11, which was where the evidence said we needed to go, to [Cheney], the master of the college deferment in Vietnam: Many of us volunteered with patriotic feelings in our heart, only to see them subverted and bastardized by the administration and sent into the wrong country."
"Body of War" depicts the personal cost of war. In one of the most moving scenes in the film, Young meets Sen. Robert Byrd, the longest-serving senator, with the most votes cast in Senate history (more than 18,000). Byrd said his "no" vote on the Iraq war resolution was the most important of his life. Young helps him read the names of the 23 senators who voted against the war resolution. Byrd reflects: "The immortal 23. Our founders would be so proud." Turning to Young, he says: "Thank you for your service. Man, you've made a great sacrifice. You served your country well." Young replies, "As have you, sir."
Amy Goodman is the host of "Democracy Now!" a daily international TV/radio news hour airing on 650 stations in North America. Her new book, "Standing Up to the Madness: Ordinary Heroes in Extraordinary Times" (co-written with her brother, David Goodman), is out in April.
---