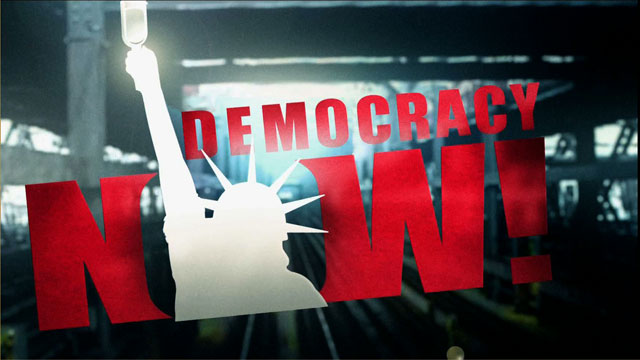 The St. Paul City Attorney's office announced Friday it will not prosecute Democracy Now! journalists Amy Goodman, Sharif Abdel Kouddous and Nicole Salazar. St. Paul Mayor Chris Coleman also issued a statement Friday that "the city will decline to prosecute misdemeanor charges for presence at an unlawful assembly for journalists arrested during the Republican National Convention."
Both announcements come two weeks after the conclusion of the Republican National Convention where over 40 journalists were arrested while reporting on protests taking place outside the convention center.
Upon learning of the news, Democracy Now! Host, Amy Goodman said, "It's good that these false charges have finally been dropped, but we never should have been arrested to begin with. These violent and unlawful arrests disrupted our work and had a chilling effect on the reporting of dissent. Freedom of the press is also about the public's right to know what is happening on their streets. There needs to be a full investigation of law enforcement activities during the convention."
Goodman was arrested while asking police to release Kouddous and Salazar who had been violently arrested while reporting on street demonstrations. After being handcuffed and pushed to the ground, Goodman reiterated that she was was a credentialed reporter. Secret Service then ripped the credential from around her neck.
During demonstrations on the first day of the convention police used pepper spray, rubber bullets, concussion grenades and force against protesters and journalists. Several dozen demonstrators were arrested, as was a photographer for the Associated Press.
John Lundquist, attorney for the Democracy Now! journalists, said, "The most notable lapse by law enforcement during the RNC was the record-breaking number of journalists indiscriminately arrested and detained for doing nothing more than performing in the best tradition of reporters who gather the news."
In the weeks after the journalist arrests, tens of thousands of members of the public contacted St. Paul officials to protest the unlawful arrests of working journalists. Goodman said, "We were deeply moved by the outpouring of support. We thank everyone who called and wrote first to have us freed and then to have the charges dropped. We thank everyone who stood up for press freedom and the First Amendment."
The YouTube video of Goodman's arrest was the most watched YouTube video during the convention week. It has now been viewed over 830,000 times. Salazar's video of her own violent arrest is also available on YouTube.
CONTACT:
media@democracynow.org
212-431-9090 x806
RELATED
Amy Goodman Arrest

Nicole Salazar Arrest

---