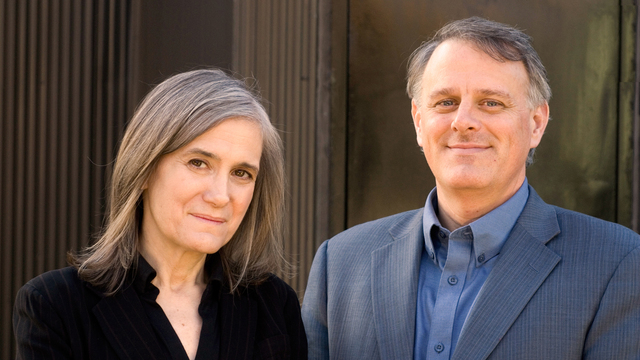 By Amy Goodman with Denis Moynihan
Dennis Brutus broke rocks next to Nelson Mandela when they were imprisoned together on notorious Robben Island. His crime, like Mandela's, was fighting the injustice of racism, challenging South Africa's apartheid regime. Brutus' weapons were his words: soaring, searing, poetic. He was banned, he was censored, he was shot. But this poet's commitment and activism, his advocacy on behalf of the poor, never flagged. Brutus died in his sleep early on Dec. 26 in Cape Town, at the age of 85, but he lived with his eyes wide open. His life encapsulated the 20th century, and even up until his final days, he inspired, guided and rallied people toward the fight for justice in the 21st century.
Oddly, for this elfin poet and intellectual, it was rugby that early on nagged him about the racial injustice of his homeland. Brutus recalled being sarcastically referred to by a white man as a "future Springbok."
The Springboks were the national rugby team, and Brutus knew that nonwhites could never be on the team. "It stuck with me, until years later, when I began to challenge the whole barrier—questioning why blacks can't be on the team." This issue is depicted in Clint Eastwood's new feature film, "Invictus." President Mandela, played by Morgan Freeman, embraces the Springboks during the 1995 World Cup, admitting that until then blacks always knew whom to root for: any team playing against the Springboks.
In the late 1950s, Brutus was penning a sports column under the pseudonym "A. de Bruin"—meaning "A brown" in Afrikaans. Brutus wrote, "The column … was ostensibly about sports results, but also about the politics of race and sports." He was banned, an apartheid practice that imposed restrictions on movement, meeting, publishing and more. In 1963, while attempting to flee police custody, he was shot. He almost died on a Johannesburg street while waiting for an ambulance restricted to blacks.
Brutus spent 18 months in prison, in the same section of Robben Island as Nelson Mandela, where he wrote his first collection of poems, "Sirens, Knuckles, Boots." His poem "Sharpeville" described the March 21, 1960, massacre in which South African police opened fire, killing 69 civilians, an event which radicalized him:
Remember Sharpeville
bullet-in-the-back day Because it epitomized oppression and the nature of society more clearly than anything else; it was the classic event
After prison, Brutus began life as a political refugee. He formed the South African Non-Racial Olympic Committee to leverage sports into a high-profile, global anti-apartheid campaign. He succeeded in getting South Africa banned from the Olympic Games in 1970. Brutus moved to the United States, where he remained as a university professor and anti-apartheid leader, despite efforts by the Reagan administration to deny him continued status as a political refugee and deport him.
After the fall of apartheid and ascension to power of the African National Congress, Brutus remained true to his calling. He told me, "As water is privatized, as electricity is privatized, as people are evicted even from their shacks because they can't afford to pay the rent of the shacks, the situation becomes worse. … The South African government, under the ANC … has chosen to adopt a corporate solution."
He went on: "We come out of apartheid into global apartheid. We're in a world now where, in fact, wealth is concentrated in the hands of a few; the mass of the people are still poor … a society which is geared to protect the rich and the corporations and actually is hammering the poor, increasing their burden, this is the reverse of what we thought was going to happen under the ANC government."
Many young activists know Dennis Brutus not for his anti-apartheid work but as a campaigner for global justice, ever present at mass mobilizations against the World Trade Organization, the World Bank and the International Monetary Fund—and, most recently, although not present, giving inspiration to the protesters at the U.N. climate summit in Copenhagen. He said, on his 85th birthday, days before the climate talks were to commence: "We are in serious difficulty all over the planet. We are going to say to the world: There's too much of profit, too much of greed, too much of suffering by the poor. … The people of the planet must be in action."
Amy Goodman is the host of "Democracy Now!," an independent, daily global TV/radio news hour airing on more than 950 stations in the United States and around the world. She is the author of "Breaking the Sound Barrier," recently released in paperback and now a New York Times best-seller.
© 2011 Amy Goodman
---