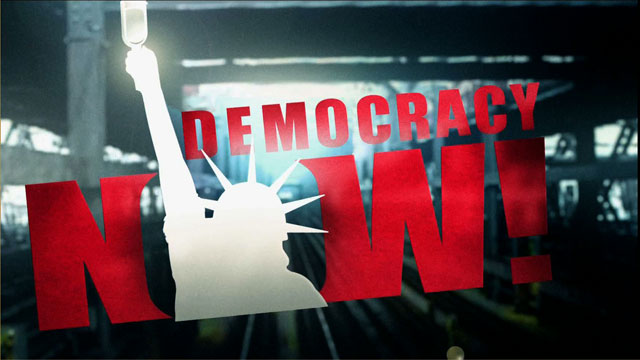 This is viewer supported news. Please do your part today.
Donate
Democracy Now! recently interviewed Kevin Bales, founder of Free the Slaves. Journalist Christian Parenti wrote a response to that interview which we have posted below. Parenti is an investigative journalist who has covered issues of child labor in the chocolate industry in Côte d'Ivoire for Fortune magazine. See Democracy Now! interview
Free The Truth: A response to Kevin Bales
by Christian Parenti
On September 9, Kevin Bales, founder of Free The Slaves, was on Democracy Now making comments about his organization and the chocolate industry that were either willfully naïve or simply dishonest.
Bales goes around fund raising, flogging his book and promoting himself on the basis that he has successfully reformed the chocolate industry and largely halted its use of child labor in West Africa. But no such thing has happened.
In his DN interview Bales' said that "instead of, say, attacking corporations and boycotting corporations," his group was "bringing them into the mix and getting them to pay for the work on the ground."
He went on to claim: "[W]e have done this with the chocolate industry to what I think is enormous success. And about $50 million has been transferred out of chocolate company profits over the last seven years into work on the ground in West Africa to remove slavery and child labor from cocoa production. Now, that's money that never would have come to human rights, never would have come to anti-slavery work, if we hadn't brought [corporations] in at the beginning."
Bales was here referring to the "Harkin-Engel Protocol," a toothless, voluntary, self-policing agreement created by the chocolate industry and signed on September 19, 2001. The Protocol named, after two America politicians, was the industry's way of avoiding binding legislation that would've required labeling of chocolate as "child labor free." Through the protocol Big Chocolate promised to eliminate the worst forms of child labor by 2005.  But the chocolate companies missed that deadline and the Protocol was extended to 2008.  
The Protocol led to the creation of an NGO called the International Cocoa Initiative. Along with all the big chocolate and confectionery corporations, the ICI board includes Kevin Bales' group Free The Slaves. The ICI claims to be working hard to prevent the use of child labor in West African cocoa production – but it is not.
In 2007 as this Protocol was coming to fruition Fortune magazine sent photojournalist Jessica Dimmock and me to Côte d'Ivoire (where half the world's Chocolate comes from) to investigate the situation. We found nothing like the happy situation described by Kevin Bales.
We saw absolutely no evidence that any of the  $50 million that Kevin Bales brags about has hit the ground or is helping children in any way.
We visited the ICI Representative in Côte d'Ivoire, Robale Kagohi. He was at that time the only ICI staff member in Ivory Coast. He offered me a beer at noon but could not point me in the direction of any real initiatives on the ground to help children who work in the cocoa industry – except one: a nongovernmental organization called the Movement for Education, Health, and Development, or Mesad, that provides accommodation and education to homeless street children in Abidjan.
But when Jessica Dimmock and I visited, she for the second time, no children from the cocoa sector were staying at the shelter. The group's director, Kouakou Kouadio Watson, told us the ICI had supported only eight underage former cocoa workers, who lived at the shelter for periods of between one and four months. The shelter was a squalid mess, smelling of urine, and contained only a few filthy children sleeping on the concrete floors.  You can see Jessica Dimmock's photographs of the conditions at: http://money.cnn.com/2008/01/24/news/international/chocolate_bittersweet.fortune
Far more damning than my reporting and Dimmock's photographs are the findings of Tulane University's Payson Center. As part of the Harkin-Engle Protocol the U.S. Department of Labor contracted with Tulane's Payson Center to monitor the progress of the ICI's efforts.
Payson's first report criticized the governments of Ivory Coast and Ghana for lack of transparency and said the industry's slave /child labor free certification process "contains no standards." The Tulane report criticizes the industry for not providing specifics to back up its assertions that it is helping.
Last year Tulane released their latest, 400 page long, report on the impact of the protocol. It found that "the vast majority of children in the cocoa growing areas… do not report exposure to any intervention projects in support of children in the rural areas."  This is what Kevin Bales calls, "enormous success."
Worse yet, Kevin Bales' organization FTS defended the chocolate industry when the Department of Labor sought to list cocoa as a product tainted by slave and child labor. Free The Slaves urged the Department of Labor not to put cocoa on a list of tainted products but to instead support the model of the Protocol.
Here is what Bales' colleague Margaret Ellen Roggensack, policy director for Free The Slaves said about Big Chocolate and the Harkin Engel protocol:
"there is only one industry that – as a whole industry – has taken the unprecedented step of taking responsibility for its supply chain. In 2001, the chocolate industry committed itself to the eradication of the worst forms of child labor from its production chain. As part of this path breaking commitment, the industry agreed to allocate significant resources to make cocoa growing communities thriving and viable… The process is working and progress has been made… No list can comprehend the scope of this challenge. Moreover, we know from our work that lasting change comes from community-based solutions, and that suggests a policy of engagement with all stakeholders, including business, whose in country roots are often deep and broad."
If Bales was serious about removing child labor from West African cocoa production he would have pressured the corporations – who are his buddies on the ICI board– to pay higher prices for cocoa. This would allow the parents of child laborers to send their kids to school.
Only paying cocoa farmers a living wage, a decent wage, will keep their children out of the cocoa groves.  Only when corporations pay producers will there be change.  This goes for not only cocoa but also cotton rubber and tobacco.
Conditions in Cote d'Ivoire are appalling and there is no evidence that the money Bales talks about exist, was spent or is helping children in any way.
His behavior is utterly unconscionable.  And his beloved Protocol works with "enormous success" in only one regard – sometimes it serves as a fig leaf that shields from sight the unseemly ways in which the great chocolate companies exploit the children of cocoa farmers in West Africa.
---