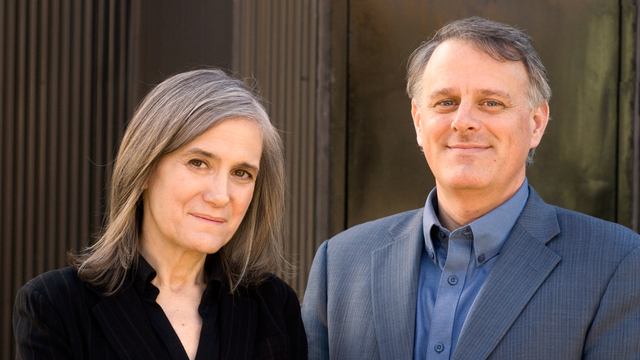 Media Options
By Amy Goodman with Denis Moynihan
John le Carré, the former British spy turned spy novelist, has some grave words for Tony Blair. More than seven years after the invasion of Iraq, the former British prime minister, now out of office and touring the world pushing his political memoir, is encountering serious protests at his book signings.
"I can't understand that Blair has an afterlife at all. It seems to me that any politician who takes his country to war under false pretenses has committed the ultimate sin," he told me when I sat down with le Carré recently in London. "We've caused irreparable damage in the Middle East. I think we shall pay for it for a long time."
We sat in a television studio across the River Thames overlooking two of his former places of employment: MI5, the domestic security service, and MI6, the secret intelligence service, which operates internationally (the equivalents of the U.S.'s FBI and CIA). John le Carré is the pen name of David Cornwell, who was a spy from the late 1950s into the early 1960s. He began to write novels and had to assume a pen name due to his work as a spy. He was stationed in Germany when, in 1961, he saw the Berlin Wall go up, motivating him to write his third novel, "The Spy Who Came in From the Cold."
The novel came out as another British spy novelist, Ian Fleming, was enjoying success with his series about the notorious fictional British spy James Bond. Unlike the flamboyant characters and endless action of the Bond books and films, the subjects of le Carre's novels were bleak characters engaged in unsavory acts of deception and calculated violence. With the world focused on the Berlin Wall and the Cuban missile crisis, le Carre captured a global audience, depicting the raw reality of the spy on the front lines of the Cold War.
As the Cold War ended, le Carré continued his prolific writing, shifting focus, increasingly, to the inequities of globalization, unchecked multinational corporate power and the frequent confluence of corporate interests and the activities of national spy services.
Perhaps best known among his later novels is "The Constant Gardener," about a pharmaceutical company using unwitting people in Kenya for dangerous, sometimes fatal, tests of an experimental drug. He explained, "The things that are done in the name of the shareholder are, to me, as terrifying as the things that are done—dare I say it—in the name of God." Like many of his novels, "The Constant Gardener" was made into a popular feature film starring Ralph Fiennes and Rachel Weisz.
Le Carré has written often of Africa: "It's where I have seen globalization at work on the ground. It's a pretty ugly sight. It's a boardroom fantasy. What it actually means is the exploitation of very cheap labor, very often the ecological disaster that comes with it, the creation of mega-cities, the depletion of agrarian cultures and tribal cultures."
His latest book (his 22nd), just out this week, is called "Our Kind of Traitor." It targets a fictional array of London bankers and their protectors in Parliament, who collude with Russian Mafiosi to prop up the collapsed world economy by laundering hundreds of billions of dollars in criminal profits.
Back in 2003, before the invasion of Iraq, le Carré marched against the war with, by many estimates, more than 1 million people: "We were all wedged together and looking into Downing Street, where the prime minister's residency is … a kind of feral roar of popular will rose. I tried to imagine what it must have been like for Blair sitting inside that building and hearing that sound. … I think it will always be remembered of him that he took us to war on the strength of lies."
He said he wouldn't buy Blair's book, but he does have some questions for him: "Have you ever seen what happens when a grenade goes off in a school? Do you really know what you're doing when you order 'shock and awe'? Are you prepared to kneel beside a dying soldier and tell him why he went to Iraq, or why he went to any war?"
Le Carré summed up what sees as a central problem for global powers, especially Britain and the U.S.: "Victims never forget, and the winners do. And they forget very quickly." Because of that, John le Carré continues writing, into his 80th year, engaging people as he seeks what he calls "the big truth."
Amy Goodman is the host of "Democracy Now!," an independent, daily global TV/radio news hour airing on more than 950 stations in the United States and around the world. She is the author of "Breaking the Sound Barrier," recently released in paperback and now a New York Times best-seller.
© 2011 Amy Goodman
---