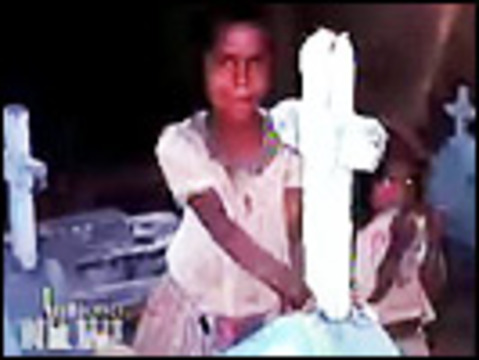 On November 12, 1991 Indonesian troops fired on a peaceful memorial procession in a cemetery in Dili, East Timor, killing more than 270 East Timorese. Journalists Amy Goodman and Allan Nairn were beaten while reporting on the massacre. Watch the radio documentary they produced, set to video, on Democracy Now! in 2002.
Below is an excerpt from the introduction to Exception to the Rulers, by Amy Goodman, about her experience that day.
The troops marched slowly up the road, their U.S.-made M-16s in the ready position. It was November 12, 1991, a day that would forever be seared into my memory, and into history. I was in Dili, the capital of East Timor, a small island nation 300 miles north of Australia. East Timor had been brutally occupied by Indonesian troops for sixteen years, since they invaded in 1975. The Indonesian military had sealed off East Timor from the outside world and turned it into their private killing field. A third of the population — 200,000 Timorese — had died. It was one of the worst genocides of the late twentieth century.
I had just attended mass at the main church in Dili with Allan Nairn, journalist and activist, then writing for The New Yorker magazine. After the service, thousands marched toward the Santa Cruz cemetery to remember Sebastian Gomes, yet another young man killed by Indonesian soldiers. The people came from all over: workplaces, homes, villages and farms. They traveled through a geography of pain: In almost every other building, Timorese had been held or tortured, disappeared or killed. Whether it was a police station or a military barracks, a hotel or an officer's house, no place was beyond reach of the terror. Not even the church was safe. It was about 8 a.m. when we reached the cemetery.
We had asked people along the way: "Why are you marching? Why are you risking your lives to do this?"
"I'm doing it for my mother," one replied. "I'm doing it for my father," said another. "I'm doing it for freedom."
In the distance, we heard an eerie, synchronized beat. Suddenly we saw them. Many hundreds of Indonesian troops coming up the road, twelve to fifteen abreast. People grew very quiet.
We knew the Indonesian military had committed many massacres in the past, but never in front of Western journalists. Allan suggested we walk to the front of the crowd, hoping that our presence could head off what looked like an impending attack. I put on my headphones, took out my tape recorder — I usually kept these hidden so as not to endanger Timorese caught talking to us — and held up my microphone like a flag. Allan put his camera above his head, and we went and stood in the middle of the road, about fifteen yards in front of the crowd. By visibly showing the tools of our trade, we hoped to alert the troops that this time they were being watched.
A hush fell over the Timorese. Those in the back could run, but the thousands of people in front were trapped by the cemetery walls that lined both sides of the road. The main sound was the rhythmic thump of boots hitting the road as the troops marched in unison toward the people. Children whispered behind us. Then, without any warning or provocation, the soldiers rounded the corner, swept past us, raised their U.S.-made weapons and opened fire.
People were ripped apart. The troops just kept shooting, moving their guns from left to right, killing anyone still standing.
A group of soldiers surrounded me. They started to shake my microphone in my face as if to say, this is what we don't want. Then they slammed me to the ground with their rifle butts and started to kick me with their boots. I gasped for breath. Allan threw himself on top of me to protect me from further injury.
The soldiers wielded their M-16s like baseball bats. They slammed them against Allan's head until they fractured his skull. For a moment, Allan lay in the road in spasm, covered in blood, unable to move. Suddenly, about a dozen soldiers lined up like a firing squad. They put the guns to our heads and screamed, "Politik! Politik!" They were accusing us of being involved in politics, a crime clearly punishable by death. They also demanded, "Australia? Australia?"
We understood what was at stake with this question. In October 1975, Indonesian soldiers had executed five Australia-based television journalists in an attempt to cover up a military incursion leading up to the December 7, 1975, invasion of East Timor. On December 8, Australian journalist Roger East, the only other Western reporter left in East Timor, was dragged out of a radio station in Dili down to the harbor and shot.
Almost exactly sixteen years later, as Allan and I lay on the ground surrounded by Indonesian soldiers, we shouted, "No, we're from America!" They had stripped us of our possessions, but I still had my passport. I threw it at them. When I regained my breath, I said again, "We're from America! America!"
Finally, the soldiers lowered their guns from our heads. We think it was because we were from the same country their weapons were from. They would have to pay a price for killing us that they never had to pay for killing Timorese.
At least 271 Timorese died that day, in what became known as the Santa Cruz massacre. Indonesian troops went on killing for days. It was not even one of the larger massacres in East Timor, and it wouldn't be the last. It was simply the first to be witnessed by outsiders.
---