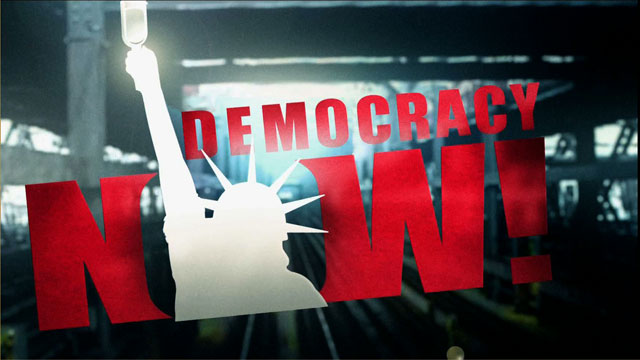 Wisconsin Democratic Senator Chris Larson speaks to Democracy Now! as he races back to Madison to challenge tonight's anti-union vote to end collective bargaining rights for most public employee workers. "I think a lot of what they've done is on the borderlines of what is legal," Larson says. "It's definitely questionable democracy."
RUSH TRANSCRIPT
SEN. CHRIS LARSON: I think a lot of what they've done is on the borderlines of what is legal. It's definitely questionable democracy. What they've done is an embarrassment to our country and to our state. They've shut down — they've shut down the people, is what they've done.
You know, I can't tell you how heartbroken I am that they would deliver this death blow to the middle class at a time where we're trying to band together to get through this.
This is something where they — I'm actually in my car right now speeding as fast as I can to try and get to Madison to do something, anything. And it's already passed. I've been driving for the last hour and since I heard news that this is what they were going to do. They didn't give us a chance. They didn't give the public a chance to actually do anything about it.
So this is something where every single one of those Republicans, all 19, I mean, they just signed their political obituaries. This is it. You know, they thumbed their nose at the people by shutting down the public debate three weeks ago. They shut it down after 17.5 hours. They shut down the legislative hotline because they got sick of hearing from people talking about this. Then they shut down the Capitol and locked everybody out. They shut down the public — the debate on the Assembly floor and jammed this through in the middle of the night before people have finished speaking on it. And then they took over our offices.
And then this, where, with no notice whatsoever, under the guise of the days before, where it looked like they were looking to compromise, they were looking at trying to negotiate, and instead they pull this. It's an embarrassment to what our country is. And I think that they should — that these recalls just got a new wave of energy from everyone in our state.
---