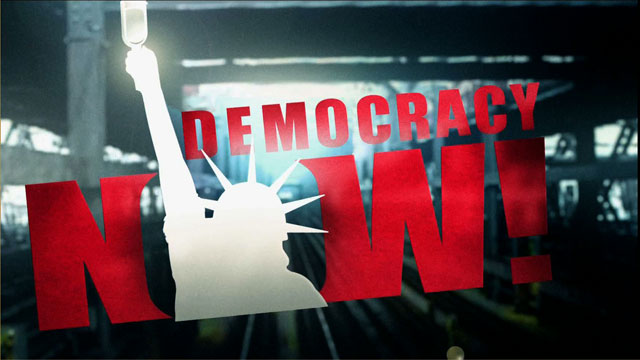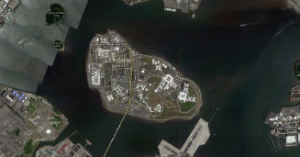 New York City authorities promise the island home to 12,000 New York City prisoners sits on land high enough to withstand a Category 4 hurricane. But advocates told Democracy Now! they are still concerned that Rikers Island is not being evacuated, given the size of the Frankenstorm that is Hurricane Sandy. They also point to prison officials' failure to communicate clearly with inmates and their families last year during Hurricane Irene.
"No one really knew there was a hurricane coming until family members were getting phone calls from inmates, and they were telling them the hurricane is coming," said Lisa Ortega a Bronx resident who's son was incarcerated at Rikers Island when Irene struck in August, 2011. "Staff would on an individual basis let them know, but there was no formal announcement of any kind."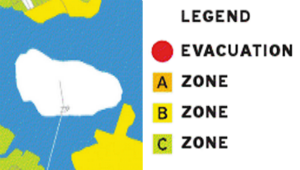 The area showing about 10 correctional facilities on Rikers Island is a white spot on the city's official evacuation map. It is surrounded by parts of the Bronx and La Guardia Airport in Queens that are colored yellow and green, meaning they could experience a storm surge and related flooding the case of a Category 2 hurricane or above.
Although the prison-watchdog website Solitary Watch reports the city has been more forthcoming about its plans for Rikers Island this year, editors note they have not been able to obtain an official evacuation plan for Rikers Island, even though they've been assured the plan exists.
For more, listen to the two new audio interviews below, conducted this afternoon by Democracy Now! producer Renée Feltz as Hurricane Sandy bore down on the area.
Click here to listen to Jean Casella, Solitary Watch co-editor. Casella has stayed in Brooklyn to continue reporting during Hurricane Sandy. She tells Democracy Now! it "seems completely impossible" to quickly evacuate all of the jail's prisoners and staff using the one narrow off of the island. In a 2011 post titled, Locked Up and Left Behind she helped break the story that has prompted closer scrutiny this year.
Click here to listen to Lisa Ortega of New York City Jails Action Coalition. Ortega speaks to Democracy Now! from the Bronx, where she says many residents of color have loved ones held at Rikers Island.
In related news, New Jersey may have evacuated at least one prison. A statement posted on the New Jersey Department of Corrections website says it is "is preparing for Hurricane Sandy, in compliance with a State of Emergency declared by Governor Christie. A plan has been implemented to relocate inmates from Southern State Correctional Facility, as needed, under an emergency situation. We have been proactive in areas that are deemed particularly susceptible to damage from severe weather conditions."
Calls to the New Jersey Department of Corrections were not returned, neither were calls to similar offices in other states that may lie in the storm's path, including in Virginia, North Carolina and Pennsylvania.
Update: In response to Mayor Bloomberg's statement at last night's press conference that "Jails are secure…don't worry about anyone getting out" during Hurricane Sandy, Center for Constitutional Rights Executive Director Vincent Warren issued the following statement:
"It is unconscionable that the city has made no plans for the evacuation of Riker's Island. The city has an obligation to help ensure the safety of all its residents. With Hurricane Sandy bearing down on the East Coast and indications that the storm's impact could be far greater than Hurricane Irene's (where the city also failed to include Riker's in its evacuation plan), we urge Mayor Bloomberg to belatedly to show some concern for the lives of the 12,000 men, women and children whose ability to escape this storm is entirely at the city's mercy. It is appalling that the lessons of Hurricane Katrina, where prisoners at Orleans Parish Prison were abandoned and left in locked cells, some standing in chest-high sewage-tainted water, remain stubbornly unlearned by the leadership of our city."
---