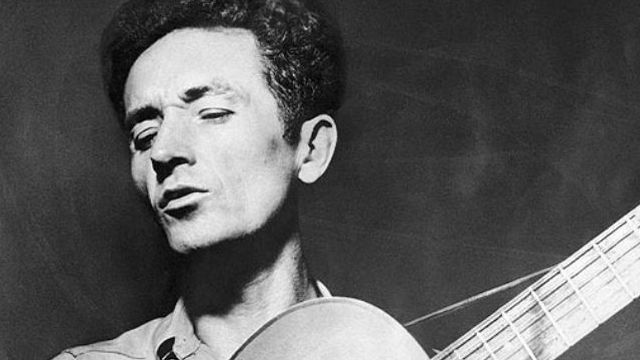 We will spend the hour Thursday, July 12, marking the 100th anniversary of the birth of one of the country's greatest songwriters, Woody Guthrie, with his daughter, Nora, and granddaughter, Anna. Also joining us in studio — with his guitar — will be three-time Grammy Award-winning musician, Steve Earle, who says Guthrie "invented my job." Earle is headlining Woodyfest in New York City, a three-day celebration featuring Billy Bragg and Tim Robbins, among others.
Democracy Now! welcomes your questions for our three guests. You can send your suggestions to stories@democracynow.org with "Guthrie" in the subject line, or post them on our Facebook page.
Born on July 14, 1912, in Okemah, Oklahoma, Guthrie wrote hundreds of folk songs, including "This Land Is Your Land," "Pastures of Plenty," "Pretty Boy Floyd," "Do Re Mi" and "The Ranger's Command." While Guthrie is best remembered as a musician, he also had a deeply political side. At the height of McCarthyism, Guthrie spoke out for labor and civil rights and against fascism.
Click here to watch our July 4 special honoring Guthrie. In this one-hour special, you will hear interviews and music from folk singer Pete Seeger, the British musician Billy Bragg, and the historian Will Kaufman, author of the new book, Woody Guthrie, American Radical.
---