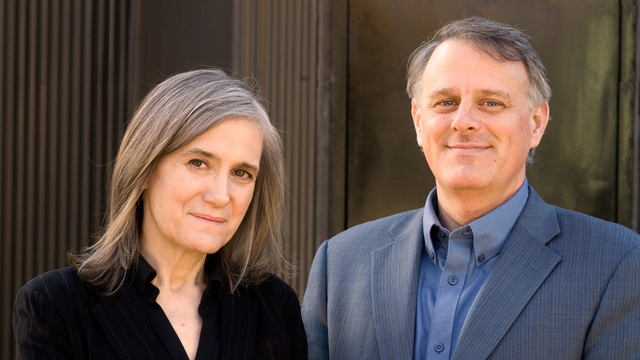 Media Options
By Amy Goodman with Denis Moynihan
After close to 42 years in solitary confinement, Herman Wallace is free. Wallace is dying of liver cancer, with days if not hours to live at the time of this writing. In a stunning legal ruling, Judge Brian A. Jackson of the U.S. District Court for the Middle District of Louisiana ordered Wallace's release by overturning his 1974 murder conviction. As he lies dying, Herman Wallace knows that after a lifetime of enduring the torture of solitary confinement for a crime he did not commit, he is now a free man.
Herman Wallace is one of the "Angola 3," along with Robert King, who was released from prison in 2001, and Albert Woodfox, who remains imprisoned in solitary confinement, despite having his sentence overturned on three separate occasions. These three men, all African-American, were locked up in what was considered America's bloodiest prison, maximum-security Louisiana State Penitentiary, known simply as "Angola." The sprawling prison is on the grounds of a former slave plantation, with 5,000 prisoners. It's named for the African country of many of its earlier enslaved occupants. Prisoners toil in the prison's fields, overseen by armed guards on horseback.
Wallace first went to prison for robbery. He, Woodfox and King formed one of the first prison chapters of the Black Panther Party, organizing inmates to oppose the systemic violence and sexual slavery that pervaded the institution.
Wallace and Woodfox were then convicted of the 1972 murder of a young prison guard, Brent Miller. No physical evidence linked the men to the crime. A bloody fingerprint at the murder scene, which matched neither Wallace's nor Woodfox's fingerprints, was ignored by authorities. Wallace and Woodfox believe they were targeted by officials because of their organizing work. After their conviction in 1974, they were put in solitary confinement along with Robert King, who was being punished for another crime, also one that he did not commit.
The story of the Angola 3 is told in "Herman's House," a documentary recently broadcast on the PBS series "P.O.V." It follows the collaboration between Wallace and artist Jackie Sumell. She heard Robert King speak after his release, and decided to write to Wallace. The documentary includes Herman Wallace's voice, from recorded phone conversations with Sumell.
"Jackie, in your letter you asked me what sort of house does a man who lives in a 6-foot-by-9-foot cell dream of?" Herman Wallace says. "In the front of the house, I have three squares of gardens. The gardens are the easiest for me to imagine, and I can see they would be certain to be full of gardenias, carnations and tulips. This is of the utmost importance. I would like for guests to be able to smile and walk through flowers all year long."
I interviewed Jackie Sumell the day before the surprise announcement of Wallace's release. She said that his dream house "will outlive his flesh and bones—Herman's legacy, his commitment to the people and the story of his injustice. It's important to build this house in the incarceration capital of the world." Louisiana has the highest per-capita incarceration rate in the United States, 13 times higher than that of China. It also leads the nation in people freed after being wrongfully convicted.
The Angola 3 were united for the last time Tuesday. The prison rules allowed King and Woodfox to say their final goodbyes to Wallace, not because he was leaving prison, but because he was dying. By sheer coincidence, that was when the judge overturned Wallace's conviction, and they were the ones who gave Wallace the news. Robert King described their final moments together: "Albert's last words were, 'Herman, we love you, and you're going to get out today.'" King described how Albert Woodfox leaned over, hands and feet shackled, and kissed Herman goodbye on his forehead. Amnesty International has called on Louisiana Gov. Bobby Jindal to immediately remove Albert Woodfox from solitary confinement.
Wallace was transferred to an ambulance and driven to the Louisiana State University Hospital in New Orleans. He has dreamed of his release for years, and describes it in "Herman's House":
"I got to the front gate, and there's a whole lot of people out there. … I was dancing my way out. I was doing the jitterbug. … I turn around, and I look, and there are all the brothers in the window waving and throwing the fist sign—it's rough, man. It's so real. I can feel it even now."
Herman Wallace was strapped into an ambulance, not dancing, as he left the prison, hanging on to life by a thread. But he was free, after almost 42 years in solitary confinement, longer than any other prisoner in U.S. history.
Amy Goodman is the host of "Democracy Now!," a daily international TV/radio news hour airing on more than 1,000 stations in North America. She is the co-author of "The Silenced Majority," a New York Times best-seller.
© 2013 Amy Goodman
---