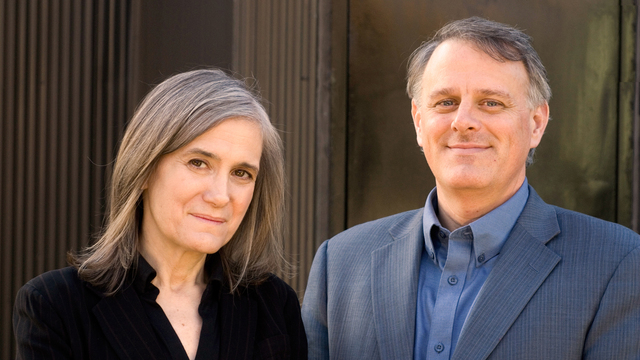 Media Options
By Amy Goodman with Denis Moynihan
The U.S. Supreme Court heard arguments about same-sex marriage this week. On Tuesday, it was about the controversial California ballot initiative known as Prop 8, which has banned same-sex marriages in that state. On Wednesday, the case challenging the constitutionality of DOMA, the federal Defense of Marriage Act, was heard. That case is called United States v. Windsor. Edie Windsor, now 83 years old, was married to a woman, Thea Spyer. They were a couple for 44 years.
Edie and Thea met in the early 1960s, in New York's Greenwich Village. They hit it off. In 1967, Thea proposed marriage to Edie, even though they knew it wasn't a possibility. The couple lived together as though they were married, buying a house together, sharing their earnings and living life. In 1975, Spyer was diagnosed with multiple sclerosis. Edie cared for Thea as her MS progressed, causing paralysis and forcing her into a wheelchair. When, in 2007, doctors told Thea that she had only one year to live, she reiterated her proposal to Edie. The couple flew to Toronto, and on May 22, 2007, they were wed in a ceremony officiated by Canada's first openly gay judge, Justice Harvey Brownstone.
Within a year, New York state, where the couple lived, officially recognized out-of-state same-sex marriages, although it took the state several more years to legalize such marriages performed in-state. With their Canadian marriage license and acceptance by New York state, one major institution remained that refused to recognize their formal declaration of lifelong love and commitment: The United States government. DOMA was signed into law by President Bill Clinton, on Sept. 21, 1996. The law states, "In determining the meaning of any Act of Congress, or of any ruling, regulation, or interpretation of the various administrative bureaus and agencies of the United States, the word 'marriage' means only a legal union between one man and one woman as husband and wife, and the word 'spouse' refers only to a person of the opposite sex who is a husband or a wife."
DOMA passed Congress months before a national election, with solid bipartisan support. As Clinton wrote this month in The Washington Post, however, he now opposes the law. He wrote that DOMA is "incompatible with our Constitution. Because Section 3 of the act defines marriage as being between a man and a woman, same-sex couples who are legally married in nine states and the District of Columbia are denied the benefits of more than a thousand federal statutes and programs available to other married couples."
Thea died Feb. 5, 2009, at the age of 77. After losing her wife, Edie suffered a heart attack. As she recovered, she learned that federal estate taxes on the value of what Thea left her would cost her $363,000, an amount that would be zero if the government recognized their marriage as legal. Edie, who has been a lesbian-rights activist for decades, decided to fight back. She sued the U.S. government.
Edie prevailed in the federal district court and then in the federal appeals court. Attorney General Eric Holder announced in February 2011 that the Obama administration would not be defending DOMA in court. You would think that would be the end of it. That's where BLAG comes in, the five-member Bipartisan Legal Advisory Group of the U.S. Congress. The three Republicans—House Speaker John Boehner, House Majority Leader Eric Cantor and House Majority Whip Kevin McCarthy—voted to instruct the House Office of General Counsel to defend DOMA, since the Obama administration declined. The House hired the former solicitor general in the George W. Bush White House, Paul Clement, to defend DOMA. Reports are that Clement has spent $3 million in taxpayer funds to date on the case.
Edie's case was argued on Wednesday, March 27. Outside the Supreme Court, still wearing the engagement pin given to her by Thea back in 1967, Edie said, "I know that the spirit of my late spouse Thea Spyer is right here watching and listening."
In an earlier profile in OUT magazine, Edie recalled, "The first time we ever danced using the wheelchair—I would sit in her lap in the wheelchair—the song on the radio was, 'There's a place for us, there's a time for us.' I can't even sing it because I cry." The song, "Somewhere" from "West Side Story," goes,
"Someday. … Somewhere.
We'll find a new way of living,
We'll find a way of forgiving
Somewhere, There's a place for us, A time and place for us."
Thanks to Edie Windsor, the late Thea Spyer and millions of other brave souls, the time and place for marriage equality may well be here soon.
Amy Goodman is the host of "Democracy Now!," a daily international TV/radio news hour airing on more than 1,000 stations in North America. She is the co-author of "The Silenced Majority," a New York Times best-seller.
---