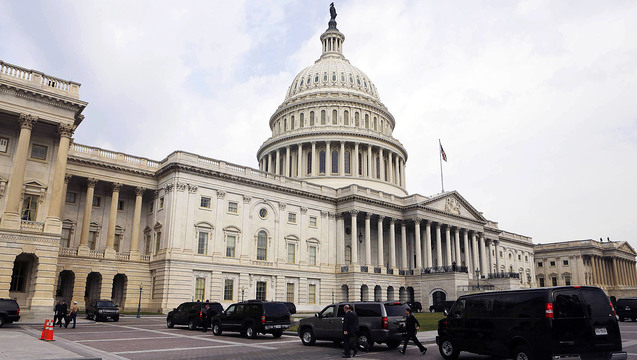 The Senate has voted narrowly no on whether to approve the controversial Keystone XL oil pipeline. There were 59 'yes' votes, which means the bill did not meet the 60-vote threshold, and failed to pass.
The vote comes days after House lawmakers passed a similar bill. The Senate bill was sponsored by Louisiana Democratic Sen. Mary Landrieu, who is facing a tough battle to keep her seat in a runoff next month against Republican Rep. Bill Cassidy. He also happens to be the sponsor of the pro-Keystone bill in the House.
On Monday, Democracy Now! discussed the Keystone XL proposal with Naomi Klein, author of the new book, "This Changes Everything: Capitalism vs. the Climate."
Naomi Klein: "The idea that it's still up for some kind of debate whether or not building Keystone XL has a climate impact is — you know, it's absurd. Keystone is a pipeline that is intimately linked to plans by the oil and gas industry to dramatically expand production in the Alberta tar sands. They have pipeline capacity, more or less, to get the oil out that they're producing right now, but they have active plans to double and triple production in the Alberta tar sands, digging up one of the highest carbon fuels on the planet, with tremendous local impacts to — health impacts to First Nations people, to indigenous people living in that region, violating their treaty rights. And, of course, when that oil is burned, it has tremendous climate impacts. It also has climate impacts in the fact that it's really, really difficult to get that tarry oil into a product that can be burned, because it isn't liquid, because it is semi-solid. So, it takes a huge amount of energy. This is why it is so carbon-intensive to extract it and to refine. It also takes huge amount of water. So, it obviously has a climate impact, because it is linked to the expansion of the tar sands."
Naomi Klein: Reject Keystone XL Pipeline, We Need Radical Change to Prevent Catastrophic Warming

Click here to watch all Democracy Now! coverage on the debate over the Keystone XL pipeline. We've interviewed many activists, journalists, scholars, policy makers, industry representatives, and some landowners that would be impacted by the pipeline.
---