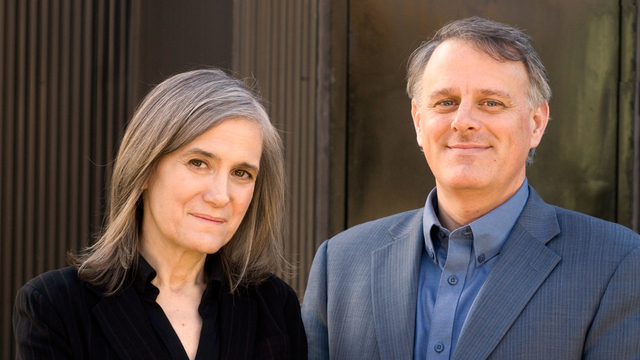 Media Options
By Amy Goodman with Denis Moynihan
It was a dramatic scene in the Senate this week. As Sen. Elizabeth Warren, presiding, announced the defeat of the Keystone XL pipeline, a Crow Creek Sioux man from South Dakota sang out in the Senate gallery. A massive people's climate movement against extracting some of the dirtiest oil on the planet had prevailed … at least for now.
It was a Democrat, Louisiana Sen. Mary Landrieu, representing oil interests, who tried to push the pipeline through. She hoped its passage would help her in the Dec. 6 runoff election against her challenger, Congressman Bill Cassidy, who sponsored a similar bill in the House. The Republicans have promised to reintroduce the bill when they take control of the Senate in January.
The coalition against the Keystone XL is broad-based. It includes environmentalists, indigenous activists, farmers and ranchers, concerned about both climate change and protecting their land. They are worried about an oil spill into the Ogallala Aquifer, one of the largest aquifers in the world, which extends from South Dakota to Texas and provides water for millions of people. The name of one partner organization signals how unique this coalition is: the Cowboy and Indian Alliance. Out in the sandhills and great plains of the West, residents who in the 19th century were more likely than not to be adversaries have joined together to confront TransCanada Corp.'s aggressive plan to force its pipeline through their land.
"The fight has just started," Cyril Scott told me. He is the president of the Rosebud Sioux Tribe in South Dakota. "We have to gear up and be ready and start our own campaign to make sure we secure enough support to stop this black snake that's going to harm not only Indian country, but the United States of America."
The Keystone XL pipeline's primary function will be to move oil from the tar sands region of Alberta to port facilities on the South Texas coast, for shipping to overseas customers. It will enable expanded extraction of the tar sands, a form of oil that is much more environmentally destructive than other types. Climate scientist James Hansen, former director of the NASA Goddard Institute for Space Studies, wrote in The New York Times, "If Canada proceeds, and we do nothing, it will be game over for the climate." Hansen is one of more than 1,200 people who were arrested in front of the White House, protesting Keystone XL.
In years past, President Barack Obama claimed that if the Keystone XL pipeline were not approved, then TransCanada would build a pipeline that avoids the U.S. entirely, sending the oil through Canada, to either its east or west coast.
Naomi Klein says that argument doesn't wash anymore. She is a climate activist and author of a kind of new-movement bible, "This Changes Everything: Capitalism vs. the Climate." The day before the Senate vote, she told me, "The tar sands are really surrounded by opposition. Everywhere they try to build a new pipeline or expand an existing pipeline, they're facing fierce direct action as well as legal challenges by indigenous people and by other interests. So, the idea that if you don't build Keystone, they'll get it out anyway, is absurd."
TransCanada is clearly worried about the movement. Leaked documents obtained by Greenpeace reveal that TransCanada has hired Edelman, the world's largest public-relations firm, to wage a campaign against groups that are trying to block their pipeline projects.
Click here to read the full column posted at Truthdig.
Listen to and subscribe to Amy Goodman's weekly podcast on SoundCloud.
---