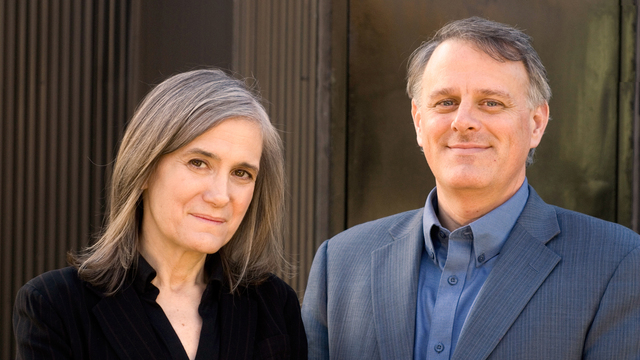 Media Options
By Amy Goodman with Denis Moynihan
Egypt sentenced three Al Jazeera journalists this week to severe prison terms, in court proceedings that observers described as "farcical." Peter Greste, Mohamed Fahmy and Baher Mohamed were charged with fabricating news footage, and thus supporting the Muslim Brotherhood, which was ousted from power in a military coup a year ago and labeled a terrorist organization.
Along with the three jailed journalists, three other foreign journalists were tried and convicted in absentia. Greste, who is Australian, and Fahmy, who is Canadian-Egyptian, received seven-year prison sentences. Baher Mohamed, who is Egyptian, was dealt a 10-year sentence, ostensibly because he had an empty shell casing in his possession, which is an item that many journalists covering conflicts pick up off the street as evidence. The prosecutors called that possession of ammunition.
The harsh, six-month pretrial imprisonment, the absurd trial itself and now these sentences have generated global outrage. A movement is growing to demand clemency or release for these three journalists. But while the words of the Obama administration support their freedom, the U.S. government's actions, primarily in pledging to resume military aid to Egypt, send the opposite message.
The three journalists who were sentenced in absentia to 10 years in prison are Al-Jazeera correspondent Sue Turton, along with Dominic Kane and Dutch journalist Rena Netjes. Speaking on the "Democracy Now!" news hour from Doha, Qatar, where Al Jazeera is based, Turton told me: "The verdicts left us all here at Al Jazeera quite stunned. We dared to believe that the verdict would be 'not guilty,' because we had sat and watched the court sessions over the past few months, and we'd seen absolutely no evidence that the prosecution had brought that proved in any way, shape or form the charges against us."
Jailed journalist Greste has won awards for his work around the world for Reuters and the BBC prior to Al-Jazeera. Fahmy was working as Al-Jazeera's Cairo bureau chief at the time of the trio's Dec. 29, 2013, arrest. He has also worked for CNN, contributed to The New York Times and worked with "PBS NewsHour." Margaret Warner, the chief foreign-affairs correspondent for "NewsHour," worked with Fahmy while covering the Egyptian revolution in 2011 when her crew was attacked. She said of Fahmy's efforts that day: "He absolutely saved our lives. I'm no legal expert, but I can tell you that Mohamed Fahmy struck me … as nothing more and nothing less than a professional journalist."
In a letter sent to the newly elected President Abdel Fattah el-Sisi, more than 75 journalists, including "Democracy Now!" correspondent Sharif Abdel Kouddous, who is himself Egyptian American, wrote: "As journalists, we support the release of all of our Egyptian or international colleagues who may be imprisoned for doing what they believed to be their jobs."
The Committee to Protect Journalists noted, "While the focus has been on the Al-Jazeera journalists, in fact Egypt is currently holding at least 14 journalists in prison, placing the country among the world's worst repressors." Amnesty International is calling on people around the world to appeal to President Sisi, writing: "All three men are prisoners of conscience, imprisoned solely for the peaceful exercise of their right to free expression. Egypt must immediately drop the charges against the three journalists and let them go free."
Of course, not all voices calling for freedom are equal. When the sentences were handed down in court this week, Mohamed Fahmy shouted from his cage, "Where is John Kerry?" It was a very important question. The day before the verdict was issued, U.S. Secretary of State John Kerry was in Cairo, meeting with Sisi.
Egypt has long been one of the largest recipients of U.S. aid, averaging $1.5 billion-$2 billion per year since 1979. Since the coup d'etat last year, that aid has been halted, but the U.S. says it is resuming military aid. One of Kerry's former colleagues in the Senate, Patrick Leahy, warned, "The harsh actions taken today against journalists is the latest descent toward despotism." So how is it that the U.S. is restoring more than $500 million in military aid right now?
From his home in Australia, Peter Greste's father, Juris Greste, said, "Journalism is not a crime," echoing the sentiment that has gone global. In newsrooms the world over, from the BBC and the Toronto Star to Hong Kong, journalists and staff are posting photos of their mouths covered with tape, protesting Egypt's oppression of the press. President Barack Obama and Secretary of State Kerry should take heed. A threat to the freedom of the press is a threat to the public's right to know. It is the flow of information, not the flow of military aid, that is essential to the functioning of a democratic society.
Amy Goodman is the host of "Democracy Now!," a daily international TV/radio news hour airing on more than 1,200 stations in North America. She is the co-author of "The Silenced Majority," a New York Times best-seller.
© 2014 Amy Goodman
Distributed by King Features Syndicate
---