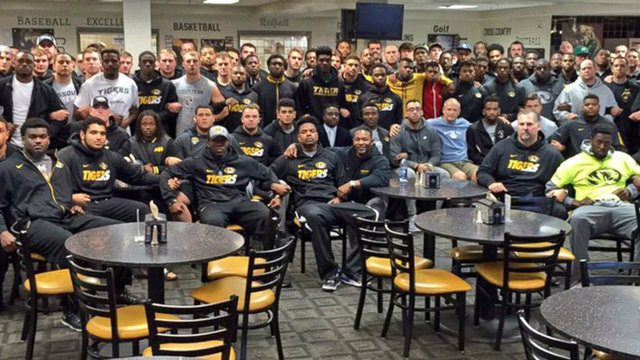 University of Missouri President Tim Wolfe announced he would step down today after protests over his handling of racial tensions on campus rocked the school.
Wolfe's resignation came one day after African-American players on the University of Missouri's football team went on strike, refusing to participate in team activities or games until Wolfe resigned over his handling of racism on the heavily white campus.
In a tweet Saturday, the players wrote: "The athletes of color on the University of Missouri football team truly believe 'Injustice Anywhere is a threat to Justice Everywhere.' We will no longer participate in any football related activities until President Tim Wolfe resigns or is removed due to his negligence toward marginalized students' experience."
The move comes amid increasing protest over racial slurs and the appearance of a swastika drawn in feces in a dormitory. For a week, an African-American graduate student, Jonathan Butler, has been on hunger strike, and protesters have been camping out to support his call for Wolfe's resignation.
The coach and athletic department have supported the football players. Coach Gary Pinkel tweeted: "We are united. We are behind our players."
The Mizzou Family stands as one. We are united. We are behind our players. #ConcernedStudent1950 GP pic.twitter.com/fMHbPPTTKl

— Coach Gary Pinkel (@GaryPinkel) November 8, 2015
Athletic director Mack Rhoades released a statement saying there would be no practice or formal team activities until Butler ends his hunger strike.
Today's Missourian (@CoMissourian) cover. #ConcernedStudent1950 pic.twitter.com/WhVajZmbMW

— deray mckesson (@deray) November 9, 2015
We are no longer taking it. It's time to fight. #ConcernedStudent1950 #MizzouHungerStrike pic.twitter.com/mnPZBviqJF

— LBC (@MizzouLBC) November 8, 2015
---