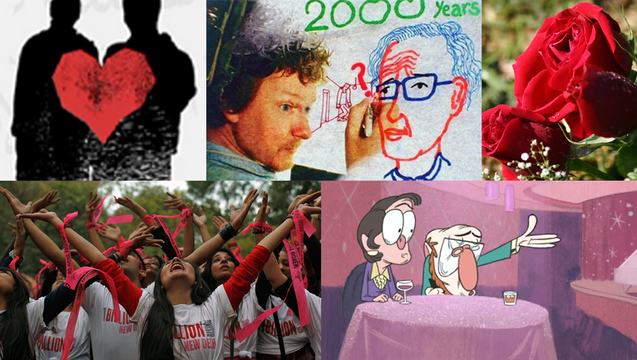 For Valentine's Day, we dug through the Democracy Now! archives to bring you these 20 stories.
Just two years ago, a group of Georgia high school students made history by challenging the segregation of their high school prom. Watch our interview with two of the students, Mareshia Rucker and Brandon Davis. "I just want people to understand that love has no color," Rucker told us.
2. Don't Wait to Say 'I Love You' Today
On Valentine's Day, hear the voices of ordinary Americans talking about love. Couples recorded endearing stories with the StoryCorps Oral History Project. "Remember to say the things to the people who you love today, and not to wait," says StoryCorps founder Dave Isay.
Chocolate remains a favorite gift on Valentine's Day, but have you thought about where it is made? In 2008, we spoke with journalist Christian Parenti who revealed that little progress had been made in the cocoa industry's pledges to address child labor. He then debates William Guyton, president of the World Cocoa Foundation.
Years after writing the acclaimed play "The Vagina Monologues," Eve Ensler is part of a worldwide movement to end violence against women and girls. In 2013, we spoke to her about the launch of the #1BillionRising movement. "One of the greatest things about this movement is how connected we are across borders, across nations, across tribes. And we are in this together. We now know that violence against women is a global phenomenon and isn't particular to culture or to nations or to families, but it's something all of us are impacted by." On Valentine's Day, people in some 200 countries will be taking part in the #rise4revolution day of action this year.
5. Breakups
Environmental activists are calling on people to take action on Valentine's Day for the Global Divestment Day, calling on institutions to break-up with investors tied to companies that drive and profit from global warming. Watch our recent interview with James Anderson, professor of chemistry and Earth and planetary sciences at Harvard University. He is calling on Harvard to join with other colleges and universities divesting from fossil fuels. Harvard's endowment is the largest of any school in the world, at $36.4 billion.
Every year, Palestinian and Jewish activists gather in New York City to protest Leviev, the world's largest cutter and polisher of diamonds. The company has been linked to expanding Jewish-only settlements in the Palestinian West Bank and a sketchy human rights record in Angola, where it controls the diamond supply. "We're calling for a boycott of Leviev and his jewelry store in New York City," Palestinian lawyer and activist Lubna Mikkel told us in 2008. They continue to ask people to boycott Leviev diamonds today.
7. Secrets
What secrets do you keep with your partner? In 1971, John and Bonnie Raines broke into an FBI office in Pennsylvania. They stole every document they found and then leaked many to the press, including details about FBI abuses and the then-secret counter-intelligence program to infiltrate, monitor and disrupt social and political movements, nicknamed COINTELPRO. They joined us last year in an extended interview to reveal this long-time secret story.
It was French filmmaker Michel Gondry who got world-renowned political dissident Noam Chomsky talking about love and his late wife, Carol. "Carol was kind of a social butterfly," Chomsky said. " I was very solitary. For a couple years, we more or less lived her style of life. But, you know, I'd sit in a corner at the parties." Gondry appeared on Democracy Now! to tell us about his conversations with Chomsky, which he animated in his film, "Is the Man Who is Tall Happy?"
9. Bromance
"What were the most famous, or not as well known, bromances between top bankers and presidents?" Amy Goodman asked Nomi Prins, author of the book, "All the Presidents' Bankers: The Hidden Alliances that Drive American Power." You'll have to watch to find out.
Planning to buy roses? In 2003, we spoke with reporter Ross Wehner who investigated the women and children who work in the rose industry in Ecuador. "Insecticides, herbicides, fungicides, and soil fumigants used in the greenhouses are causing serious health problems for Ecuador's 60,000 rose workers," he wrote. "By the time the flowers reach florists and supermarkets across the country, a rose that cost less than 17 cents to produce in Ecuador will sell for as much as $8."
11. Compassionate Love in Suffering
"It is so hard to describe in words how difficult it is to watch the person you most love in the world suffer immeasurably all day, every day," says Claudia Cuellar, the wife of Army veteran Tomas Young in this 2013 interview. Young was injured when his unit came under fire in the Sadr City neighborhood of Baghdad, which left him paralyzed and in physical pain. When returning home, he was one of the first veterans to publicly come out against the war. He penned, "The Last Letter: A Message to George W. Bush and Dick Cheney From a Dying Veteran." He died in 2014.
"Usually people do this because they're making a commitment, as they say, at the beginning of their lives. For us, it's at the other end," said prominent LGBT and marriage-equality activist Edie Windsor, the lead plaintiff in the case that led the U.S. Supreme Court to declare the Defense of Marriage Act (DOMA) unconstitutional. The story of Windsor's life and love of her long-time partner Thea Spyer is told in the award-winning documentary, "Edie & Thea: A Very Long Engagement."
Prominent British journalist Victoria Brittain joined us in studio in 2013 to talk about her book, "Shadow Lives: The Forgotten Women of the War on Terror." We ask her to read an excerpt of the poem written by Zinnira, the wife of Guantánamo prisoner Shaker Aamer. "For her, February the 14th is a special day. It's not only the day that her youngest child was born, who Shaker has never seen … but it's also the day, coincidentally, and she didn't know it while she was giving birth, that Shaker was taken to Guantánamo."
You are the roof over my head,
You are the shadow that can't be lead,
You are my voice when the silence breaks,
Your hand I seek, your hand I hold,
Cause you have a heart of gold.
You show me light in the dark,
And you guide me when I am lost,
Your happiness is all I ask,
But your story remains untold,
Cause you have a heart of gold.
Artist and filmmaker Toshi Seeger died less than two weeks short of what would have been the 70th anniversary of her marriage to legendary musician and activist Pete Seeger. "We met square dancing in New York, and I came to sing for the square dance group and stayed to dance," Seeger told us in 2013. "I remember she volunteered to help me alphabetize a big mess of songs that I had." Also, hear him sing, "We Shall Overcome."
15. Jihad for Love
Muslim gay filmmaker Parvez Sharma spent five-and-a-half years documenting the lives of gay and lesbian Muslims in 12 countries. His subjects include a gay imam in South Africa, an Egyptian who fled to France after his imprisonment and torture, and a lesbian couple in Turkey. "'Jihad for Love' is a really important film right now. There's a battle for the soul of Islam post-September 11th," Sharma told us in this 2008 interview. "'Jihad' is almost an English-language word now. And this whole idea of the Jihad al-Nafs, which is the struggle with the self, and the greater jihad within Islam is rarely spoken about. … This whole idea of taking 'jihad,' a very contested word, and putting it right next to 'love,' I think is very powerful.
Over the years, Canadian physician and bestselling author Dr. Gabor Maté has appeared on Democracy Now! several times. In this interview, he explains how emotions are deeply implicated in both the development of illness, addictions and disorders — and in their healing. Yes, he does talk about "the love chemicals that connect us to the universe and to one another."
17. A Valentine for the Governor
"I was one of the first to actually come in the building on February 14th, where we delivered hundreds and hundreds of Valentine's Day cards to the governor," says then-graduate student Angela Wellman in 2011, when she participated in the massive protests against the policies of Wisconsin Gov. Scott Walker at the state capitol building.
18. Bankster Love
Last year, WikiLeaks released the secret draft text for the Trade in Services Agreement (TISA), a trade agreement covering 50 countries and more than 68 percent of world trade in service. "This is a proposal that only banksters can love," says Lori Wallach, director of Public Citizen's Global Trade Watch.
19. Love Poems
"Mahmoud Darwish is a poet who endlessly tried to renew himself," said Fady Joudah, a Palestinian-American poet who has translated his poetry. Joudah explains that Darwish's collection of love poems titled "The Stranger's Bed," is "a dialogue between his 'I' and his feminine 'I,' and it incorporates a lot of the fundamentals and traditional canon of love poetry developed into a contemporary and modern form and ideal." Many of Darwish's best love poems have become well-known songs throughout the Arab world, because they were set to music by the Lebanese musician Marcel Khalife. Amy Goodman interviewed Khalife in 2007 and asked him about Darwish's influence on his life. Hear an excerpt of Khalife singing Darwish's poem "Umi," or "My Mother."
20. Fall in Love with Imagination
"I have fallen in love with the imagination. And if you fall in love with the imagination, you understand that it is a free spirit," said renowned author, poet and activist Alice Walker in a public interview with Amy Goodman in 2006. At the end of the interview, she reads her poem, "Be Nobody's Darling."
And of course, we send a shout-out of love to all of our Democracy Now! fans! Thank you for tuning in and for sharing our interviews with your loved ones.
---