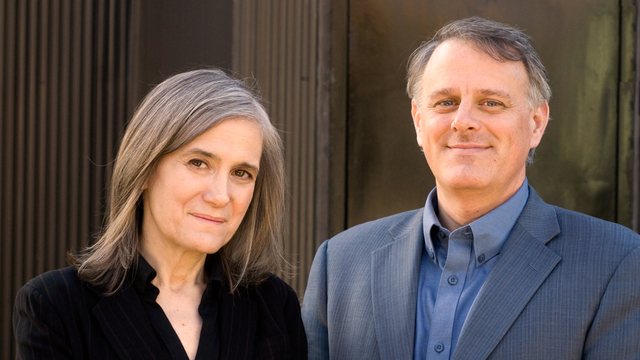 Media Options
Amy Goodman with Denis Moynihan
What price would you pay not to kill another human being? At what point would you commit the offenses allegedly perpetrated by Sgt. Bowe Bergdahl, who was charged Wednesday with desertion and "misbehavior before an enemy?"
Bowe Bergdahl was a private when he left his post in Afghanistan, under circumstances that are still unknown to the public, and was captured by the Taliban. They imprisoned him for five years, until he was released in a controversial prisoner swap negotiated by the Obama administration. Five Taliban members who were held for years at Guantánamo Bay were released to house arrest in Qatar in exchange for Bergdahl. He now faces a court-martial and potentially life in prison. Meanwhile, the architects of the disastrous wars in Iraq and Afghanistan remain untried, while a new report asserts that up to 1.3 million people have been killed in Iraq, Afghanistan and Pakistan in the first 10 years of the so-called war on terror.
The report is called "Body Count" and is published in the U.S. by Physicians for Social Responsibility. "It has been politically important to downplay Allied forces' responsibility for the massive carnage and destruction in the region," writes San Francisco doctor Robert M. Gould in the report's foreword. He told me: "We need to take full responsibility for the true cost of war as we are preparing to continue our involvement in Afghanistan and deepen our involvement in Syria and Iraq. There's great anger throughout the region about our involvement and the underplaying here of what the true costs are in terms of death and destruction."
This report was released just as Afghanistan's new president, Ashraf Ghani, was welcomed at the White House by President Barack Obama. Obama announced that he is slowing the planned departure of U.S. troops from Afghanistan, leaving 9,800 soldiers at least through the end of 2015. "It is my judgment, it's the judgment of General [John] Campbell and others who are on the ground, that providing this additional time frame during this fighting season for us to be able to help the Afghan security forces succeed is well worth it," Obama said. America's longest war continues, with no end in sight. Ghani visited the Pentagon during his time in Washington, as well as Arlington National Cemetery, where he laid a wreath of flowers to honor the fallen U.S. soldiers.
Click here to read the full column posted at Truthdig.
Subscribe to Amy Goodman's podcast on SoundCloud and Stitcher Radio.
---