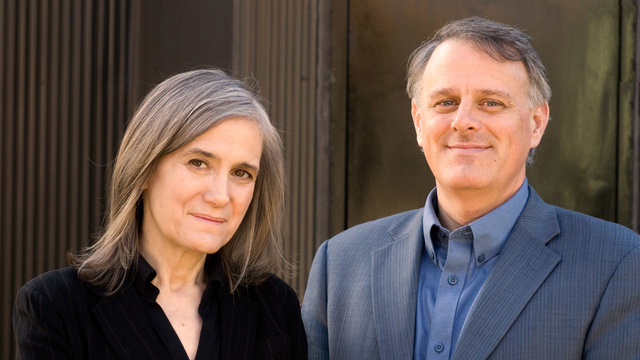 Media Options
By Amy Goodman and Denis Moynihan
The Internet, the electronic nervous system of the planet, has changed human society, profoundly altering the way we conduct our lives. It has been a great leveler, allowing people to connect, publish and share on a global scale. You can write, shop and bank online, or organize a demonstration that could overthrow a dictatorship. But the Internet also opens us to intense monitoring, exposing our most personal, private communications to the prying eyes of corporations and government spies, not to mention criminals. One way we can protect ourselves is with encryption, which provides security for our data, allowing us to send and store digital information safely, essentially scrambling the information. In order to unscramble it, you need a key, a password. The ability of regular people to access encryption tools has prompted the governments of both the United States and the United Kingdom to propose special access to all communications. They want a master key to everyone's digital life.
FBI Director James Comey appeared before a Senate Committee on Wednesday, July 8, along with U.S Deputy Attorney General Sally Quillian Yates. As the meeting convened, the frailty of our networks was on display for the world: The New York Stock Exchange was shut down for half a day, supposedly due to a computer "glitch"; United Airlines grounded flights when it lost access to its computer systems; and The Wall Street Journal website was down due to "technical difficulties." The Senate panel was called "Going Dark: Encryption, Technology, and the Balance Between Public Safety and Privacy." "Going Dark" is a term used when people encrypt their communications. A joint statement from the duo, delivered by Yates, acknowledged "citizens have the right to communicate with one another in private without unauthorized government surveillance — not simply because the Constitution demands it, but because the free flow of information is vital to a thriving democracy."
Despite the lofty pledge, Comey and others in the so-called intelligence community want unlimited access to all communications, all the time. They want what digital security experts call "extraordinary access mandates." This means that any encryption tool would be required to have a "back door," through which the FBI, the CIA or whomever possesses the requisite authority could access and read the communication, whether it is email, text, video chat or any other format. Why do they want this unlimited access? As Comey and Yates said, "When changes in technology hinder law enforcement's ability to exercise investigative tools and follow critical leads, we may not be able to identify and stop terrorists who are using social media to recruit, plan and execute an attack in our country."
A group of the world's leading experts on computer and Internet security published a paper this week on just how deeply flawed Comey's demand is. Fifteen authors contributed to the paper, published by MIT and titled "Keys Under Doormats: Mandating insecurity by requiring government access to all data and communications."
Bruce Schneier, one of the paper's authors, is a security technology guru and author of "Data and Goliath: The Hidden Battles to Collect Your Data and Control Your World." He said on the "Democracy Now!" news hour: "It's extraordinary that free governments are demanding that security be weakened because the government might want to have access. This is the kind of thing that we see out of Russia and China and Syria. But to see it out of Western countries is extraordinary."
Comey wants to mandate a back door, a built-in security weakness. Schneier continued: "What Comey wants is encryption that he can break with a court order. But as a technologist, I can't design a computer that operates differently when a certain piece of paper is nearby. If I make a system that can be broken, it can be broken by anybody, not just the FBI. So his requirement for access gives criminals access, gives the Chinese government access."
Sen. Ron Wyden, D-Ore., has been one of the most vocal critics of government spying. In an online critique of a blog post by FBI Director Comey, Wyden wrote: "Trying to restrict the use of encryption would cast suspicion on those who legitimately seek protected communications, such as journalists, whistleblowers, attorneys, and human rights activists. … It's time to stop attacking the technology and start focusing on real solutions to the real threats facing our nation."
Bruce Schneier summed up: "We're concerned about the security of our data, and encryption is a valuable tool. To deliberately weaken that at the behest of the FBI or the U.K. government, I think, is a really crazy trade-off. It doesn't make us safer; it makes us more at risk." Ultimately, it is democracy that is at risk. The freedom to communicate without the government spying on us is essential to the functioning of a free and open society.
---