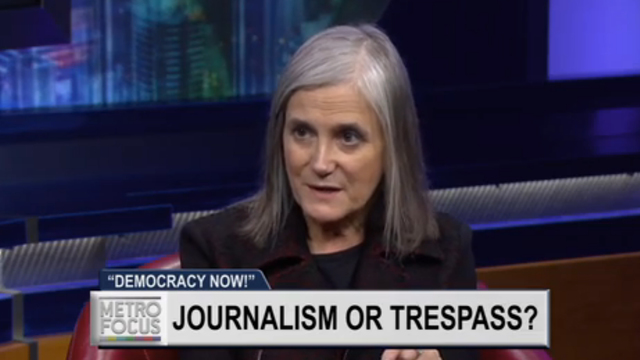 On Friday, Amy Goodman spoke with PBS MetroFocus host Jack Ford about reporting on the Dakota Access pipeline and covering movements for 20 years with Democracy Now!
Goodman discussed facing criminal charges for reporting on resistance to the $3.8 billion pipeline project from North Dakota, after Democracy Now!'s video report documenting attacks on protesters on September 3 went viral and was viewed 14 million times on Facebook:
AMY GOODMAN: This is unacceptable, because this sends a chill through the entire profession. It says, if you come to North Dakota to cover this historic struggle, which is really ultimately around the fate of the planet, around the issue of climate change—that's what the Native Americans, they don't even call themselves protesters, they call themselves water protectors—are standing up for. They say, if you come here to cover this, you risk arrest. And that's not acceptable, and that's why all journalists should be there.
Watch the PBS interview:
---