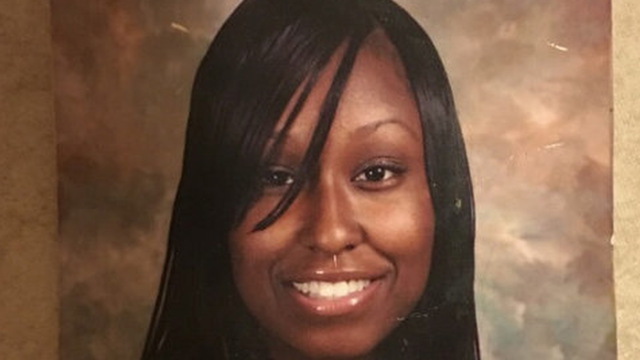 Cherelle Baldwin has been freed after a 12-member jury in Bridgeport, Connecticut found her not guilty of murder in the death of her abusive ex-boyfriend, Jeffrey Brown. According to the Huffington Post, Baldwin "collapsed to the floor in tears as the verdict was announced," crying, "My baby will have his mommy back."
Baldwin has been jailed for nearly three years on $1 million bail, which her family was unable to pay. Her first trial resulted in a hung jury. Her son will turn five years old in October.
And Cherelle Baldwin is free! pic.twitter.com/huTv3J6v9i

— Melissa Jeltsen (@quasimado) March 31, 2016
Baldwin was charged with the 2013 killing of her ex-boyfriend, Jeffrey Brown, who Baldwin alleges had stalked and abused her. According to court documents, Brown had repeatedly threatened Baldwin, took her credit cards and money and assaulted her during visits to see their son, who lived with Baldwin. Baldwin eventually attained a court order barring threats, harassment and assaults during visits, but just before Brown died, he sent Baldwin a series of threatening text messages. Then, according to a police affidavit based on Baldwin's statements, Brown showed up at her house, climbed through her window and attacked her, choking her with his belt. Baldwin escaped and managed to get inside her car, but so did Brown, who again choked her. What happened next is hard for even Baldwin to remember, but when police arrived they found Baldwin on the ground with a broken leg and Brown dead in front of the car, pinned against the garage wall.
Her case had caught the attention of domestic violence organizations, many of whom have cited the case as an example of how black women are disproportionately imprisoned when they defend themselves against domestic abuse.
Watch our segment from earlier today with Cherelle Baldwin's mother, Cynthia Long, and journalist Victoria Law.

---