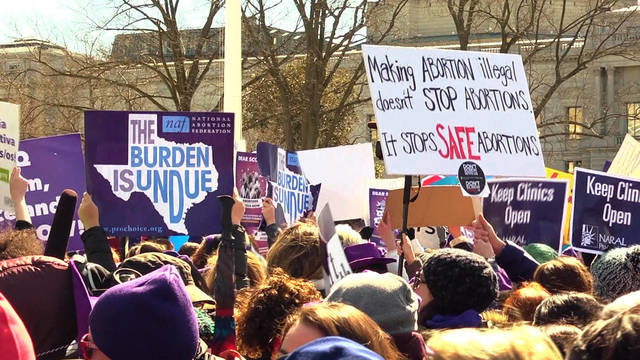 In a 5-3 decision, the Supreme Court has struck down sweeping anti-choice restrictions in Texas, handing down a victory for reproductive rights in the most significant abortion case in a generation.
The provisions at issue in the case required abortion clinics to meet the costly standards of hospital-style surgery centers, and mandated that doctors obtain admitting privileges at a nearby hospital.
The Texas Legislature passed the sweeping anti-choice law in 2013 despite a people's filibuster and an 11-hour stand by Texas State Senator Wendy Davis. With the law in partial effect, about half of the more than 40 clinics in Texas have closed. If the Supreme Court had allowed the provisions to come into full effect, advocates warned it would have left Texas with about 10 abortion clinics clustered in four metropolitan areas.
But Justices Anthony Kennedy and Stephen Breyer joined all three women on the court, agreeing that the admitting privileges and surgical center requirements constituted an undue burden on people seeking an abortion, and thus violated the Constitution.
In a statement, the lead plaintiff in the case, Amy Hagstrom Miller of Whole Woman's Health, said, "Every day Whole Woman's Health treats our patients with compassion, respect and dignity—and today the Supreme Court did the same. We're thrilled that today justice was served and our clinics stay open."
---