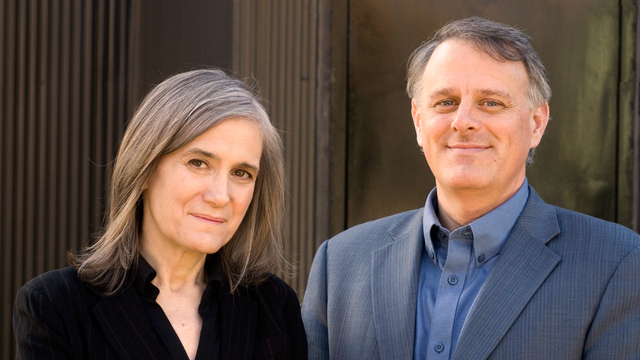 Media Options
By Amy Goodman & Denis Moynihan
In April 2010, a classified U.S. military video was released through the website WikiLeaks, recorded from a camera aboard an Apache helicopter. It shows the massacre of civilians on a street in Baghdad, Iraq. The video, which WikiLeaks called "Collateral Murder," documented in graphic, grainy black-and-white detail a helicopter gunship attack on July 12, 2007. The helicopter opens fire with machine guns on a group of men, including Reuters news agency photographer Namir Noor-Eldeen and his driver, Saeed Chmagh. Most of the men are killed instantly. Noor-Eldeen runs away, and the crosshairs follow him, shooting nonstop, until he falls dead.
The radio transmission embedded in the video records the soldiers' voices: "All right, hahaha, I hit 'em." And then: "Yeah, we got one guy crawling around down there." Chmagh, seriously wounded, can be seen dragging himself away from the other bodies. A voice in the helicopter, seeking a rationale to shoot, says: "Come on, buddy. All you gotta do is pick up a weapon. … If we see a weapon, we're gonna engage." A van pulls up, and several men, clearly unarmed, come out and lift Chmagh to carry him to medical care. The soldiers on the Apache seek and receive permission to "engage" the van and opened fire, tearing apart the front of the vehicle and killing the men.
With everyone in sight apparently dead, U.S. armored vehicles move in. When a vehicle drives over Noor-Eldeen's corpse, an observer in the helicopter says, laughing, "I think they just drove over a body."
Pentagon Papers whistleblower Daniel Ellsberg, a Marine veteran who trained soldiers on the laws of war, told us on the "Democracy Now!" news hour: "Helicopter gunners hunting down and shooting an unarmed man in civilian clothes, clearly wounded … that shooting was murder. It was a war crime."
For years, Reuters sought access to the video, but was denied. It was a young U.S. Army intelligence analyst stationed in Iraq who got ahold of it and released it to WikiLeaks. In addition to the video, the analyst also leaked hundreds of thousands of text-based records, from logs of military actions in Iraq and Afghanistan to U.S. State Department cables. Eventually, the analyst was betrayed by an online confidant and arrested.
That soldier was known at the time as Bradley Manning. Manning was held in harsh solitary confinement at the Quantico Marine Corps Base in Virginia for close to a year, in conditions that prompted an investigation by Juan Mendez, who was then the U.N. Special Rapporteur on Torture. Mendez concluded, "I believe Bradley Manning was subjected to cruel, inhuman and degrading treatment in the excessive and prolonged isolation he was put in during the eight months he was in Quantico."
Pvt. Manning was court-martialed, sentenced to 35 years in prison and transferred to the U.S. military prison at Fort Leavenworth, Kansas. Immediately after the verdict was announced, Manning stated publicly that she had begun a transgender transition and changed her name to Chelsea Manning.
Manning has now served seven years of her sentence, experiencing extraordinary hardship as a person seeking gender-reassignment treatment while imprisoned by the U.S. military. She has fought for medical care, for transfer out of the men's prison, and has attempted suicide twice. At Leavenworth, the punishment for attempted suicide is more solitary.
A worldwide campaign grew, petitioning President Barack Obama to grant clemency to Manning, the longest-held whistleblower in U.S. history. Obama has issued more commutations and pardons than any president, mostly to nonviolent drug offenders. On Tuesday, he granted over 209 commutations and 64 pardons. Commutations reduce or eliminate the balance of a convicted person's prison sentence, while a pardon wipes clean the individual's record, removing the guilty verdict entirely. Presidential pardons and commutations cannot be reversed. Among those commutations granted Tuesday was one for Chelsea Manning.
With just two days remaining as president, Barack Obama held his final news conference at the White House. The first question was about his decision to free Manning. It was posed by a Reuters reporter. Obama replied, "Chelsea Manning has served a tough prison sentence. … It has been my view that given she went to trial; that due process was carried out; that she took responsibility for her crime; that the sentence that she received was very disproportionate relative to what other leakers had received; and that she had served a significant amount of time; that it made sense to commute and not pardon her sentence. … I feel very comfortable that justice has been served."
Chelsea Manning is expected to be released on May 17.
---