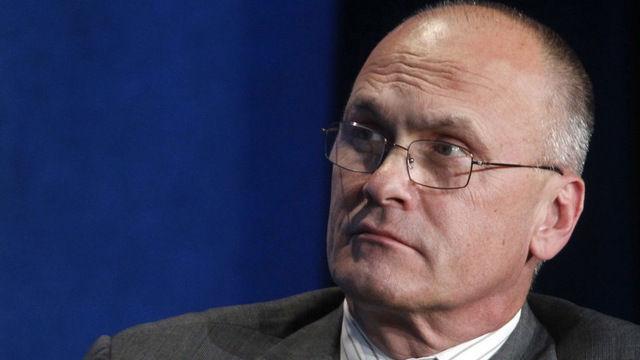 Fast food CEO Andrew Puzder has withdrawn his nomination as Labor Secretary one day before his confirmation hearing was set to begin.
Puzder was facing increasing criticism for reports of widespread sexual harassment at his chain restaurants, as well as labor and safety violations. He's also under fire for allegations of domestic violence against his ex-wife, who even appeared on the "The Oprah Winfrey Show" in disguise in 1990 to speak about being abused.
In a statement Sen. Bernie Sanders praised Puzder's decision. "The simple truth is that given his relationship to employees at the companies he runs, he was not fit to lead a department responsible for defending workers' rights," Sanders said. "We need a secretary of labor who is going to fight to raise the minimum wage to a living wage of $15 an hour and pay equity for women. We don't need a labor secretary who makes millions while his workers are paid starvation wages."
Greenpeace also hailed the decision. "Andrew Puzder's withdrawal from consideration as Labor Secretary is a major victory for the resistance," said Greenpeace USA spokesperson Travis Nichols. "Puzder's collapse confirms what the millions of people opposed to Trump have known all along — this administration is an unqualified mess full of unvetted vulnerabilities that will serve their own interests over the health, safety, and well-being of the country."
#EXCLUSIVE: Puzder 'vowed revenge' after she alleged abuse, ex-wife told Oprah https://t.co/KTYLW3Djil via marianne_levine</a> &amp; <a href="https://twitter.com/TimothyNoah1">TimothyNoah1 pic.twitter.com/sE0ydQnBXw

— POLITICO (@politico) February 15, 2017
Is the Puzder nomination being withdrawn bc of domestic abuse allegations? https://t.co/5LGotNtVyH If so why not all the other wife-beaters?

— Dana Stevens (@thehighsign) February 15, 2017
---