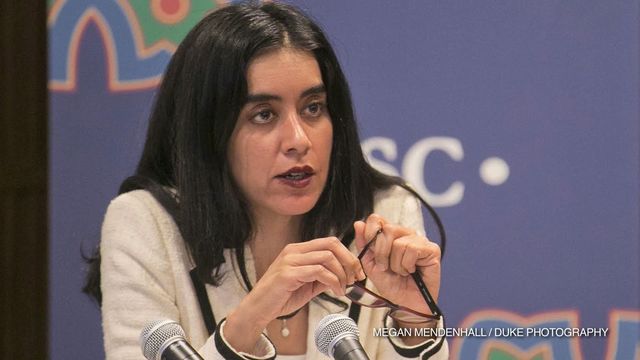 On Tuesday, March 29, Democracy Now!'s Nermeen Shaikh took part in an event hosted by the Duke Islamic Center examining the media's portrayal of Muslims.
Claire Ballentine of the Duke Chronicle wrote:
Media portrayal of the Islamic religion often focuses on terrorist groups or violence. A group of journalists gathered Tuesday to discuss why this is the case.
Hosted by the Duke Islamic Center, the panel discussion featured four journalists with experience covering Muslim life—Abigail Hauslohner from the Washington Post, David Graham from The Atlantic, Nermeen Shaikh from Democracy Now!, an independent non-profit news organization, and Mehdi Hasan from Al Jazeera, a news organization based in Qatar.
"There is an association between Muslims and violence that seems almost natural now," Shaikh said.
She argued that the media presents terrorist attacks by Muslims in an "ahistoric" manner—forgetting historical context and structural forces that influence individuals' decisions to engage in terrorism.
There is also a tendency to focus exclusively on suicidal bombings, which have drastically increased in recent years, Shaikh explained. From 1982 to 2001, there were a total of two suicide attacks in Afghanistan, Pakistan and Iraq, but from 2002 to 2014, there were 3,215 attacks in these countries, resulting in almost 30,000 deaths, she noted.
However, she said media coverage portrays suicidal terrorism as much more horrifying than other forms of violence, such as drone attacks carried out by the U.S. government.
Nermeen Shaikh and two of the panelists were also interviewed on WUNC about the way the media reports on Muslims and Islam, and the consequences of that coverage.
---