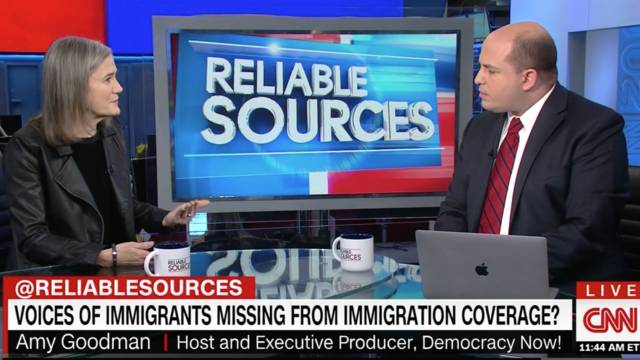 Democracy Now! host Amy Goodman spoke with Brian Stelter on CNN's "Reliable Sources," on Sunday, January 28, about DACA and the Trump administration's targeting of immigrant rights leaders. Goodman stressed the important role of the media in talking with the immigrants themselves including those in detention or those who have taken sanctuary in churches for fear of deportation and also touched on the immigrant rights leaders who will be accompanying congressmembers to the upcoming State of the Union address.
BRIAN STELTER: Breaking news: The left and the right agree on something. Partisan media outlets on both sides blasted President Trump's immigration proposal a few days ago. The right-wing site Breitbart labeled the president "Amnesty Don" again, calling this an "immigration shock." Meanwhile, here's some other headlines. You'll see here Newsmax and Slate and other sites talking about the wall of opposition to the plan, it being "dead on arrival," etc., etc.
Now, there's been a lot of attention on this subject of immigration, but I wonder if there's something missing from the conversation, if we're not hearing the voice of the people affected often enough.
Let's talk about that with Amy Goodman. She's the host and executive producer of Democracy Now!
Amy, you know, one of the reasons why your program stands out is that I think you try to talk to protesters and immigrants and people that are affected by government policies. When you watch other news coverage, do you think we're missing the immigrant story—
AMY GOODMAN: Yes.
BRIAN STELTER: —the actual voices of DACA recipients?
AMY GOODMAN: Absolutely. And I think that's critical, just following the basic rules of good journalism. Go to where the silence is. And it's often quite raucous, and it's loud, but the corporate media does not convey these voices, like going to the Orange County detention center right now, where Ravi Ragbir is in detention. He was at the Krome Detention Center in Florida. He is one of the immigrant rights leaders in New York, who was just detained by ICE. And as an ambulance took him away, two New York city councilmembers were arrested—
BRIAN STELTER: Right, right.
AMY GOODMAN: —trying to protest his detention. I was just in—
BRIAN STELTER: But that was a local news story. It did get attention, I think, from the local stations.
AMY GOODMAN: But it's not local, it's national.
BRIAN STELTER: OK.
AMY GOODMAN: Because what we're seeing right now is the Trump administration rounding up immigrant rights leaders. Jean Montrevil in New York was just deported to Haiti. I was just with Sandra Lopez, who's in Carbondale, Colorado. She is in the Unitarian Church parsonage there. She has taken refuge, taken sanctuary. That's another big story. You have people in sanctuary in churches, who are in detention. Jeanette Vizguerra was in detention in Denver, Colorado. When she was named one of the most important, what, Time 100 people, she was taking refuge in the Unitarian Church in Denver. We are seeing something frightening now. Right now, Maru Mora Villalpando, in Washington state, one of the leading immigrant rights activists, is in fear of deportation. And it's not just individuals. These are leaders. That inspires fear in the communities—
BRIAN STELTER: Writ large, yeah.
AMY GOODMAN: —of millions of people. That does not make them safer, and it certainly doesn't make us safer.
BRIAN STELTER: But, certainly, it's harder to cover folks who are literally having to seek sanctuary, who may not be able to go and be interviewed or get to a TV station.
AMY GOODMAN: No, very easy to go to any of the—any of the people in sanctuary. But also—
BRIAN STELTER: OK, you're saying go there. OK.
AMY GOODMAN: Absolutely. CNN's trucks, NBC's trucks—
BRIAN STELTER: Sometimes I do see immigration debates on television where we do see activists, we see representatives of immigrant communities. Personally, what I think is missing sometimes are the voices of ordinary people who are working jobs and living in the shadows.
AMY GOODMAN: Oh, I completely agree with you, because, I mean, that is the power of the media. I mean, we know our family and friends. But the way we learn about the rest of the world and people outside of our own communities is through the media. And there is nothing more powerful. When you hear a young Honduran child or a Mexican mother, like Sandra Lopez, who's lived here for a quarter of a century, you hear Ravi Ragbir—again, we're talking about people who have lived here for decades. And you hear them telling their stories and talking about their families—
BRIAN STELTER: And yet, there were millions of deportations under the Obama administration.
AMY GOODMAN: There were. You are absolutely correct.
BRIAN STELTER: It's different now? Is it different now?
AMY GOODMAN: There is an intensification of the detentions and deportations. But you are right. President Obama deported more people than all presidents before him combined. And that laid the groundwork for this intensification that we're seeing by Trump.
And now even you see politicians. The country's mayors have been threatened by the head of the Department of Homeland Security, by Kirstjen Nielsen. You could call it Nielsen raidings, a different kind—
BRIAN STELTER: You could.
AMY GOODMAN: —R-A-I-D-I-N-G-S—
BRIAN STELTER: Right.
AMY GOODMAN: —as they threaten mass deportations, talking about arresting mayors and other public officials who enforce sanctuary cities, saying they are not going to have their police cooperate with ICE agents. They're just not going to do it. They don't see that as the American way.
BRIAN STELTER: The State of the Union, coming up on Tuesday, and I know you've been interested in some of the organizing efforts to sort of react or oppose the State of the Union.
AMY GOODMAN: Well, you know, that's very interesting, because we've seen the whole #MeToo movement. The Golden Globes, the plus-ones were women who had been abused, taken by other actresses, who had been standing up for women's rights. On the State of the Union night, you have people like Nydia Velázquez, the congressmember from New York, who will be taking Amy Gottlieb. She's an immigrant rights lawyer. Her husband is Ravi Ragbir, in detention right now in Orange County. We may see Maru Mora Villalpando from Washington state coming as a plus-one, as well. Immigrant rights leaders accompanying congressmembers, as congressmembers just wrote a letter to the Trump administration, 30 congressmembers saying, "Stop rounding up immigrant rights activists. Stop targeting independent immigrant rights activists."
BRIAN STELTER: And certainly, using the State of the Union as a stage, it's a way to get more attention, to get media attention on this issue.
AMY GOODMAN: I mean, it shows the lie of President Trump talking about family values, when these families are being ripped apart and millions of people fear that their families will be, too.
BRIAN STELTER: He would say he's just prioritizing families that are already here.
AMY GOODMAN: We already know what President Trump said. He talked about "s—hole" countries, like Africa, which is a continent, El Salvador, Haiti. He's made clear who he wants in this country. He didn't say, "We don't want anyone here." He, in fact, said, "I wish more immigrants would come from Norway," to which they tweeted, from Norway, "Why would we come to the United States, when we have free healthcare and free public education?"
BRIAN STELTER: And so the debate continues. Amy, great to see you.
AMY GOODMAN: Thanks.
BRIAN STELTER: Thank you for being here.
AMY GOODMAN: Thanks so much.
---