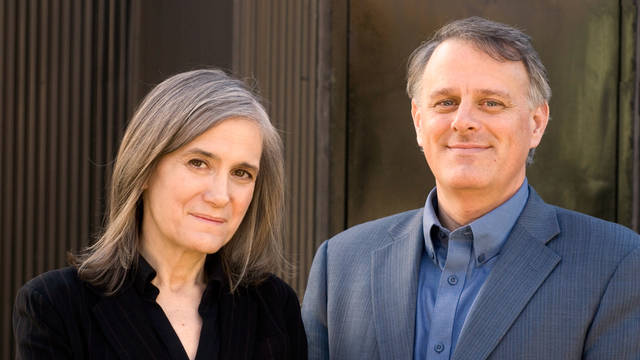 Media Options
By Amy Goodman & Denis Moynihan
The National Rifle Association didn't see it coming. It could have predicted yet another school shooting, like so many that have happened before in the United States. But what the NRA couldn't predict was the immediate and unrelenting response of the student survivors. They channeled their rage and sorrow over the killing of 17 of their classmates and teachers against the gun lobby and the politicians in their pocket. Pushed by this new momentum for change, President Donald Trump held a bipartisan meeting of congressional lawmakers Wednesday afternoon. The senators and representatives took turns laying out their policy prescriptions while heaping praise on Trump, who took credit in advance for what he said would be a "beautiful" bill that would pass the Senate with so many votes over the required 60 that it would be "unbelievable."
Whether any of the proposed policies make it into a comprehensive gun control bill remains to be seen. There are plenty of reasons to be skeptical, including the $54 million the NRA spent on presidential and congressional races during the 2016 election cycle. Democratic Congressmember Elizabeth Esty of Connecticut offered one undeniable truth at the bipartisan meeting, saying, "We're at a tipping point, because of the students." The student survivors of the Valentine's Day massacre at Marjory Stoneman Douglas High School are the heart of the movement for gun control. They are embracing one of the strongest currents in United States history: the tradition of youth activism.
By now, many of the Parkland, Florida., survivors are nationally recognized: Emma Gonzalez, whose fiery speech days after the shooting ignited the movement; David Hogg, director of the school's student-run TV station, whose impactful media appearances contributed to a disgraceful right-wing conspiracy theory that he and others were actually trained "crisis actors"; and Sam Zeif, who at the White House "listening session" told the president: "These are not weapons of defense; these are weapons of war. … I still can't fathom that I, myself, am able to purchase one."
Others helped organize a trip of over 100 survivors from Parkland to Tallahassee, Florida, to push the state legislature for an assault-weapons ban. While the effort failed, the students emerged more determined than ever.
Youth activism goes back a long way in the U.S. In 1903, Mary Harris Jones, the legendary Irish labor organizer known popularly as "Mother Jones," led a march of hundreds of striking child laborers and their parents from Philadelphia to New York City. They were fighting against the scourge of child labor.
The civil-rights movement was propelled by youth activists. Claudette Colvin was just 15 when she refused to give up her seat for a white passenger in Montgomery, Alabama — nine months before Rosa Parks did the same thing. Colvin told us on the "Democracy Now!" news hour: "I could not move, because history had me glued to the seat. … Because it felt like Sojourner Truth's hands were pushing me down on one shoulder and Harriet Tubman's hands were pushing me down on another shoulder … and I yelled out, 'It's my constitutional rights!'"
One of the principal architects of the nonviolent strategy used by Martin Luther King Jr. was James Lawson, who received his ministry license in high school in 1947. He in turn trained countless activists, including John Lewis. Lewis was a leader of the Nashville Movement to desegregate lunch counters in the South, and was one of the original Freedom Riders, who braved beatings, arrests, angry mobs and death threats as they rode buses to force the desegregation of the interstate bus system.
John Lewis was just 23 when he addressed the 1963 March on Washington, where King delivered his famous "I Have a Dream" speech. In deference to suggestions made by King and fellow march organizer A. Philip Randolph, Lewis edited his speech. He took out the lines: "To those who have said, 'Be patient and wait,' we must say that 'patience' is a dirty and nasty word. We cannot be patient. We do not want to be free gradually. We want our freedom, and we want it now."
The Parkland students have called for a national March for Our Lives on March 24, in Washington, D.C., with sister marches around the country. They have raised over $3 million to support the organizing effort. Emma Gonzalez wrote in Harper's Bazaar: "March with us on March 24. Register to vote. Actually show up to the polls. Because we need to relieve the NRA of its talking points, once and for all." There are concurrent calls for nationwide high school student walkouts to demand gun control on March 14, as well as April 20 — the 19th anniversary of the Columbine massacre.
---