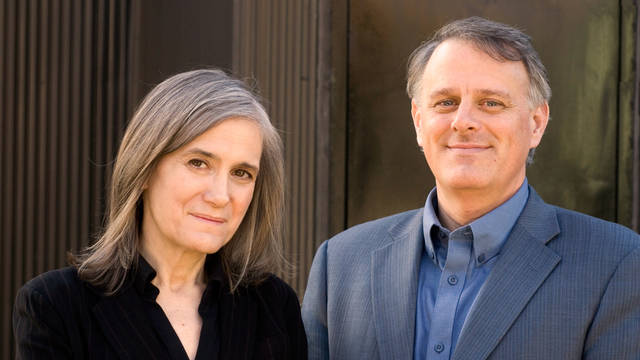 Media Options
by Amy Goodman and Denis Moynihan
Forty years ago this week, on Aug. 8, 1978, Philadelphia police launched a massive attack on the house of MOVE, a radical, back-to-nature, anti-police-brutality and largely African-American organization. As MOVE's women and children huddled in the basement, firefighters blasted the house with at least four high-pressure fire hoses, filling the cellar with water. Police used a bulldozer and fired tear gas into the house. One young MOVE member, Delbert Orr Africa (MOVE members assumed the surname "Africa" in honor of the group's founder, John Africa), emerged shirtless from the house, with arms raised. With TV cameras rolling, police mercilessly beat him, kicking him in the ribs and head.
Amidst a burst of gunfire that morning, Philadelphia Police Officer James Ramp was killed. While all MOVE members denied using firearms, nine were convicted of third-degree murder for the officer's death, each given 30- to 100-year sentences. They became known as the "MOVE 9." Veteran Philadelphia journalist Linn Washington Jr. wrote last June, "Evidence furthermore indicates that police gunfire accidentally killed the policeman."
Two of the MOVE 9 died behind bars. Debbie Sims Africa was 22 years old and eight months pregnant on that summer day in 1978. After almost 40 years, she was the first to get parole, 10 years beyond her minimum release date. She left prison on June 16, 2018, into the arms of her son, Michael Jr.
The MOVE organization seeks to honor and protect "all living things … whether they are human beings, dogs, birds, fish, trees, ants, weeds, rivers, wind or rain," according to a MOVE website. They advocate for clean air, clean water and pure food. Debbie Africa appeared on the "Democracy Now!" news hour, speaking into a television camera brought into her son's suburban Philadelphia home since her parole conditions prohibit her traveling into the city center.
Debbie Africa described how she gave birth in her jail cell not long after her arrest, without alerting the guards: "Very quietly, she said, "armed with the principle of motherhood and just the teachings of John Africa." She continued: "I was determined to not let them know, because … I didn't want to be forced to the hospital. I didn't want to be force-fed. I didn't want any kind of violation against my body or him. I wanted to do whatever I could to protect him." She managed to keep him for three days unbeknownst to prison officials. When they discovered the baby, Michael Africa Jr. was taken away. Sitting next to his newly freed mother on "Democracy Now!," as he approaches his 40th birthday, he said he was raised as "a community kid."
In 1985, MOVE was attacked again by the Philadelphia police as they tried to evict them once more, this time from a different home. Ramona Africa was inside. Appearing on "Democracy Now!" several years ago, she described what happened:
"After being attacked, first with four deluge hoses by the fire department and then tons of tear gas, and then being shot at — the police admit to shooting over 10,000 rounds of bullets at us in the first ninety minutes … two members of the Philadelphia Police Department's bomb squad got in a Pennsylvania State Police helicopter and flew over our home and dropped a satchel containing C4, a powerful military explosive … they dropped that bomb on the roof of our home."
They killed six adults and five children in the house. Ramona Africa was the only adult survivor. The fire spread, eventually destroying more than 60 homes on several city blocks. It was the first time in U.S. history that a city police department dropped a bomb on its own citizens.
As Debbie and Michael Jr. recalled the events this week, tears filled their eyes. Debbie was in prison at the time. Several of her sister inmates lost children in the fire. She said a guard arrived at their cell door and announced to a cellmate, "Your baby's dead." Michael was 6 years old at the time. He recalls seeing black smoke fill the sky from more than a mile away. "Even now, if I'm driving or running and I see black smoke in the air," he said, "I still find myself calling all the MOVE houses to make sure that it's not our house that's on fire."
The six surviving members of the MOVE 9, including Michael's father, Michael Africa Sr., remain behind bars. Each of them, like Debbie Africa, are 10 years beyond their parole eligibility. "Free the MOVE 9," Debbie said on "Democracy Now!" "We were arrested together, tried together, tried as a family. So, release us as a family."
---