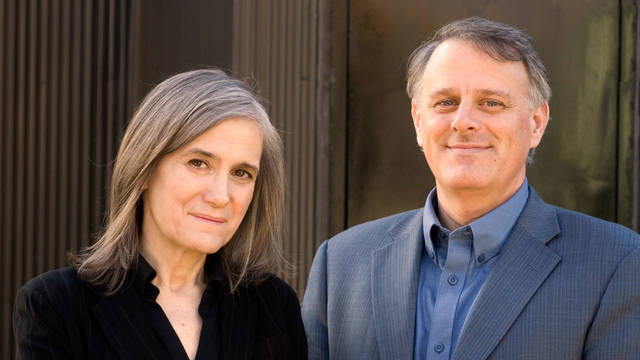 Media Options
By Amy Goodman & Denis Moynihan
President Donald Trump's second impeachment was swift and decisive, just one week after he incited a violent white supremacist mob attack on the U.S. Capitol that left five dead, including a Capitol Police officer. Accounts of the insurrection from several elected Congresswomen of color capture the chaos of the moment, and the many dangers they faced:
"I was one of 12 trapped in the House Gallery. I heard the shot being fired. I saw the smoke from the tear gas....I watched one officer with no protective equipment face a raging mob just outside the chamber," Norma Torres, Democratic Representative from South Los Angeles, said at a House Rules Committee meeting this week. "I answered my phone to my son, Christopher. The call lasted 27 seconds. All I could say, 'Sweetheart, I'm okay. I'm running for my life.' And I hung up."
Also trapped in the upper Gallery was Washington Congressmember Pramila Jayapal. "The insurrectionists were domestic terrorists, many armed and many associated with white nationalist groups," Jayapal said in a statement. "Tear gas was being used and we had to get down on the ground for cover. Capitol Police barricaded the doors with furniture and had their guns drawn."
New York Congressmember Alexandria Ocasio-Cortéz, known as AOC, said on a livestream the night before the impeachment vote, "I thought I was going to die." She explained why she felt she needed to avoid a secure extraction location: "There were QAnon and white-supremacist sympathizers and, frankly, white-supremacist members of Congress in that extraction point who I know and who I have felt would disclose my location and would create opportunities to allow me to be hurt [or] kidnapped."
Ayanna Pressley, the first African American Congresswoman from Massachusetts, did go to the secure room, with people sheltering shoulder to shoulder. "The second I realized our 'safe room' from the violent white supremacist mob included treasonous, white supremacist, anti masker Members of Congress who incited the mob in the first place, I exited," she tweeted on Tuesday. "Furious that more of my colleagues are testing positive." Her husband, who was with her at the Capitol, has since tested positive for COVID-19.
Pramila Jayapal has also contracted COVID-19, likely in the same, cramped, multi-hour lockdown with unmasked Republicans during the siege. "Only hours after President Trump incited a deadly assault on our Capitol, our country, and our democracy, many Republicans still refused to take the bare minimum COVID-19 precaution and simply wear a damn mask in a crowded room during a pandemic — creating a superspreader event on top of a domestic terrorist attack," Jayapal said in a statement. Her husband, who was not at the Capitol, has also tested positive.
Congress' attending physician, Brian Monahan, said in an email four days after the attack, about that secure room, "The time in this room was several hours for some and briefer for others…individuals may have been exposed to another occupant with coronavirus infection."
New Jersey Congressmember Bonnie Watson Coleman was there, and later tested positive. The 75-year-old African American is a recent cancer survivor. "I am angry that after I spent months carefully isolating myself, a single chaotic day likely got me sick," she wrote in a Washington Post op-ed piece this week. "I am angry that the attack on the Capitol and my subsequent illness have the same cause: my Republican colleagues' inability to accept facts." Her case highlights the potentially-lethal risks that mask-deniers selfishly pose on others around them.
Detroit Congressmember Rashida Tlaib was not on the Capitol grounds during the assault, as she wasn't feeling great after receiving her first COVID-19 vaccination shot. She tweeted on Tuesday, as new security measures were implemented at the Capitol, "Just had to go through a metal detector before entering the House floor. Some colleagues are frustrated (guess which ones) by this requirement. Now they know how HS students in my district feel. Suck it up buttercups. Y'all brought this on yourselves." House Speaker Nancy Pelosi has set fines of up to $10,000 for Congressmembers who refuse to pass through the metal detectors.
People of color in the United States are more likely to die of gun violence. They are also more likely to contract COVID-19, and when they do, disproportionately suffer more serious consequences, including death. The violent white supremacist insurrection at the U.S. Capitol on January 6th put the ugly realities of racism and inequality in this country in stark relief. Taking these on, remains the urgent challenge of our time. Trump's departure from the Oval Office is only the first step.
---