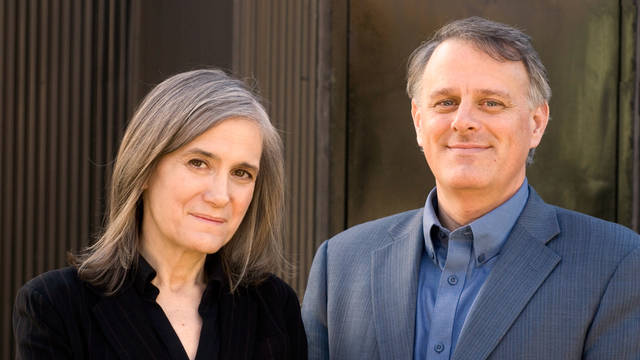 Media Options
By Amy Goodman & Denis Moynihan
"Star Trek" was in the news this week, as actor William Shatner, who played "Captain Kirk" in the classic 1960s TV program, blasted into space at the age of 90 as one of billionaire Jeff Bezos' latest Blue Origin space tourists. In this remote region of west Texas, mere miles from Bezos' gilded launch pad, a trek of another kind takes place every day, as migrants, many fleeing violence, the climate crisis and poverty attempt the difficult journey from Mexico to the U.S. While the spacecraft lifted its privileged passengers aloft, lost lives littered the Chihuahuan Desert floor far below. Travel by foot under the blazing hot sun is difficult through the sand, rock and cacti, made harder by the militarized enforcement of the broken U.S. immigration system.
Thousands of migrants have died attempting this journey. Armando Alejo Hernandez was last heard from in early May. Armando's disappearance in the desert has been addressed in this column before, also with a reference to the Blue Origin space facility in nearby Van Horn, Texas. In July, the heat of the desert was at its deadliest, and Jeff Bezos was locked in what has been dubbed "the billionaire's space race" with Richard Branson, who flew with a small crew aboard his own spaceship to achieve a few minutes of suborbital weightlessness.
Their brief trips received international acclaim. If only the media scrum would linger, and focus their cameras on the more perilous journeys of these earthbound desert travelers.
Armando spent a decade in the United States, working and building a family, with two sons who were U.S. citizens by birth. Armando, though, never obtained legal documentation, and was deported in 2016. His older son, Derek, speaking on the Democracy Now! news hour, described the genesis of Armando's fateful trip last May:
"Not having him around was tough on me, because I grew up, pretty much my whole childhood…all the time with my dad," Derek explained. "So, we were on the phone one day, and I asked him if he could come back, because I just wanted him around… I didn't get to see him for four years."
Alexis Corona was in a small group of migrants traveling north with Armando. He recently told Telemundo TV, "Armando said he couldn't walk anymore, and he wanted to see if he could be rescued…From where he stayed, maybe eight or nine miles ahead, the
rest of us were caught by immigration agents. We explained where Armando was, that he couldn't walk anymore, that he didn't have enough water or food. The reaction was, 'Well, if he stayed behind, he'll just have to stay there.'"
Derek was communicating with his father at that time. Armando sent
recorded voice messages to his son, describing his clothing, that he had no water and felt he couldn't go on. He sent a photo with a building high on a mountain in front of him. The photo clearly shows a U.S. government radar installation, placing Armando along the southern slope of Eagle Peak, in Hudspeth County, not far from El Paso.
Border Patrol agent Alex Jara, interviewed for the documentary "Missing in Brooks County," admitted, "We don't call them people anymore. We call them 'bodies.' Because if you start calling them people, then it starts getting to you."
Brooks County is home to one of the inland Customs and Border Protection checkpoints, which drives migrants lacking documentation off of Brooks County's single main roadway and into the desert to avoid capture.
"The increase of migration has begun since the beginning of the Biden administration," Eddie Canales, the director of the South Texas Human Rights Center, based in Brooks County, said on Democracy Now! "I have families here, representatives from different countries right now, that are still searching for their missing loved ones… the number has increased. There have been 99 recoveries of bodies and skeletal remains in Brooks County alone this year."
Average temperatures in the desert are cooler at this time of year, but unguided travel through the harsh environment is still perilous. Many more will needlessly die. Immigrant rights activists are pressuring the White House and Congress to ensure that a pathway to citizenship for undocumented residents is included in the Build Back Better bill. The overall bill is being blocked by conservative Democratic Senators Joe Manchin of West Virginia and Kyrsten Sinema, of another border state, Arizona, home to the equally dangerous Sonoran Desert.
It is fine to gaze heavenward, to reach for the stars, inspired by the green-card-holding, Canadian actor William Shatner. But the crises that engulf us now will not be solved by spaceshots, but by people pulling together here on earth, with feet firmly planted on the ground.
---