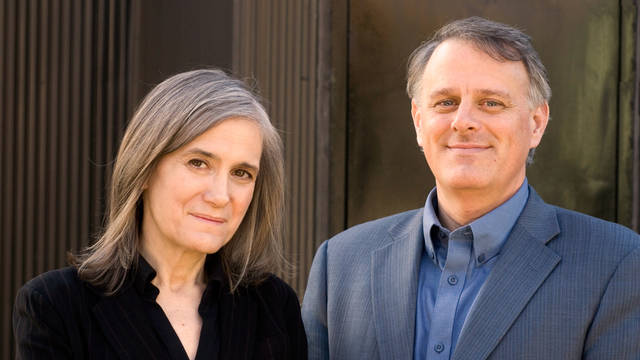 Media Options
By Amy Goodman & Denis Moynihan
U.S. taxpayers who want to see their tax dollars at work should look no further than the Gaza Strip, the besieged enclave where 2 million Palestinians live in what former Conservative British Prime Minister David Cameron described as "an open-air prison." Israel has launched another of its horrific, periodic bombing campaigns against the embattled Gazans —- slaughters that Israeli commentators have long called "mowing the grass" -— leaving hundreds dead, including scores of children. At least 17 hospitals and clinics have been damaged, including Gaza's only COVID-19 testing facility, clean water has been cut to hundreds of thousands, schools have been destroyed, and a major high rise building hosting media organizations including Al Jazeera and the Associated Press was leveled. The United States enables all this by providing Israel with billions of dollars in aid annually and unparalleled access to sophisticated weaponry.
Jewish Voice for Peace, a grassroots human rights group, asked of American Jews in a recent press release, "Do we accede to a future rooted in denial and continue to allow apartheid, ethnic cleansing and massacre in our names? Or do we engage with hard truths and bring our whole selves to the struggle of teshuva, of repair for these harms?" Israel has long enjoyed vigorous, bipartisan support in the U.S. Now, with a new, more diverse generation of elected representatives, popular resistance to Israel's occupation of Palestine is finding a voice in Washington.
"I am the only Palestinian American member of Congress now, and my mere existence has disrupted the status quo," Congressmember Rashida Tlaib, Democrat of Detroit, said during an emotional address on the floor of the House of Representatives. "I am a reminder to colleagues that Palestinians do indeed exist, that we are human, that we are allowed to dream. We are mothers, daughters, granddaughters. We are justice seekers and are unapologetically about our fight against oppressions of all forms."
Tlaib was speaking on Eid al-Fitr, the celebration that follows the Muslim holy month of Ramadan, and just two days before the Palestinian commemoration of Nakba Day. The Nakba, or, in English, the Catastrophe, was the violent expulsion of hundreds of thousands of Palestinians that accelerated following the May 15th, 1948 founding of Israel.
Since then, Israel has systematically expanded its illegal military occupation of Palestinian land, killed thousands of innocent Palestinians, and imprisoned tens of thousands more without charge. None of this could have been accomplished without the robust support and approval of the United States.
In the past, Rashida Tlaib might have been a lone voice. Now, she has a groundswell of support. Democratic Congressmembers Alexandria Ocasio-Cortéz of New York and Mark Pocan of Wisconsin joined Tlaib in offering a joint resolution to Congress, opposing the pending $735 million sale to Israel of so-called "smart" bombs, the Joint Direct Attack Munitions, or JDAMS, manufactured by Boeing. Sen. Bernie Sanders is introducing a similar resolution in the Senate.
John Ossoff, the first Jewish Senator elected from Georgia, led 28 Democratic Senators in calling for a ceasefire in Gaza, from both Israel and Hamas, whose missiles have killed 12 people inside Israel. Thousands of people have been rallying across the United States, demanding a cease fire.
On Tuesday, Biden made a trip to Detroit, Rashida Tlaib's home district, to visit the plant where Ford's all-electric vehicles will be manufactured. Tlaib met him on the airport tarmac. NPR reported that an aide to Tlaib summarized Tlaib's comments to Biden as, "Palestinian human rights are not a bargaining chip and must be protected, not negotiated…The U.S. cannot continue to give the right-wing Netanyahu government billions each year to commit crimes against Palestinians. Atrocities like bombing schools cannot be tolerated, much less conducted with U.S.-supplied weapons." Biden praised Tlaib in his speech at the Ford plant, adding, "I pray that your grandma and family are well."
Palestinian grandmothers living under Israeli occupation don't need Biden's prayers; they need his intervention.
As Biden was about to test drive an electric truck, he had this exchange with a reporter:
"Mr. President, can I ask you a quick question on Israel before you drive away, since it's so important?"
"No, you can't–not unless you get in front of the car as I step on it. I'm only teasing," Biden replied. He then tore off, reportedly hitting 80 mph. For the millions of Palestinians living under Israeli occupation, it is as if they are hit daily by a truck driven by the American government.
Israel's latest deadly assault has driven more people around the world into active solidarity with the Palestinan people in their resistance, rejecting what the late, great Palestinian scholar and activist Edward Said described as the "gregarious tolerance for the way things are."
---