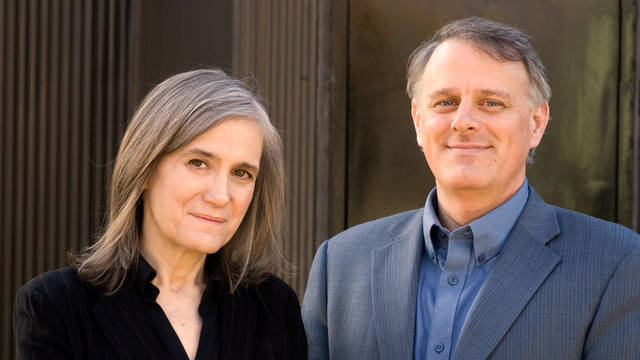 Media Options
By Amy Goodman & Denis Moynihan
February 1st marked a beginning and an end. It's the first day of Black History Month, the national celebration honoring the hard-won achievements of African Americans over the painful arc of the more than 400 years since the first ship of enslaved Africans arrived in 1619.
February 1st was also the day of the funeral for Tyre Nichols, the 29-year-old African American father who died on January 10th after being brutally beaten by five Memphis Police officers three days earlier. As Tyre was laid to rest, a firestorm was erupting over how Black history is taught, with at least one state's rejection of a proposed AP African American History curriculum.
Tyre Nichols was driving home on the evening of Saturday, January 7th when Memphis Police pulled him over, they claimed, for reckless driving. Even the police chief later admitted there was no such basis for the traffic stop.
"Get the f—- out the f——ing car!" one officer screamed, to which Tyre responded, "I didn't do anything." Police pulled Tyre from the car and roughly pinned him to the ground. Tyre appeared frightened but remained calm. As one officer Tased him, he escaped, running towards home. The police caught up with Tyre on a quiet residential street just a couple hundred feet from home. More police resumed the vicious attack.
Police body cameras and a pole-mounted security camera documented the assault. Tyre's final words as he was beaten into unconsciousness were to call for his mother. Less than ten minutes after the initial traffic stop, Tyre, handcuffed and bloodied, was propped against a police car. When he fell over, he was again propped up, but otherwise ignored by the police and EMTs. Twenty minutes passed before an ambulance arrived. He died in the hospital three days later.
The five officers, all of whom are Black, were fired and charged with 2nd degree murder. A white officer, heard on the video saying, "I hope they stomp his ass," was suspended, as was another officer. Two Memphis Fire Department EMTs were also fired, as was their on-site supervisor, a lieutenant, for failing to adequately help Tyre.
"He had a beautiful soul, and he touched everyone," RowVaughn Wells, Tyre's mother, said on the Democracy Now! news hour. "The boy smiled all the time. He loved his mother's cooking. He loved his son. That's why he came to Memphis in the first place, to be with his mom, build a better life for him and his son. But Memphis took my son away from me."
At the funeral, Rev. Al Sharpton delivered Tyre's eulogy and family attorney Ben Crump spoke from the pulpit. Both men praised local racial justice and police accountability activists for bringing attention to Tyre's murder. Among those recognized was Amber Sherman, member of the Black Lives Matter Memphis Chapter.
"It definitely took a lot of on-the-ground organizing, pressuring the folks in charge," Amber Sherman said on Democracy Now! "If we hadn't had the protest…if we hadn't shown up at City Hall on MLK Day, if we hadn't been continuing to show up at the DA's Office and hosting a sit-in, if we hadn't continued to pull up on people who are not responding to us, then we definitely wouldn't be getting that video footage."
Change doesn't happen without organizing and activism, as the history of Memphis so painfully illustrates. Martin Luther King, Jr. was in Memphis in 1968, supporting striking municipal sanitation workers fighting for better, safer working conditions after two workers were crushed to death in a malfunctioning garbage truck. On April 3rd, 1968, King gave his famous "To the Mountaintop" speech at Memphis' Mason Temple. The next afternoon, he was assassinated, standing on the balcony of the Lorraine Motel.
While King's assassination is a well-known point in historical time, it falls on a continuum of systemic racism, white supremacy and violence against African Americans. Tyre's killing now has a permanent place on that tragic timeline, along with the police killings of Michael Brown, George Floyd, Breonna Taylor and so many more. Tyre and Breonna were both born on the same day, June 5th, 1993. Neither will reach their 30th birthday.
This is why honest, comprehensive school curricula on Black history is so important. Florida Republican Gov. Ron DeSantis has championed the whitewashing of Black history, demanding the removal of topics like Black Lives Matter, police brutality and reparations, recently leading the successful effort to ban the new AP African American History curriculum in the Sunshine State. So much for sunshine.
Justice for Tyre Nichols and other Black victims of police violence ultimately relies on organized action from an informed citizenry. Black history needs not just to be a month, but taught every single day. Kids – and adults – need to learn the whole truth and nothing but the truth.
---