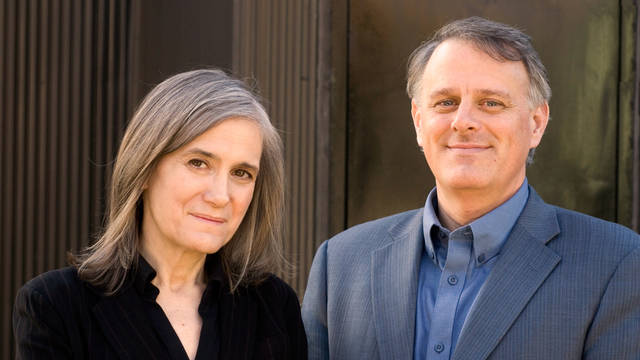 Media Options
By Amy Goodman & Denis Moynihan
Richard Glossip has been on Oklahoma's death row for 25 years, convicted of masterminding the 1997 beating death of Barry Van Treese, the owner of a motel he managed. While Glossip has maintained his innocence, he's faced nine separate execution dates. Just weeks ago, the Oklahoma Pardon and Parole Board voted to allow Glossip's scheduled May 18th execution to proceed. Then, last week, the U.S. Supreme Court granted Glossip a temporary stay of execution pending its review of his case. Despite a growing consensus that Glossip is actually innocent, Oklahoma's capital punishment "justice" system remains determined to kill him.
But not all officials are on board: Oklahoma Attorney General Gentner Drummond and state Representative Kevin McDugle, both Republicans, argue Glossip was denied a fair trial. McDugle watched documentary filmmaker Joe Berlinger's series, "Killing Richard Glossip," based in part on investigative reporting by Intercept journalists Liliana Segura and Jordan Smith. McDugle concluded the state has no real proof of Glossip's guilt.
"The one thing they have is a witness that says that he [Glossip] was the one that told him to commit the murder," McDugle told Public Radio Tulsa in April, speaking of the prosecution's reliance on a single witness, Justin Sneed, who confessed to Van Treese's murder. "Guess who that witness was? The actual murderer that beat him with a baseball bat. He's the witness, and what did he get for that testimony? He got off of death row himself and got life in prison. They have zero proof outside of that."
Renowned anti-death-penalty activist Sister Helen Prejean has counseled death row prisoners for decades. She wrote the book "Dead Man Walking," made into a movie that earned actor Susan Sarandon an Oscar for her portrayal of Prejean. Prejean first spoke to Glossip in 2015.
"It was a phone call," Prejean said this week on the Democracy Now! news hour, describing her first conversation with Glossip, after learning how thin the prosecution's case was. "He's a gentle guy. Here's what I hear: 'Sister Helen, I apologize. I know I didn't ask your permission or anything, but I think Oklahoma is really serious about killing me. And would you be with me?' So I go, 'Well, sure, I'll be with you, Richard.'"
Sister Prejean described the immediate impact of that call:
"I get in bed that night [and] bolt awake at 2:00 in the morning and realize, in my own conscience, 'I can't just accompany that man and be there when he's killed. I know enough about how broken this system is. He may really be innocent.' Right away I made two phone calls. One was to Susan Sarandon, my buddy, who really cares about justice…and the other call was to the Vatican, to Pope Francis: 'Would the Vatican, please, try to do what it could to speak up for Richard Glossip?'"
Rep. McDugle joined 33 other Oklahoma state legislators, including 27 Republicans, demanding the Governor and the Oklahoma Pardon and Parole Board investigate Glossip's case. When that didn't happen, they recruited the Reed Smith law firm for a pro-bono independent inquiry. Between June and September 2022, the law firm released four reports – totaling over 400 pages – detailing flaws in the prosecution's case and, importantly, Justin Sneed's attempts to recant his testimony implicating Glossip and the prosecution's efforts to stop him from recanting.
The case is now before the pro-capital punishment, conservative majority U.S. Supreme Court. Oklahoma Attorney General Drummond filed a brief with the court which included the unusual admission that "the State of Oklahoma recently made the difficult decision to confess error and support vacating the conviction of Richard Glossip." Even though the Attorney General feels this way, critical institutions–courts, the pardon board, the corrections department–are all locked in to the process that is currently set for execution.
Should the Supreme Court fail to intervene, Oklahoma's "machinery of death" will move forward, despite the Attorney General's emphatic objections. Richard Glossip would be served his last supper – for the fourth time – then killed with a lethal injection.
Oklahoma Governor Kevin Stitt holds clemency power over state's 42 death row prisoners. Oklahoma has one or two executions scheduled per month over the next 18 months. Stitt could still grant clemency to Glossip or commute his sentence to life with or without the possibility of parole, removing the threat of execution.
Sister Helen Prejean wants to see the death penalty abolished outright, nationally. "All the other guys on death row that are lined up for execution, they don't have teams like this working for them. What is going to happen to them," she asked.
There are over 2,400 prisoners on death row in the United States. The time has come to abolish the broken, unjust system of capital punishment.
---