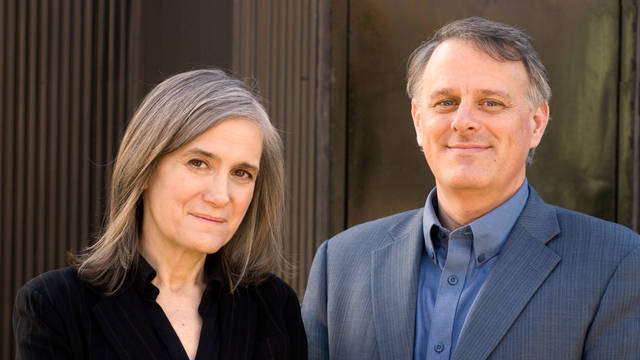 Media Options
By Amy Goodman & Denis Moynihan
The modern struggle for equality for lesbian, gay, bisexual and transsexual people has been waged for over a century. Despite significant gains, the work is sadly far from over as Pride Month begins. Just as massive plumes of sun-dimming smoke from wildfires now raging north of the border billow over the eastern half of the United States, darkening the sky and driving people indoors, so too has an epidemic of discrimination and hate targeting traditionally marginalized LGBTQ+ communities swept the land, unleashed by demagogues, cynical politicians and bigots. State and local governments from coast to coast are passing repressive bills, banning books and criminalizing people.
The rash of laws, often accompanied by intimidation and acts of violence, has prompted the Human Rights Campaign, the nation's largest LGBTQ+ civil rights organization, to announce:
"We have officially declared a state of emergency for LGBTQ+ people in the United States for the first time following an unprecedented and dangerous spike in anti-LGBTQ+ legislative assaults sweeping state houses this year. More than 75 anti-LGBTQ+ bills have been signed into law this year alone, more than doubling last year's number, which was previously the worst year on record."
Human Rights Campaign (HRC) President Kelley Robinson explained on the Democracy Now! news hour:
"In this moment, when people are traveling across the country, when they're deciding to move or what schools to go to, we had a responsibility to let people know that, one, there's an imminent health and safety crisis facing our community, and, two, there's a dizzying patchwork of protections for us and for our families depending on the state that you're in."
HRC tracks these anti-LGBTQ+ bills. Over 520 of them have been introduced so far this year, and 75 have already been signed into law, with broad impacts: criminalizing the provision of gender-affirming health care for youth, prohibiting the teaching of LGBTQ-related topics, barring transgender people from using a gender-appropriate bathroom, banning books, and more.
"A loud and vocal minority…is sowing hate and fear against our community because they're not willing to solve the real problems," Robinson added. "If they actually cared about the safety of our kids, they would be moving forward legislation to prevent gun violence, the number one killer of our children."
The legislative assault is occurring in parallel with the 2024 Republican presidential primary season. Florida Governor Ron DeSantis has championed several oppressive laws targeting the LGBTQ+ community, including the school curriculum ban known as the "Don't Say Gay" law, and banning gender affirming care for minors. Others in the increasingly crowded Republican field are following suit.
Former South Carolina Governor and presidential hopeful Nikki Haley suggested opposing trans rights was a feminist issue:
"The idea that we have biological boys playing in girls' sports, it is the women's issue of our time," Haley said at a recent CNN town hall. "How are we supposed to get our girls used to the fact that biological boys are in their locker rooms?"
Robinson responded on Democracy Now!, "This is political theater. They are doing this to pander to a MAGA Republican base in so many of these states…Seventy percent of Americans support the LGBTQ+ community and believe that legislatures should be standing with our values. One in five of Generation Z identifies as a member of this community, 20 million American adults. This is not an issue of the margins."
The evangelical Christian movement has long been at the forefront attacking the LGBTQ+ community. Major televangelists like Pat Robertson, who died this week at the age of 93, and groups like Focus on the Family and the Alliance to Defend Freedom have stoked intolerance and repression not only here at home, but around the world.
Uganda is now on the front lines of this US-based push to criminalize homosexuality. In May, Ugandan President Yoweri Museveni signed an anti-LGBTQ law that makes same-sex relationships punishable by life in prison or, in some cases, death. Many LGBTQ Ugandans have gone into hiding or have fled the country.
"The homophobia and transphobia we are seeing towards queer and trans persons in Uganda is from the West. It is mostly peddled by extreme American evangelicals," Ugandan LGBTQ activist Frank Mugisha said on Democacy Now! He fears similar laws will follow in neighboring countries like Tanzania and Kenya.
Human Rights Campaign's state of emergency declaration is unprecedented, but is not simply a warning. Their statement ends with a call to action, one which everyone, whether LGBTQ+ or not, should heed this Pride month and beyond:
"Our community is in danger, but we won't stop fighting back — not now, not ever."
---