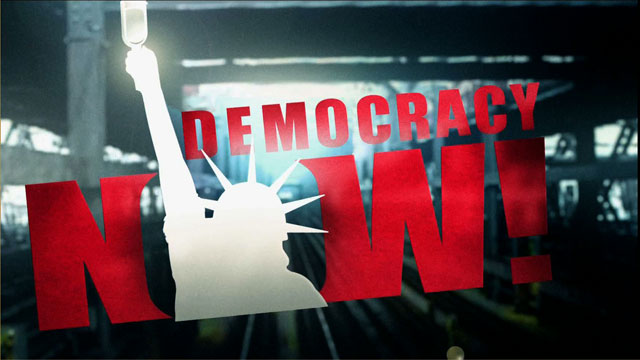 Media Options
Topics
---
Guests
Juan González

New York Daily News columnist and co-host of Democracy Now!
Juan González addresses the challenge of being a radical journalist at a conservative paper, the New York Daily News. He argues that journalists are in a position to control reality, and must recognize themselves as media workers with a special strategic location in the U.S. workplace. He references excessive coverage of the O.J. Simpson trial in opposition to media silence regarding a New York City superintendents' strike involving 35,000 workers.
Segment Subjects: Journalism, labor, news coverage
---
Transcript
This is a rush transcript. Copy may not be in its final form.
AMY GOODMAN: We're going to move right on to a speech—excerpt of a speech that Juan González gave last night. And I do want to let you know that after that we're going to be going to Chuck Lewis, who is the author of The Buying of the President: An Inside Look at the Special Interests Behind Clinton, Dole, Gramm, Wilson, Alexander, Buchanan, and Others. Juan González is a columnist with the Daily News in New York. He is also my co-host here on Democracy Now!, and he'll be with us in New York next week for the New York primary. The Village Voice calls him "the most radical person in the above-it-all world of New York daily journalism," and he led the successful Daily News writers' strike against the Daily News. Last night, Pacifica network affairs correspondent Larry Bensky, who moderated the opening session of the Media and Democracy Congress, asked Juan what it's like to be a radical journalist working for a mainstream newspaper in today's political climate, the Daily News.
JUAN GONZÁLEZ: Not only one of the establishment, but one of the most conservative or right-wing, probably, newspapers in the country. I think that the reality is, I agree completely with Ben that the growth of the conglomerate or the mega-media aspect of our industry, and I think we have to understand it that way. We now work in the most important and powerful industry in the world, in terms of its ability to either inform or misinform or socially control not just people in the United States, but throughout the world. We are media workers. It used to be that information was a means by which people could do better business. Now information is the business. It is the—it is the most—forget the oil. I mean, you could still make money on those things, but if you just look at the business pages of newspapers and look at the coverage of the mega-media industry versus the coverage of the oil industry or the automobile industry or what the captains of industry used to be, now the captains of industry are all in the mega-media, and we are the employees of that industry. And whatever aspect of it, whatever sector, whatever form it takes, we are all media workers.
And I think that part of the problem, in terms of—we'll get later on into solutions—I think, is begin to understand what we are and in what strategic place we are in the workforce in the United States to be able to effect change in the way that people receive information, what kind of information they get and how they can act as citizens based on that information. I think that—that, clearly, the ability to control the debate—the American people spent a year and a half on the O.J. trial. They can tell you what hour the dog wailed. They can tell you where the knife was found. They can give you chapter and verse in detail and have debates in bars and in restaurants and at the dinner table over the specifics of the O.J. trial, and they have no idea what happened to them in Washington while that trial was going on, what was taken away from them. The telecommunications bill was a stealth operation in this country. It was a stealth operation. And the very media companies that saw that bill as so crucial to their future did not bother to promote and educate the American people and to put forth a debate on the telecommunications bill until it was passed. And then you saw all kinds of coverage, and now you're seeing the results.
So I think that these are some of the things that our ability to impact—and we've all got roles. I mean, you know, the only—the main reason I stay at the New York Daily News is because it sells 800,000 copies a day and one million on Sunday to working people in New York City. And as long as there's an opportunity to be able to impact both on my fellow colleagues, my other journalist colleagues, who I spend a lot of time in discussion and debate with them, as well as the editors, to the degree that I can, and be able to carve out a space to be able to present a different perspective. We had a strike in New York City of 30,000 to 35,000—it was debated about the numbers—30-35,000 superintendents of buildings, immigrant workers, and the media didn't cover it at all. I started writing several columns on it, and my telephone didn't stop ringing, because there were 35,000 people in the middle of the biggest snow blizzard in the Northeast out on the street picketing, and nobody was paying attention. And that's 35,000 times the kids times the husbands and wives, and you're looking at thousands and thousands of New Yorkers that were affected. And just the newspapers and the TV didn't even want to cover it, and so that I think that that's the value system I think that Ben is talking about in terms of what is the role of TV and newspapers. And I think later on I want to get into the issue of how we act as media workers in this giant industry.
AMY GOODMAN: And that was Daily News columnist Juan González speaking last night at the opening of the Media and Democracy Congress here in San Francisco. And that's where we're broadcasting from. Actually, across the Bay in Berkeley at Pacifica station KPFA is where we are right now. And, by the way, the Ben that everyone is referring to was the first speaker last night, and that was Ben Bagdikian, author of the well-known book, The Media Monopoly. He also has a new book out, which is about his own life. You're listening to Democracy Now! I'm Amy Goodman. Again, if you'd like to get a copy of today's show, Democracy Now!, with the speeches of Susan Faludi and Juan González, as well as Jim Hightower, you can give us a call at the Pacifica Archives at 1 (800) 735-0230. That's 1 (800) 735-0230. And also, we'd love you to let us know if there are speeches that you've recorded that you think are worth playing on Democracy Now! with local activists up to the very well known. You can write to us by email at democracy(at)pacifica(dot)org or simply let us know by snail mail, by sending a letter to us at Democracy Now!, 702 H Street, Washington, D.C., 20001.