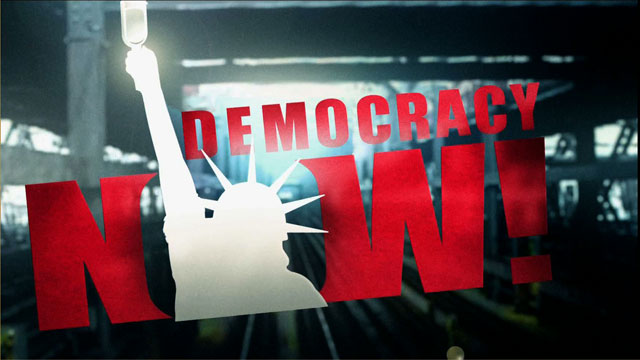 Media Options
Nader accepts the presidential nomination and goes on to discuss a number of themes relevant to his candidacy. These include the need for a new majoritarian party in the face of Democrat and Republican similarity; the need for balancing duties as public and private citizens; and the need to return the notion of justice to the center of politics.
---
Transcript
This is a rush transcript. Copy may not be in its final form.
AMY GOODMAN: In accepting his nomination last night, Ralph Nader spoke to Green Party activists for over two hours and gave a speech chock-full of examples of how corporations are destroying American democracy, from corporate control of our economy to corporate crimes that have gone unpunished. But Nader's main theme was that individuals can make a difference, if you believe in your power as citizens, band together and speak the truth. Here are some excerpts from Nader's first formal address as a candidate for the presidency of the United States, excerpts you won't hear on Nightline.
RALPH NADER: Thank you. Thank you. Thank you very much. You must know that you were responsible for all this. All I did was accept.
Some of the prior speakers touched on a number of issues. And as I was listening to them, what occurred to me is that most of the issues and the subjects that the Green Party is adhering to are majoritarian issues in the United States of America. And this is what commended the Green Party so much to those of us who were not in on the founding, is that if you look very carefully at the Green Party platform that's being proposed for your approval, this is by far the most comprehensive, broad-based platform that deals with the wide range of systemic justice that's needed in this country, from the political to the corporate to the cultural to civil liberties to civil rights — platform of any party in the country. I wouldn't begin to compare it with the flaccid, insipid, empty, cowardly platforms of the Democratic and Republican Tweedledum-Tweedledee party.
Somehow, these two party platforms don't realize that society rots from the head down, like a fish, and is built from the bottom up. As a matter of fact, the Democratic Party platform doesn't even contain an affirmation of universal health coverage for all Americans. It even backed off of that, while it took money from the hospital lobby, the medical lobby, the drug industry lobby, the giant HMOs and insurance lobby. And as far as the Republican platform is, this one could have been written by the Fortune 100.
SUPPORTER: It was!
RALPH NADER: Corporations —
SUPPORTER: It was!
RALPH NADER: You must know something I don't know.
There's no mention of the corporate crime epidemic in America, that The Wall Street Journal and Barron's financial weekly print stories about almost every day. There's no mention about corporate welfare. Why would they mention campaign finance reform? They sailed into San Diego on a sea of corporate cash. It's a wonder they didn't slip off their seats. Tobacco cash, insurance cash, oil cash, auto cash — you name it, it was there. Cash register politics.
You know, the Democrats, in their desperate display of political mimicry of the Republicans, are driving Bob Dole to distraction. Every time he makes a public policy statement, he precedes it by saying, "I hope that Bill Clinton doesn't get this ahead of me, because he'll deliver it." It's almost a boilerplate phrase. I understand Susan Molinari did that in her speech, as well. It's like saying, "Stop! Stop from being so much like us!" What does that tell us about competitive politics in America today? Not much.
I suppose the theme of what we're all about is titled "I the Citizen, We the People." I the Citizen, the self-reliant, civically informed, assertive, involved, engaged public citizen, joining with others to make it We the People. The two are inseparable from each other.
Underneath all our respective social, economic, political problems and abuses and injustices rests the quality of our democracy. Democracy is the greatest problem-solving mechanism ever devised. That's why so many people, intuitively, if not empirically, like it so much.
And democracy is always a work in progress, and in some countries it's got a long way to go. And the dictatorships that rule those societies have a lot of difficulty solving any problems, because they're so busy producing them. In our country, our democracy has gone through fluctuations. Some generations experience a resurgence, where the people get a break, they get organized, they get rights and remedies. And then the entrenched powers — in our country it's mostly corporate power — counteract and begin wearing down the gains of the past.
And as far as citizens are concerned, what they have to confront is how much time they're going to put in their lives as private citizens, taking care of themselves and their family, and how much time they're going to put as public citizens, taking care of the community, the society, the nation, the world. When we spend too much time on our private citizen lives, because we're having a hard time making ends meet or for other reasons, and we don't spend enough time on our public citizen lives, we will never have happy private citizen lives. And it's that balance that is out of balance. Too much in this country have people given up on themselves. The greatest power of the corporate state is not their power. The greatest power they have over the people is the widespread feeling among millions of Americans that they don't count, they don't matter, and why try?
Why try? Because the powers that be will decide for them. Whether they get laid off or not from their work, whether they grow up in toxic chemical exposures, whether they're sent off to foreign adventures, whether they're bled dry in taxes that go to unproductive investments, through Washington and state capitols, they just seem to have lost control. And you see that everywhere. It doesn't matter whether they're liberals or conservatives, moderates or anarchists, libertarians, whatever. They feel they have lost control over almost everything that affects them, whether it's the marketplace, the workplace, the government, the streets, the environment, their own children. And it's that recovery that spells the future of democracy as a problem solver, as a fulfiller of human possibilities in our country.
Now, when we talk about democracy, we're going to be very specific. You notice the two major parties, when they give all kinds of statements and addresses to the public, they have all kinds of words that they use to make people feel good, but there's one word that is in increasingly short supply in both the statements of the Democrats and the Republicans. And that is the great work of human beings on Earth. And that word is "justice."
AMY GOODMAN: Ralph Nader, speaking last night in California, accepting his Green Party nomination for president. We'll be playing more of his speech when we come back on Democracy Now! in just a minute.