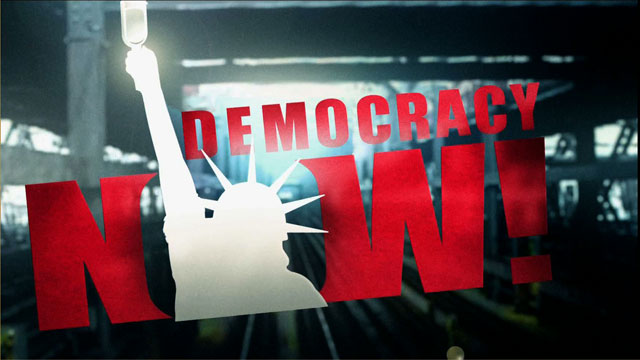 Media Options
We're joined in the studio by a room full of people, well, who weren't on the guest list this week at the Democratic National Convention. In fact, that was the name of their march on Wednesday, "Not on the Guest List," when they got arrested. We're joined by Dave Dellinger, who was in Chicago in 1968, back again in 1996. We're also joined by Andrew Hoffman, who runs America's Soup Kitchen on Wheels up in Boston, also knows someone well who was here in '68: he's the son of Abbie Hoffman. And we're joined by Barbara Peterson and Steve Sato, who were part of the group of protesters who were arrested this week. [includes rush transcript]
---
Transcript
This is a rush transcript. Copy may not be in its final form.
AMY GOODMAN: We're joined in the studio by a room full of people, well, who weren't on the guest list this week at the Democratic National Convention. In fact, that was the name of their march on Wednesday, "Not on the Guest List," when they got arrested. We're joined by Dave Dellinger, a familiar name, I'm sure, to many, here in '68, back again in '96. We're also joined by Andrew Hoffman, who runs America's Soup Kitchen up in Boston, also knows someone well who was here in '68: he's the son of Abbie Hoffman. And we're joined by Barbara Peterson and Steve Sato, who were part of the group of protesters who were arrested this week.
I want to welcome you all to Democracy Now!
DAVE DELLINGER: Thank you.
ANDREW HOFFMAN: Good morning.
AMY GOODMAN: Dave Dellinger, why did you come back?
DAVE DELLINGER: Well, I came back just for one example, but there are many other examples. Leonard Peltier has gotten two life sentences for a crime that he did not commit. And even the prosecutor now says, "We have no idea who killed those FBI agents." And the FBI has now admitted that it withheld evidence from the trial that would have proved his innocence. And even the Canadian government, that was lied to and extradited him from Canada for the trial, is very indignant about it. And—
AMY GOODMAN: Of course, Leonard—
DAVE DELLINGER: And President Clinton knows that Leonard Peltier is innocent, and he doesn't have the political guts to free a man with two life sentences who has already done more than 20 years in prison.
AMY GOODMAN: There is a plea for clemency before him now, isn't there, as it has been for quite a long time now?
DAVE DELLINGER: Yes, and actually, the appeals court asked the Justice Department to analyze the case and make a report on it. And when I got together people like Pete Seeger and Dick Gregory and, actually, Arun Gandhi, the grandson of Gandhi, and Grace Paley, the author, and Buffy Sainte-Marie, and I got 15 of them who wanted to have a conference in the White House to talk about clemency—and when we asked for this, we got a letter back from the White House saying, "We will not talk to anybody about Leonard Peltier until the Justice Department gives its report." And at that time, it was already more than two years. Now it's months later.
And that's why on March 20th—like, I was arrested then for blocking the Justice Department door, but there were hundreds of people who did that. And in the end, when we were going to be arrested, a few of them moved to the side, but 26 of us were arrested there. And there were similar demonstrations in Minneapolis and Los Angeles. And we said at that point, if this does not free Leonard Peltier, then we're going to carry that message to the convention. But when we were arrested at the Justice Department, one of the papers had a headline, "Chicago police refuse to arrest the demonstrators," so they had to go—so they went to the Justice Department to get what they implied was an artificial arrest.
AMY GOODMAN: Now, for listeners who actually weren't even born when Leonard Peltier was imprisoned, he what? Was put in jail two decades ago, is that right?
DAVE DELLINGER: He has been in—yes.
AMY GOODMAN: And he's currently in Fort Leavenworth?
DAVE DELLINGER: I think it's—in February, we had a demonstration, was at the end of the second decade, yes. When he came up for a parole hearing, was forced by the pressures that people like us here and others all over the world had done. The hearing officer recommended parole. And so, when they denied parole, they fired the hearing officer and said that he had overstepped his bound.
SALIM MUWAKKIL: Dave Dellinger, I can't help but be struck by the passion in your voice and the fact that you're still very much involved in this, in the protest of these injustices. Andrew Hoffman, why do you think that there's not similar kinds of passions being expressed among younger people?
ANDREW HOFFMAN: I think that there are, and I think that younger people are also just biding their time and taking care of business and waiting for a moment when they will rise up and take their rightful place as the owners of this planet and our society. And I think that they're going to be—that they're not going to deal with this monopoly money economy that we have, and they're going to revert to a social justice economy and an economy of ecology.
AMY GOODMAN: Where do you see signs of this?
ANDREW HOFFMAN: I see little signs of it all over the place. I'm involved on the streets doing America's Soup Kitchen on Wheels, which is involved with building a movement from the streets up. And that's the way my father taught me that any good, solid movement has to be built. And I'm out there talking to the people and relating to younger people every day. And I am very optimistic about the future.
AMY GOODMAN: Barbara Peterson, do you feel like your voice, along with Dave Dellinger's and Andrew Hoffman's, were heard this week? I mean, at the Democratic convention, where we were spending a lot of time, you guys were far away.
BARBARA PETERSON: Well, we weren't there to necessarily upstage the Democratic convention or to play into the press's desire to sort of put us away quietly. We were there just to get our message out. We've been doing this prior to Chicago, in Washington, D.C. I was in Washington, D.C., at that time. We'll be doing it after Chicago. So this was one stop along the way of a very long train. I'd like to add just briefly to what Andrew said also. Please remember that the American youth have been so victimized by our government that they are fighting for their financial survival. AIDS is out there taking our youth away. They're fighting for their lives on a day-to-day basis. It is hard to organize and come together and fight globally or nationally when you're looking for your next meal or where your healthcare is going to come from.
AMY GOODMAN: Steve Sato, did you spend much time in the protest pen? I mean, we should lay out for the listeners exactly what the scene was. It was incredible. In fact—
STEVE SATO: We didn't go to the pen.
AMY GOODMAN: Well, it was—it was actually worse than at the Republican convention. The Republican convention was two railroad tracks away. You had to jump over wire fences and two sets of railroad tracks with trolleys on them to get to the Republican convention, and the voices could hardly be heard. But here, it was even farther away. I just wanted to comment. Interestingly, here, across the street from the Democratic convention was Malcolm X College. And in San Diego at the Republican convention, you not only had to jump over two railroad tracks and at least two fences, but you had to cross Martin Luther Way Jr.—Martin Luther King Jr. Way.
DAVE DELLINGER: King Jr.
STEVE SATO: My impression—well, first of all, regarding the protest pit, right from the beginning, we weren't going to go along with that. And once we were there, actually, we had to go actually into the convention center to do a couple of CNN shows. And there was a lot of confusion when we got to where we were supposed—or tried to get to where we were supposed to be to be picked up to be taken to the show. And there was mass confusion, and we finally got in, at times. And so, we were at an intersection where one of the protest pits was at. And my impression of—there was nobody at the protest pits. There were small groups with nobody there listening to them.
SALIM MUWAKKIL: Except the police.
STEVE SATO: Except the police, standing around just basically blocking these blocked intersections.
AMY GOODMAN: Not only that, I mean, talking about control, the Democratic National Committee—I assume it was them—in the protest pen, they controlled the sound system. And it was a very good sound system, I should say, better than anything I've heard, very clear. But at the end of each hour, because a protest group could only be there for an hour, chosen by lottery, they would turn off the mic system, and then they would usher people out and usher people in. And they got very nervous—I saw a protest against U.S. aid to Israel—when a group of Muslims started to pray, and brought the mic off of the stage, God forbid.
ANDREW HOFFMAN: Yeah.
STEVE SATO: Yeah, well, like I said, we—when the whole thing came up with Mayor Daley's lottery system, to like basically get—win like a raffle to get spots in the protest pit, right away our reaction, Not on the Guest List Coalition and other groups, we just weren't going to go along with the program. And my impression again, another impression, was that, you know, this was a way by the city, Mayor Daley, his people, whoever, to basically diffuse and dilute any sort of gathering.
ANDREW HOFFMAN: Back in—
AMY GOODMAN: Andrew?
ANDREW HOFFMAN: Back in February, I applied for a permit through my nonprofit, America's Soup Kitchen on Wheels, for Grant Park for the Festival of Life Continues. And I was trying to reach out to the Daley administration to set up a structure which I felt would be beneficial and would allow us to all come together as protesters and build a larger coalition. And I think that it was very underhanded and very evil of Daley to not only sidetrack us continuously and not give us a permit until one week before we were ready to go.
AMY GOODMAN: Maybe when you applied, when you wrote down your name, you should have said you were a son of Julius rather than son of Abbie.
DAVE DELLINGER: You know, I also want to point out that the police—well, the city is getting a lot of praise for at least not beating us up massively. But on the other hand, when we leave here, we are going to the arraignment of one of the people who was arrested with us. And he is—because he's a local activist, who they want to destroy, you know, he was arrested for mob action—
ANDREW HOFFMAN: Which is totally absurd.
DAVE DELLINGER: —during a—during a Tuesday march and activity, when I was by his side all the way. And there was no way that he either did or the kind of person he being—Reverend Ron Schupp—that he would have thrown a bottle and hit a cop, which is what apparently they're claiming. And so, it's just terribly important that we support those people.
ANDREW HOFFMAN: Yes.
DAVE DELLINGER: And we are going there. And if necessary, I may even cancel my trip home tomorrow in order to testify in his defense.
ANDREW HOFFMAN: There are other brothers and sisters of ours who are in jail now on the same trumped-up charge. The Chicago police made a sweep—
SALIM MUWAKKIL: How many, Andrew?
ANDREW HOFFMAN: At least two dozen people are in jail on various charges. We are not even sure how many on that federal charge, which is a serious charge and completely erroneous. And we are in support of them. Reverend Ron is a member of the board of directors of America's Soup Kitchen on Wheels. He has been working in this community for many years. And it is obvious that they did this just—
STEVE SATO: They targeted him.
ANDREW HOFFMAN: They targeted him and others. And they may—
DAVE DELLINGER: Whereas if they targeted Andrew or me, they wouldn't have—they wouldn't have gotten away with it.
STEVE SATO: Right.
ANDREW HOFFMAN: Right.
DAVE DELLINGER: And we're determined that they won't get away with this.
ANDREW HOFFMAN: Right.
AMY GOODMAN: Dave Dellinger, how old are you now, if you don't mind me asking?
DAVE DELLINGER: I'm so old, I can't remember, but I think I'm 81.
AMY GOODMAN: What is your sense of activism today compared to what it was when you came here in your fifties in 1968?
DAVE DELLINGER: Well, I think that more people understand today than they—than in the '60s, that the system simply will not work. And I often make the comparison that I cut my political teeth during the Great Depression. And then everybody wanted to revamp the system so that it—you know, modify it, so that it would work. And they did a few good things. But nowadays, people are so discouraged, they don't even vote anymore. And I support those who refuse to vote, because the multinational corporations, without their support, without being captured by them, it's impossible to get elected to big national office. They, the multinational corporations today, have made the U.S. government obsolete. The multinational, rich, billionaire corporations are actually running the world. And I have found—I speak in more high schools today than I did during the early '60s, and I found that everywhere I go people understand that change, social change, begins in their own lives. And they are organizing. And Andrew is a good example of that. They're organizing their own communities. They're working together to help the poor, the homeless, the oppressed, for racial reasons and all the rest. And—
SALIM MUWAKKIL: Speaking of—
DAVE DELLINGER: So I am very optimistic that this is all going to come together. So the things gotten worse, as far as the society, with 1 percent of the population controling and owning more wealth than the bottom 96 percent.
SALIM MUWAKKIL: And that gap is growing even wider as we speak.
DAVE DELLINGER: Yes. So that without economic democracy, there can be no political democracy.
SALIM MUWAKKIL: Exactly. The Campaign to Cash the Check, which was another protest attempt, one of the things that was striking about that was the—really, again, the lack of interest in it. And it had all of the heavy hitters there. It was Jesse Jackson, Reverend Al Sharpton, Conrad Worrill, who's a big organizer in this area. But they couldn't—they couldn't—
DAVE DELLINGER: Dick Gregory.
ANDREW HOFFMAN: I think a lot of that has to do with the stigma of '68, which is still hanging over our heads. People are desperate out there, and they're just not willing to put their bodies on the line. And they were afraid. They were afraid that the police would do what they did last night, conveniently while the President was here, while all of the news media was occupied. They swept the city, and they dragged people out of buildings, and they maced a few people. And it's outrageous, and we're not going to let them get away with it.
AMY GOODMAN: Well, I want to thank you very much for coming into our studios and coming to Chicago, Andrew Hoffman, Dave Dellinger, Barbara Peterson and Steve Sato. You've been listening to Democracy Now!