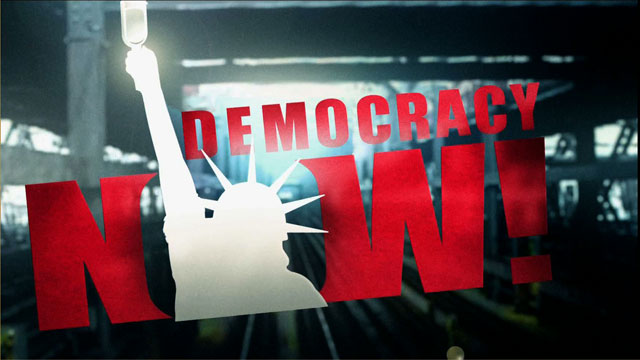 Media Options
Last November, approximately 600 protesters were arrested at Fort Benning, Georgia, the site of the US Army's notorious training school for Latin American soldiers.
Called School of the Americas, some of its graduates include General Manuel Noreiga, the 19 Salvadorans accused of murdering six Jesuit priests in 1989, and Gen. Raoul Cedras, the head of the Haitian coup that ousted elected leader Jean-Bertrand Aristide. Protesters call the base the School of the Assassins and are demanding that it be closed.
Authorities are dealing with demonstrators harshly. The trial of five protesters began this week in a Columbus, Georgia, courtroom, and they are expected to receive anywhere from one to five years in prison.
Yesterday Vice President Al Gore visited the base and received a surprising welcome.
Guests:
Jennifer Harbury, a lawyer and activist whose Guatemalan husband, the most senior Mayan commandant, was murdered by graduates of the School of the Americas on the CIA's payroll.
Charles Liteky, a former US Army chaplain who won the Congressional Medal of Honor during the Vietnam War. He threw his Medal of Honor over the White House fence in protest at the war.
Related Link:
1/20/98 Democracy Now!–"Demonstration to Close School of the Americas"
---