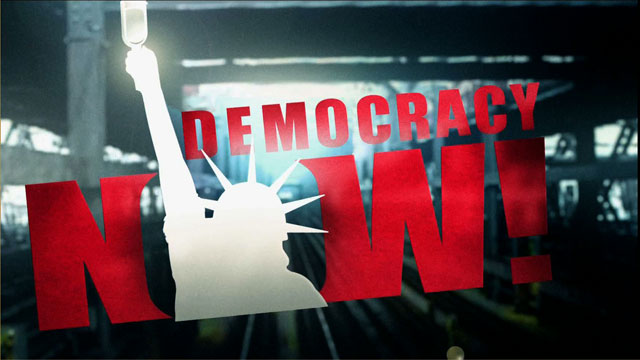 Media Options
Guests
Neil Postman

Schmio Award master of ceremonies and media critic.
May is the month for the CLIO Awards, the Oscars of commercials, when the advertising industry pays tribute to its most artful and accomplished commercials. On the eve of the ad industry's event, the 2nd annual Schmio Awards ceremony was held honoring advertisers' dubious achievements. The theme of the evening was "Kids for Sale." Among the presenters was activist and comedian Dick Gregory. [includes rush transcript]
---
Transcript
This is a rush transcript. Copy may not be in its final form.
AMY GOODMAN: May is the month for the CLIO Awards, the Oscars of commercials, when the advertising industry pays tribute to its most artful and accomplished commercials. Well, on the eve of the ad industry's event, the second annual Schmio Awards ceremony was held, honoring advertisers' dubious achievements. The theme of the evening was "Kids for Sale." Among the presenters were activist and comedian Dick Gregory. The event was hosted by New York University professor and media critic Neil Postman.
NEIL POSTMAN: You may wish to imagine a connection between our event and what is called the CLIOs. The CLIO Awards, which will be held tomorrow and Thursday evening not far from here, exists for the purpose of celebrating the achievements of the advertising profession, and in particular to emphasize the role advertising plays in contributing positively to American culture. Now many people believe that the Schmios are held to ridicule that presumption, and I'll leave it to you to judge if that is true. But speaking of presumptions, I should remind you that before the advertising industry claimed her, Clio was known as the muse of history, not, as some people think, the muse of duplicity. The muse of history. Now think on that. In other words, the advertising industry's choice of a name for their awards is even stranger than ours.
Now, the theme of this year's Schmios is children. And we selected this theme to dispute the obscene assumption, held so firmly by some advertisers, that children are merely markets, customers to fuel the economy. The education of children is the most serious business of a culture, to be carried on continuously by parents, by teachers, by clerics. In America, it's also carried on by advertisers. By age 20, average American youngsters have already seen about 500,000 TV commercials alone, so that their conception of what is good, true and beautiful is profoundly influenced by those people who will give themselves CLIO Awards later this week. So it's necessary for us to ask, what are the conceptions of the good, the true and the beautiful that these people promote? Do they tell the young that the surest way to earn God's favor is to buy things? Well, of course, they do. Do they tell the young that all problems are solvable, and solvable fast and solvable through the agency of technology? Well, of course. Do they tell the young that the worst possible thing one can do is to delay gratification? Well, they tell them that daily and in a thousand ways.
The good people who are assembled here this evening to give Schmio Awards have as their purpose calling attention to the messages that are being sent to our young by a large and powerful industry. I suspect that when you hear what they say and see what they show, you will find some of it amusing. But it is amusing only in the sense that seeing one slip on a banana peel is amusing. That is to say, it is a disaster. What we have here tonight is a kind of town meeting of citizens who are concerned about the kind of people our children will be. Our first four presentations are general awards, after which all the others will concern our special award section, which we call "Kids for Sale."
It is my great pleasure to introduce comedian, author, civil rights activist, Dick Gregory.
DICK GREGORY: Oh, fantastic, fantastic. Speaking of advertising, I've been taking that Viagra. You know, everyone is talking about the side effects, but the one they miss is 98-year-old retired sex maniacs will be reactivated now.
You know, I keep listening to debates of violence and drive-by shootings and what's the most violent neighborhood in the world, and people start selling their land, moving out to the suburbs and white neighborhoods. I'm going back now, just rebuying all the land in the ghettos, because after what happened in the Vatican and Jonesboro, looked like the ghetto is the safest place to live.
See, well, the number one killer, drive-by shooting? No, number one killer in America is cigarettes. 495,000 Americans die every year from smoking cigarettes. That's about 19 percent of the deaths. The number two cause of death in America, bad diet and inactivity, 300,000, 14 percent of the death. The number three cause of death is alcohol. Firearms is number two. Illegal drugs is number one. So I tell black folks who are scared to come out and sitting in the buildings, don't want to do nothing, worried about being killed, just sitting in the house, smoking their cigarettes, eating their barbecue ribs, not doing no exercise, drinking their light beer, they're participating in the top three killers.
And I've always tried to, you know, steer people into the right health, particularly black folks. I know last 4th of July in Chicago, I went out to a picnic with all these black folks, try to talk about good health. You know, every time I see—I see this one black dude, he's about 22 years old, asleep, drunk out of his mind on cheap wine, mouth open, flies going in and out of his mouth, have cocaine dust on his nose, reefer in his beard. I woke him up and I said, "Here's a apple!" He said, "Is it organic?" You know.
I'm here tonight to give the "There Go My Neighborhood" award. There goes my neighborhood. Billboards are like one-billion-one-hundred-million-dollar business, and almost 25 percent of that revenue is derived from two industries: alcohol and tobacco. And a disproportionate number of billboards is in the African-American community and the Latino neighborhoods, on street corners, near homes, schools, parks, churches, and where children are confronted, day after day after day after day, with this filth. Like drug dealers, they claim alcohol, cigarettes will bring happiness, good sex, more power. Strangers might conclude that the language of the ghetto is not rap, but billboards. And communicate they do. According to the White House, smoking among black teenagers have doubled in the 1990s. One billboard company executive wanted to know what it would take a Compton community leader, Chris Bailey, to stop pushing for billboard bans. "I'll back off, if you put the same type of billboards in Beverly Hills that you put in Compton," she replied. And the executive replied, "But there are no billboards in Compton." She grinned and said, "That's exactly what I'm talking about."
And so alcohol and cigarette billboards speak a very special language in their—in this case, it's like patronizing slang. And just like other drug dealers, they promise immediate payoff, not just in flavor. They promise instant happiness. They promise men great sex. I mean, even Latino men, they promise, "Hey, great sex, and, hey, and if you can't get the woman, oh, dude, take these guns." Not only do billboards sell malt liquor as a quick drink, quick high, more powerful higher than anything you've been able to put into your body, or more powerful beer than just regular beer, but they also appeal to the powerless. They sell all of these things to the powerless people and say, "Here, this will give you more power." But to rich folks, power might mean the ability to make deals, to influence elections, or at least to exercise control over your own life. According to Old English, for the poor, power means getting drunk and losing control.
But cities are fighting back. Compton, Chicago, Inglewood, Baltimore, they have passed ordinance restricting alcohol and cigarette billboards where children are exposed to them. And other cities, including San Francisco, Oakland, New York, have restricted cigarette billboards. And whether we like it or not, and whether they like it or not, I think we're kind of winning. But despite these ordinances, the billboards have remained. In some cases, billboards—alcohol companies have fought these restrictions tooth and nail. For example, in Baltimore, Baltimore passed an ordinance four years ago, in early 1994. They said billboard companies—billboard companies kept dragging their feet. They kept suing, going to court, appealing, refusing to take the billboards down. When Universal Outdoor's billboard finally was due to come down at the expiration of their contract, they extended their contracts literally the night before the contract was due to expire. That's why I'm giving my "There Go My Neighborhood" award to the stonewalling, bullying, double dealing, and otherwise resisting efforts to clean up the block to Universal Outdoor. You got it. You got it.
But trust me, things are not all bad. Only 10 days ago, this past Friday, in Baltimore, four years after they passed their ordinance, that liquor billboards finally, finally was covered over. Baltimore is the first city in America to succeeded in bringing them down. We thank you, Baltimore, and we thank all those folks out here that have worked very hard to see to it that this will happen. And I leave you by saying this. All the decent folks out here in this planet that's working for right and to save our children, we represent light, and all those other forces, regardless to how much money and how much power, they represent darkness. And if you want to know who's going to win this, when you go home tonight, go in a dark room and turn the light on, and see if light don't wipe out darkness. I love you. God bless you.
AMY GOODMAN: Dick Gregory at the second annual Schmio Awards honoring advertisers' dubious achievements.