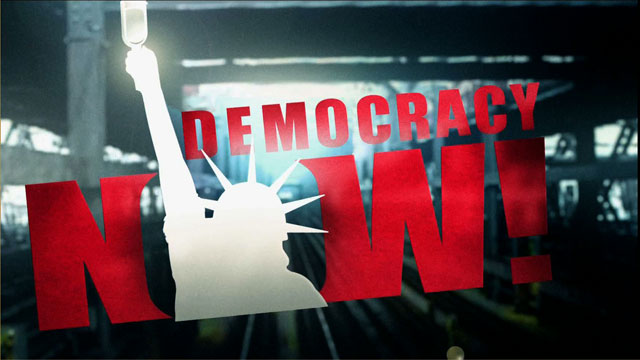 Media Options
The first group of ninety-five protesters who were arrested in Philadelphia last July 3rd are in court today for their participation in a nonviolent civil disobedience at the Liberty Bell in downtown Philadelphia on behalf of journalist and death row prisoner Mumia Abu-Jamal. [includes rush transcript]
As protests continue on his behalf, Jamal is appealing his case in federal court, while Pennsylvania Governor Tom Ridge is poised to sign a death warrant against him at any moment.
Guest:
Mumia Abu-Jamal, journalist and death row prisoner, speaking from death row at State Correctional Institution Greene, Pennsylvania.
---
Transcript
This is a rush transcript. Copy may not be in its final form.
AMY GOODMAN: We were just about to go to a segment on malathion spraying that's been taking place in the Northeast because of West Nile virus and encephalitis that has struck a number of people in the area, but we have just been graced by a call from Mumia Abu-Jamal, prisoner in Pennsylvania on death row for about eighteen years now. And since it is very tough to get calls through, we want to welcome Mumia Abu-Jamal to Democracy Now!

Welcome, Mumia.

Are you with us?

Well, as you can see, it is very difficult to get a call in. Let's see if we can hear him. Let's see if we can punch him out and then punch him back right in.

Mumia, can you hear us? Hmm, it seems like —


MUMIA ABU-JAMAL: Yes, I can.


AMY GOODMAN: Ah, here we are. Here we are. We'll just pick that line right up.


MUMIA ABU-JAMAL: Can we do —- can we -—


AMY GOODMAN: Yes, we're right on the air now.


MUMIA ABU-JAMAL: Fine, fine. Well, let's hope it's not any problem today.


JUAN GONZALEZ: Good morning, Mumia. This is Juan Gonzalez.


MUMIA ABU-JAMAL: Hey, Juan!


JUAN GONZALEZ: How are you, bro?


MUMIA ABU-JAMAL: Hey, ¿que pasa?


JUAN GONZALEZ: Bien, bien. Estoy aquí luchando.


MUMIA ABU-JAMAL: Yeah, I'm OK, man.


AMY GOODMAN: You know, we should say Juan was at the Philadelphia News for —


JUAN GONZALEZ: Daily News
for many years —
AMY GOODMAN: — many years at the time —


JUAN GONZALEZ: — when Mumia was the president of the ABJ chapter.


MUMIA ABU-JAMAL: Yeah, we homies from the old ABJ, the Association of Black Journalists in Philadelphia.


JUAN GONZALEZ: Right, right. That's right.


AMY GOODMAN: Well, Mumia, we've just come out of a week of activism around your case around the country that started a while ago with Mumia 911, with artists around the country leading a protest and demonstrations, rallies, speakouts, poetry readings, on your behalf. When that kind of thing happens on the outside, what happens to you on the inside? Is there any reaction from prison authorities?


MUMIA ABU-JAMAL: Sometimes there is, sometimes there isn't. I mean, now that we've had essentially a whiteout from the corporate majoritarian media, it tends to be muted, and therefore there isn't a response. When there is a lot of press, they — they get cuckoo, as when Live from Death Row came out, as when NPR went through their thing. And, you know, then they kind of create something, you know, a provocation, anything. So, I mean, we can kind of gauge their response based on how the majoritarian media handles situations. So when they hype stuff, they get hyped here. So they're very responsive to that.


JUAN GONZALEZ: Well, it clearly seems that after the concert that was held in New Jersey, which got quite a bit of publicity —


MUMIA ABU-JAMAL: Right.


JUAN GONZALEZ: — there was a sense, I guess, among a lot of these major media operations that it's better not to say anything, because they were drawing more attention to the case.


OPERATOR: This call is coming from a correctional facility.


MUMIA ABU-JAMAL: You're absolutely correct. You're absolutely correct. You know, again, when that happens, I mean, we have to remember what we've learned from the civil action is that they will respond to pressure from the state, from the FOP, and what have you. I mean, the Third Circuit Court of Appeals opinion makes it very clear, even though the lower court opinion does not. You know, they respond. When those guys say something, they jump, you know. And I think that may have had some influence on how our last conversation was so truncated.


AMY GOODMAN: For listeners who weren't tuning in on that day, when Mumia Abu-Jamal first called in from prison weeks ago, the guards ripped the phone out of the wall after just a minute of him speaking to us. But in the end, you won that case, didn't you?


MUMIA ABU-JAMAL: Well, only tangentially. And I'll tell you why, because there really — there wasn't any case. Even though I received a misconduct, it was administratively killed. I had no hearing, so I wasn't even given the process necessary to prove that the rule that they tagged me under wasn't a rule, you see, so…


AMY GOODMAN: Mumia, where does your case stand right now?


MUMIA ABU-JAMAL: We are right now in front of the august justices of the United States Supreme Court on a writ of certiorari.


AMY GOODMAN: What does that mean?


MUMIA ABU-JAMAL: That's a writ of appeal from any court in the United States to the Untied States' highest court, asking them to consider constitutional issues. It's not a trial court, so things aren't tried. But you — historically you try to argue or have the justices consider any violation of the United States Constitution in terms of the process, and what have you. And that's where we're at.


JUAN GONZALEZ: And the court must decide whether — first whether they're going to hear the appeal, right?


MUMIA ABU-JAMAL: That's true. That's true.


JUAN GONZALEZ: So that would be the first step. Any idea how long that might take for them to decide that?


MUMIA ABU-JAMAL: No one knows what the court will do. I mean, you know, you can use prior practice as a kind of rule of thumb. As a rule, they only accept perhaps 125, you know, a very small number, from thousands of writs all across the United States and American territories. So it is almost impossible to predict what they will do. And because of that, I find it difficult for me to do that, as well.


JUAN GONZALEZ: And is there any message, in particular, you'd like to give out to all the people who listen to this show, who have — many of whom have worked very hard for a new trial for you for quite a while?


MUMIA ABU-JAMAL: Yes. A heartfelt, a heartfelt, a deep-felt thank you and sense of appreciation, and also a spirit of on the move, we are continuing, that we go on. I don't know if people know this, but one of our sisters, a very good supporter, Susan Burnett, passed over the weekend. She was the wife of Ali Bey Hassan, a real wonderful, vibrant, beautiful sister, and had a long and rugged bout with cancer. But when she passed, she was surrounded, of course, by her husband —


OPERATOR: This call is coming from a correctional facility.


MUMIA ABU-JAMAL: — and by other people who loved her — Pam, Ramona Africa, two sisters from the Bruderhof community. And, you know, it was a peaceful passing, but we're sad to see her go, but we celebrate her radical and resistant life. She was — I call her a force of nature, just a wonderful, powerful, loving and militant woman, who will be missed, but will also be regarded with, you know, a high standard.


AMY GOODMAN: We're talking to Mumia Abu-Jamal on death row in Pennsylvania for about eighteen years now. Mumia, one of the criticisms leveled against you by your critics around the country and often raised in newspapers is that the night of the killing of Daniel Faulkner, you have never actually described what has happened. And I was wondering if you could do that for us today on Democracy Now!


MUMIA ABU-JAMAL: Well, the reason I've not addressed that is the reason that, you know, my lawyer has said very often, that I haven't had a trial. A trial isn't one piece; it's all those pieces. It is the presentation of witnesses. It is the competence of counsel. It is every part, and not one single part. And, you know, it's like, I've been denied every part. And, you know, how can we call that a trial? That's really the fundament of why you argue for a new trial, is you say that the original proceeding wasn't a fair or full proceeding.


JUAN GONZALEZ: Well, Mumia, even as we're speaking, the first wave of ninety-five people who were demonstrating on your behalf and were arrested on July 3rd in Philadelphia at the Liberty Bell are going to court in Philadelphia this morning, so that they continue the growing movement that believes that you did not get a fair trial, continues to expand around the world. And hopefully it will get to the point where it will be impossible for those in power to deny you that day in court.


MUMIA ABU-JAMAL: What's interesting, Juan, is that this was a demonstration at the very — the citadel of so-called American democracy. When you talk about the Liberty Bell and you talk about Independence Hall in the center of Philadelphia, a lot of people don't remember, or don't know, perhaps, that was once the capital of the United States of America. And if you're going to talk about the Liberty Bell, how can you lock people up or prosecute people and, you know, put them through this repressive process, for exercising First Amendment rights that are said to be protected by the First Amendment and any other amendment to the United States Constitution? You know, what we're working with, as always, is not the Constitution so much as we're working with government power, the ability of the government to do what it wishes when it wishes, and the Constitution be damned. I mean, even when you go through a civil proceeding and something is declared unconstitutional and, you know, a court or a jury decides as unconstitutional, it doesn't really mean anything. You know, nothing really, really changes. I mean, you get a piece of paper where a few legal jurors and scholars will say, "Oh, yeah, well, that was unconstitutional," and they slap a few hands and a few fingers, but the state, you know, continues to do what it wishes to do unabated.


OPERATOR: This call is coming from a correctional facility.


MUMIA ABU-JAMAL: I think that, you know, those people in Philadelphia should be supported vigorously. What they were doing was constitutional. And larger and more important than that, what they were doing was right. And I think that point should be made.


AMY GOODMAN: Mumia Abu-Jamal is our guest from death row at SCI-Greene, which stands for State Correctional Institution-Greene in Pennsylvania.

Mumia, I wanted to go back to this point that I was just asking you about and ask what you feel you can say outside of a court of law, failing at this point you having a fair trial, what you can say about what happened.


MUMIA ABU-JAMAL: Well, I can say that everything that has come forth that is through the mouths of witnesses proves, I think, to any fair-thinking person that the trial, in chief, was not defended, first of all —


OPERATOR: Two minutes remaining.


MUMIA ABU-JAMAL: — and not properly defended, second of all. You know, in the end, it's not important what I say, because there are sworn witnesses who have come forward, who have given their version of the facts. And it's clear that had we had those witnesses at trial, we would not had this kind of result. We would — you know, I wouldn't be speaking to you live from death row, you see? I think that really speaks to the justness, the rightness, the constitutionality, the fairness of the original proceeding before Judge Albert F. Sabo.


AMY GOODMAN: Do you think you ever will have your day in court?


MUMIA ABU-JAMAL: We're fighting for it. I mean, what I can tell you is we continue to fight. You can fight and lose, but if you don't fight, you're guaranteed to lose. So we fight. And we fight not to lose, but to win.


AMY GOODMAN: Could the death warrant be signed at any point now?


OPERATOR: One minute remaining.


MUMIA ABU-JAMAL: Absolutely. I mean, we — of course, we're waiting for what the US Supreme Court will do, but like I said before, no one knows what they'll do or when they'll do it. But that would be another front from which to continue to fight, as it's ever been. The struggle goes on.


JUAN GONZALEZ: Well, Mumia, for those of us who knew in Philadelphia and knew the important work that you did on the radio and as an activist, there's no doubt in any of our minds that the police knew exactly what they were doing —


OPERATOR: Thirty seconds remaining.


JUAN GONZALEZ: — from the day that — from the moment that they arrested you that night and exactly — you were always marked by them for special treatment.


MUMIA ABU-JAMAL: Well, thank you, Juan. I mean, you know, what we didn't find out until we got a lot of the files is that I was marked since I was fourteen or so. So, you know, now we're learning more. I thank you, Amy. I thank Democracy Now!
I thank Juan Gonzalez and all the listeners of Democracy Now! for this very precious time.
AMY GOODMAN: Well, thank you for calling in, Mumia Abu-Jamal. And I can hear he's already been cut off.