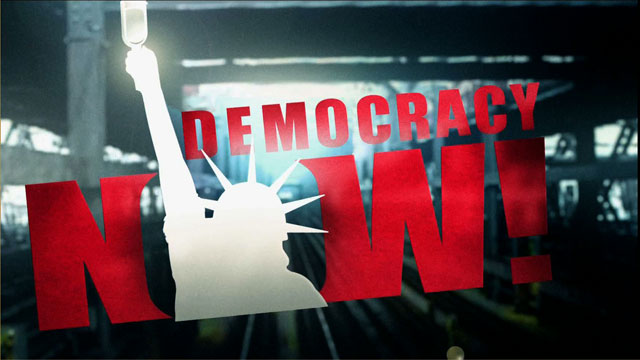 Media Options
With the death toll in the Occupied Territories now over 100, the overwhelming majority of them Palestinians, a summit aimed at bringing about a ceasefire began today in Egypt. Israeli Prime Minister Ehud Barak and Palestinian leader Yasser Arafat, along with international mediators U.S. President Bill Clinton and Egyptian President Hosni Mubarak, began talks earlier this morning in what has been described as a very tense atmosphere. [includes rush transcript]
Guest:
Simona Sharoni, teaches at Evergreen State College in Olympia, Washington, and she is the executive director of the Consortium of Peace Research, Education and Development.
---
Transcript
This is a rush transcript. Copy may not be in its final form.
AMY GOODMAN: And this news from Sharm el-Sheikh, Egypt: a high-stakes summit aimed at ending the worst Israeli-Palestinian violence in decades began today in what participants said was a tense and difficult atmosphere. Egypt's President Hosni Mubarak addressed the opening session this morning in the Egyptian resort of Sharm el-Sheikh, where U.S. President Bill Clinton, Israeli Prime Minister Ehud Barak, Palestinian President Yasser Arafat and Jordan's King Abdullah gathered for talks on a ceasefire.
We turn now to a guest on the phone: Simona Sharoni, who teaches at Evergreen State College. She is an Israeli peace activist.
Welcome to Democracy Now!, Simona.
SIMONA SHARONI: Good morning.
AMY GOODMAN: Your evaluation of the Israeli peace movement at this point, where they stand?
SIMONA SHARONI: Well, the mainstream Israeli peace movement, that is represented by Peace Now, has been paralyzed. They canceled a demonstration last weekend with a call for national unity. They have actually found themselves back a part of the consensus. At the same time, there was a large demonstration this past Saturday. And despite the paralysis that was inflicted on Peace Now — Peace Now inflicted upon itself — there were two members of the Israeli parliament, Yael Dayan of the Labor Party and Mossi Raz of Meretz, that defied their parties' position and spoke at the demonstration. And the demonstration called on Israel to immediately stop shooting Palestinians and explore a just solution to the conflict. So, it was really unique in the sense that it really took a self-critical look at shoot-to-kill policies that have characterized the past two weeks and the responsibility that Israeli peace activists have to end the violence.
AMY GOODMAN: What do expect from the Sharm el-Sheikh summit?
SIMONA SHARONI: The violence that we have witnessed is symptomatic. It's not the cause of this kind of crisis and uncertainty; it's a symptom of the shortcomings of Oslo. And short of an alternative framework that will be able to address the core issues — namely, Jerusalem, refugees, settlement and final border — I think it will be a band-aid that may offer a ceasefire and put a halt to the violence in the short run, but I doubt that this would be a long-lasting solution.
AMY GOODMAN: What do you think is a long-lasting solution?
SIMONA SHARONI: A long-lasting solution will involve an alternative framework, not necessarily dominated by the U.S., unless the U.S. really gets serious about not only using the rhetoric of an honest broker, but also doing what that entails — namely, being evenhanded in holding Israel accountable for its violation of international law, and its responsibility in both triggering and perpetuating the violence of the past two weeks.
At the U.N., a framework that was more similar to what we witnessed with the Madrid Conference, a framework that will be able to actually look at Palestinians not simply as people that have to respond to dictates issued by Israel and by the U.S., but would really understand that the compromise that Palestinians have agreed to in the early '80s and was written into the Oslo Accord, namely to have an independent Palestinian state on 22 percent of historic Palestine, was an unbelievable compromise. And to ask Palestinians to further — to accept something less of that and a framework that doesn't address the fact that they're the largest nation of refugees — and refugees were not offered compensation, not even to speak about an option of return, that Israel still insists on keeping Jerusalem as its eternal capital, including Palestinians in Jerusalem, and that the settlements are going to remain.
The other warning sign here, as far as the summit is concerned and future negotiations with Israel, is the National Unity government, that has rewarded Ariel Sharon, triggered the recent wave of violence, with a cabinet position that apparently came after Barak agreed to drop all concessions that were offered at Camp David.
AMY GOODMAN: Simona Sharoni, I want to thank you for being with us, Israeli peace activist teaching at Evergreen State College in Olympia, Washington, executive director of the Consortium of Peace Research, Education and Development.