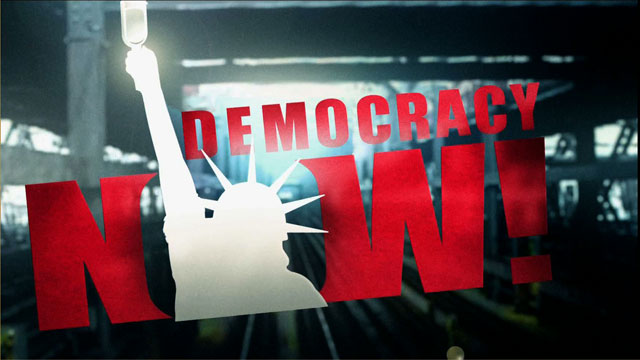 Media Options
In Texas, a sixty-two-year-old woman faces execution tonight for fatally shooting her fifth husband and burying him outside their Dallas home. Betty Lou Beets would be only the second woman to be put to death in the state since the Civil War and the fourth in the nation since the US Supreme Court in 1976 allowed capital punishment to resume. Karla Faye Tucker, who became a born-again Christian on death row, was executed two years ago. [includes rush transcript]
Beets has asked Governor George W. Bush to spare her life, and he has agreed to review the case. Under Texas law, he could grant Beets a thirty-day reprieve. During Bush's five-and-a-half years as governor, 119 convicted killers have been executed in Texas.
Meanwhile, Cornelius Goss, thirty-eight, was executed by lethal injection last night in Texas. Goss was convicted for the murder he committed during a burglary.
Guest:
Joe Margulies, attorney for Betty Lou Beets. Call Texas Governor Bush: 512.463.2000.
---
Transcript
This is a rush transcript. Copy may not be in its final form.
AMY GOODMAN:
Molly McGrath and Eric Brakken, we are going to switch gears just for a few minutes. And I'm going to ask you to bear with us, because our next guest has to catch a plane. But because the next subject involves the execution of a woman tonight in Texas, we want to be able to talk to him before he leaves. But then we're going to come back to you, and also I want to play for you a quick conversation I had with Spike Lee the other night about how he feels about your protests — Spike Lee, who has been a spokesperson for Nike. And we also are going to expand the discussion to Don Yaeger, who is one of the authors of Sole Influence: Basketball, Corporate Greed, and the Corruption of America's Youth.
But that's coming up in a few minutes, because right now we're joined by Joe Margulies, and he is the attorney for Betty Lou Beets. Betty Lou Beets is the sixty-two-year-old woman who is set to die today at 6:00 pm Texas time for the 1983 shooting death of her fifth husband. Governor George Bush is off the campaign trail, back in Texas today, as the state gets set to execute Betty Lou Beets. And if she does die tonight, she will only be the second woman to be executed in Texas since the Civil War.


Welcome to Democracy Now!, Joe Margulies.


JOE MARGULIES:
Good morning. I just want to alert folks, and I'm sorry for this: this cell phone that I'm on is in its dying gasps. I hope it's not a premonition of things to come later this evening. And I — if we want, we could try to re-establish on a different line, but let's go ahead now for as best we can.
AMY GOODMAN:
OK. Why don't you explain the situation of Betty Lou Beets at this moment?
JOE MARGULIES:
Yeah.
AMY GOODMAN:
Where does her legal case stand?
JOE MARGULIES:
There are two things going on right now. The first is, there is a challenge to the procedures employed by the Texas Board of Pardons and Paroles and their failure to follow state law, their own procedures regarding clemency, procedures in place for the review of battered women. That is pending in the United States Court of Appeals for the Fifth Circuit. We anticipate that if we are successful and get a stay there, the Attorney General will seek to vacate the stay, so that they can kill Betty tonight. If we are unsuccessful, then we will seek a stay in the United States Supreme Court.

We are also still waiting on Governor Bush. We have asked him to do what the Board of Pardons and Paroles has refused to do, and that is to stop the execution and hold a live hearing, so that they can hear the witnesses that the jury should have heard, that were available to the trial lawyer, but who he declined to investigate and present, that could document Betty's history, Betty's horrific history, as a reason to spare her life.
AMY GOODMAN:
And what is that history? What would they say?
JOE MARGULIES:
Betty — we have established through abundant documentation of contemporaneous records, as well as eyewitness accounts, the abuse that Betty has endured, virtually throughout her life. She is an incest survivor, raped at the age of five. She married at the age of fifteen, married to a successive succession of abusive violent men, documented in photographs taken by her daughters. Some of her daughters' earliest memories as small children is pushing the door closed so that their stepfathers couldn't — a succession of stepfathers couldn't come through the door to keep beating on their momma. They took photos of her after she had been beaten, gave those photos to her trial lawyer, and said, "Look, if you're going to understand Betty and defend Betty, you've got to know this history. And this is just the picture that begins to tell the story." And none of that information was presented. He did nothing to investigate that.

We also know that Betty suffers from organic brain damage after a car accident. We have the records. She was — suffered a skull fracture in the accident, abundantly demonstrated and established in psychological and psychiatric evaluations conducted afterwards, all of which could have been done at trial, none of which was presented to this jury. As a result, they were left with this fundamentally incomplete impression about who this woman is and what the circumstances were surrounding these killings.
AMY GOODMAN:
Are there questions about her killing a second husband and shooting a third?
JOE MARGULIES:
No, this is not a case about innocence. This is a case about explanations. We are not saying that Betty didn't do this. What we are saying is that unless you understand why a woman with this history acts when the threat recreates itself, unless you understand that, you're left with a fundamentally incomplete picture of why. In fact, what you're left with is the capacity to characterize this as the "black widow."

That's just an extraordinarily incomplete picture, which is why battered women's organizations all over the country have come out in support of Betty's claim. The National Coalition for the Defense of Battered Women, statewide coalitions representing battered women's organizations in over thirty states have signed on, asking the governor to either commute Betty's sentence down to life or to grant her the hearings to allow a fact finder to finally hear this evidence, which has been denied her ever since the case began.
AMY GOODMAN:
Joe Margulies, what do you make of Governor Bush returning to Texas today?
JOE MARGULIES:
Well, we are hopeful that it's a good sign. Obviously, if he were not here, someone would act in his stead. But there'd be no reason for him to come back to Texas simply to preside over another execution. But we think that he can, and would deserve the benefit of the political [inaudible] that would come from coming to Texas to stop an execution. And if there were anything that would demonstrate the compassion to his conservatism, it is a thoughtful review of this case. So we think that coming off the campaign trail back to Texas is a hopeful sign.
AMY GOODMAN:
And what — let me ask you about the parole board vote. Two votes: one, a denied clemency appeal unanimously, but her request for an 180-day delay to consider evidence of abuse was denied by a 13-to-5 vote. What's the significance of that?
JOE MARGULIES:
We think it's extremely significant. Five votes is almost unheard of in Texas clemency proceedings. And two of those people specifically identified that the reason they wanted to stop the execution was to give Betty the benefit of the state law that mandates heightened clemency review for battered women. The other three we don't know, but two we know explicitly that that was the reason for it. There's a recognition that this case (a) is different — most of these clemency votes go 18-to-nothing, and (b) it's different because of Betty's history, because of the failure to give her the benefit of what the law allows. And that's all that we're asking.

Governor Bush has said what he is about is access to the courts, access to what the law allows and whether the jury heard all the evidence. And in both respects, Betty's case has failed. It is a demonstration of what has gone wrong in capital cases in Texas. The jury did not hear this evidence, and she was not given access to what the law allows. And that's all we're seeking.
AMY GOODMAN:
Joe Margulies, I want to thank you for being with us. If there is a number that people can call to get more information or to voice their view, do you have one on hand?
JOE MARGULIES:
I'm sorry, I packed that. Let me do this: if you'll give me a number, I'll call the studio back, and I'll get that, and you guys can read it out on the air.
AMY GOODMAN:
OK. We will put you on hold during the break, and our producer will pick up and get that — give you that number. Joe Margulies is the attorney for Betty Lou Beets. She is set to die tonight at 6:00. She's sixty-two years old. She would only be the second woman to be executed in Texas since the Civil War. You are listening to Pacifica Radio's Democracy Now! At the end of the show, we'll get you a phone number. We'll be back, though, now in a minute.
[break]


AMY GOODMAN:
[later in show] And I also want to give out a phone number, speaking about George Bush in Texas. Again, tonight, the death planned for Betty Beets, 6:00, and you can make a difference. You can let George Bush know how you feel. His phone number in Austin is (512) 463-2000. That's the number that Joe Margulies, Betty Beets's attorney, just gave us. George W. Bush, the Governor of Texas, who makes the final decision, is (512) 463-2000.