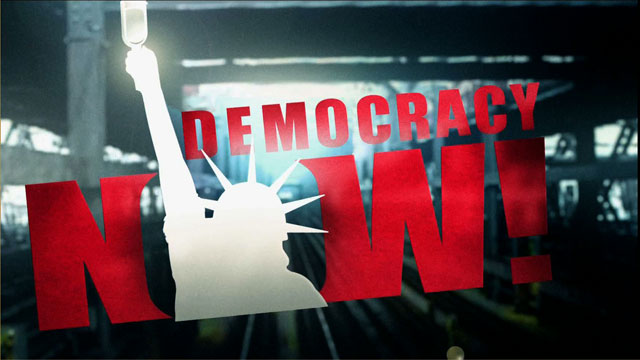 Media Options
A decision has come down in the case of former Chilean Dictator Augusto Pinochet. Pursuers of Augusto Pinochet cleared a technical hurdle today in their British court bid to ensure the Chilean ex-dictator stands trial on torture charges. [includes rush transcript]
The High Court said it would now consider the merits of a case put forward by Belgium and six human rights groups which are opposed to Britain's ruling that Pinochet is medically unfit to stand trial and should be allowed to return home to Chile.
Three High Court judges granted the request to seek judicial review of Home Secretary Jack Straw's decision that Pinochet, 84, is medically unfit to be extradited to Spain.
Belgium and the rights groups had demanded to see the medical evidence on which Britain had based its decision to allow Pinochet to go home. They argued in court that while the medical reports remained secret they were unable to mount a meaningful challenge to Straw's decision.
Guest:
---
Transcript
This is a rush transcript. Copy may not be in its final form.
AMY GOODMAN: We go first to Reed Brody, advocacy director of Human Rights Watch, for a surprise decision that has just come down in London around the Pinochet case. Welcome to Democracy Now!, Reed.
REED BRODY: Hi, Amy. We just found out that the three-judge panel of the high court in Britain that was hearing the appeal by Human Rights Watch, Amnesty International and the government of Belgium, demanding a judicial review of Jack Straw's decision or preliminary decision to release Pinochet, has been upheld, that the judge's decision of last week has been reversed and that we've been granted the right to a full judicial review of Straw's decision.
As you know, we were asking that — we were saying that Straw's decision could not be taken on the basis of secret medical evidence examined behind closed doors and that Straw had an obligation at least to conduct a new exam or to share the results of Pinochet's medical exams with Spain, Belgium, and the human rights organizations. And that petition has now been granted.
AMY GOODMAN: And so, what does this mean?
REED BRODY: Well, first it means that the plane that's waiting to take Pinochet home is going to have to wait a little longer. It means that we will have — unless, of course, now the Home Secretary has the possibility of appealing to the House of Lords, but barring that, that there will be a full hearing on the merits of whether or not Jack Straw had the right to take that decision or whether he abused his discretion by taking that decision on the basis of this medical evidence that was not shared with the other parties in the case.
AMY GOODMAN: Well, Reed Brody, I want to thank you for being with us. We'll come back to you in the last segment of the show to talk about another major development and also how the Pinochet case weighed in there, and that is the indictment/arrest of the former Chadian dictator who was supported by the United States.