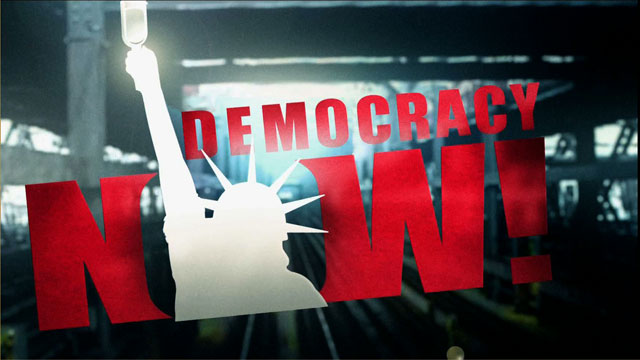 Media Options
New York authorities are investigating the killing of an unarmed black man who was shot in the back of the head by a police officer in the Bronx, just two blocks from where unarmed African immigrant Amadou Diallo was killed by four white police officers last year. [includes rush transcript]
Malcolm Ferguson, a 23 year-old man on parole for selling drugs, was killed last night after police said he fled from officers who had stopped him. News of police shooting another unarmed man drew about 100 protesters to the streets.
This comes as hundreds of people, including the Rev. Al Sharpton and Harlem Congress Member Charles Rangel, are in Washington to demand that the Justice Department press civil rights violations charges against the officers who killed Diallo. The four — Sean Carroll, Edward McMellon, Kenneth Boss and Richard Murphy — were acquitted last week of all charges by an Albany jury in the shooting of Diallo, who died in a hail of 41 bullets on February 4th of last year.
Sharpton has protested the way in which Bronx District Attorney Robert Johnson handled the murder case. The conflict between the two men is outlined in an article in the latest edition of the Village Voice.
Guest:
Peter Noelle, Village Voice reporter who has been following the Diallo case.
Related link:
---
Transcript
This is a rush transcript. Copy may not be in its final form.
AMY GOODMAN: As hundreds of people have headed to Washington, D.C. today, led by the Reverend Al Sharpton and Harlem Congressmember Charles Rangel, to meet with the highest ranking African American in the Justice Department to demand civil rights charges be brought against the four police officers who killed Amadou Diallo on February 4, 1999 in the Bronx, we have, also this breaking news. Last night, police of the New York City Police Department killed another unarmed black man just two blocks from Amadou Diallo's apartment. The details at this point are sketchy. His name is Malcolm Ferguson. He is twenty-three years old. Police say he fled after being stopped by officers.
We're joined right now by Peter Noelle. He writes for the Village Voice, did a piece this week about what's been going on behind the scenes as the trial took place in Albany, New York of the four officers. But he also went up to the Bronx last night after that killing took place.
Welcome to Democracy Now!, Peter Noelle.
PETER NOELLE: Good morning, Amy.
AMY GOODMAN: What is the news that you have about the killing of Malcolm Ferguson?
PETER NOELLE: Well, pretty much — I mean, the story will change within seventy-two hours. The first seventy-two hours are always controlled by police officers.
People on the block are petty much saying that this is the same young man who was arrested on Friday for disorderly conduct and resisting arrest. He was protesting the verdict in the Diallo case. And, of course, he was back out there again. Some people said that he was walking around like 6:20 with his — around after 6:00 — with his girlfriend. He saw police officers, thought that they were going to be — there was a robbery in progress. Some people are saying that the officers were in plain clothes. The police department is saying that they don't think that they were in plain clothes. And, you know, he ran when he saw these police officers. There was a chase. The police says that they ran after him and ran to an apartment building at 1045 Boynton Avenue. While in there, there was a struggle. The gun went off. He got shot in the back of the head. He died at the scene.
People are pretty much upset in the area, of course, because of the Diallo verdict and this coming on the eve of the Diallo verdict. Everybody is saying right now, "Look, you know, this is what we've been saying all along. Police have a license to shoot us, to kill us now."
They are saying that they found drugs on this drug suspect and six packages of heroine. People are saying: "Hey, it was planted by the cops." No one knows. But one thing is clear: the first seventy-two hours will always be controlled by the police department.
AMY GOODMAN: The police department is putting out, as you said, that they found several envelopes of heroine on Ferguson's body. Of course, they didn't have that at the time of the shooting, and they say that he is a paroled drug dealer. The chief of patrol, John Scanlon, said it was a single fatal shot, apparently, fired at close range —
PETER NOELLE: Right.
AMY GOODMAN: — because blood was found on the officer's gun.
PETER NOELLE: Right.
AMY GOODMAN: Watching the news breaking last night, it was also not clear if he was shot in the back of the head.
PETER NOELLE: Yeah, well, I mean, pretty much what they're saying now is that he was shot in the back of the head. People are talking about it right now. They're talking to some police sources, and that's what, you know, was filtered out immediately.
One thing that's interesting here, Amy, is that they've been doing — this is from an impact team, this is one of the teams that goes around and they say trying to get guns out off the streets and a narcotics team. They've been trying to get drugs off the street. And they're doing what is called crime suppression work in the neighborhood.
And that is such a broad brush in which they can stop anyone, they can chase after you if they suspect that you are somehow dealing in drugs. And I believe that Mr. Ferguson became a marked man, because of his politicization of the verdict in this instance. I'm not pinch-hitting for the family, for him or for anything. But in terms of talking to people and the kind of outrage and the kind of the way that people have begun to analyze what's going on here, you have to look at the fact that if this guy was just a month away from ending his parole, people would say, "Well, why would he be caught dead with drugs? The issue is, too, is that the police officers, if they held him on Friday for these two charges, they must have looked into his background. And, of course, Safir would have made a big stink out of it because the man is tough [inaudible] parole.
AMY GOODMAN: Safir is the Police Commissioner.
PETER NOELLE: The Police Commissioner. They would have kept someone like Malcolm Ferguson in jail. So something is wrong here. And pretty much because of his experience with police officers and pretty much what happened on Friday, people are surmising that, again, you know, he had this political fear of cops and that's why he ran.
AMY GOODMAN: Well, we are going to keep on top of this story. There were more than a hundred people out last night who were protesting this latest killing. Again, the gun having blood on it, the police officer's gun, clearly showing that Malcolm Ferguson was shot at close range. He was twenty-three years old; shot in the back of the head. The question is not whether all of this happened, but whether it was intentional or accidental. We have the police repeatedly saying now — not talking about the shooting, but the accidental discharge.
PETER NOELLE: They're the same thing, Amy, involving Dante Johnson, who was a young man, a sixteen-year-old kid, who was shot, you know, I believe it was in the Bronx. I mean, it's the same thing that goes on and on and on. I mean, police officers who are supposedly trained to disarm people, why do you have your gun out in a way that, you know, pretty much could end in that kind of volatile situation? These police officers aren't trained enough to know how to apprehend suspects? If you're chasing behind a suspect — the man was unarmed. I mean, granted the cop may not have known that at the time, but, of course, they didn't know that Malcolm Ferguson pretty much — they may not have known that he didn't have a rap sheet on his back at the time. He didn't have his rap sheet on the back. But all of these factors come in. Is there always some kind of accidental discharge? Amadou was a mistake. Ferguson right now is an accident. You know, how much more people are going to take from the NYPD in this case?
AMY GOODMAN: We're talking to Peter Noelle, and he writes for the Village Voice and this week did a piece called "Blaming the Bronx D.A."
The Reverend Al Sharpton, Harlem Congressmember Charles Rangel, and hundreds of others who are going down by bus from New York, New Jersey, and other areas are at the Justice Department now, and they're appealing to Eric Holder, one of the highest-ranking people in the Justice Department now, for a civil rights prosecution of the four officers acquitted of the Amadou Diallo murder.
You have been following what's been happening behind the scenes and the struggle that went on between the Reverend Al Sharpton and the Bronx D.A., Robert Johnson, who has been accused of throwing this case, accused of not wanting to seriously prosecute this case.
PETER NOELLE: Yeah, well, Amy, I mean, like two weeks before — I mean, from the start, Reverend Sharpton — I've been covering Sharpton for all these years, and from the start he had this sense of foreboding that something was going to go wrong in this case. Of course, it's four white police officers. They have this spurious defense, an incredible defense at that, that, hey, this was a mistake, and we didn't intend to shoot Amadou Diallo. So, of course, Reverend Sharpton was monitoring the trial.
You know, after Sean Carroll, the police officer who cried on the stand, after he cried, and he saw that the prosecution never really went after this guy for these crocodile tears, never really fully, you know, cross-examined him, he said, "Look, something is going on here. The trial is not going the right way." So he called up Johnson, and they had this big — you know, in the piece I describe it as a blowout, because I talked to some aides. I got this story based on talking to some aides who were in the car with Sharpton at the time. Always talk to Sharpton's aides. You know that thing they do, Amy, like when the President wants something out, you talk about senior administration officials?
AMY GOODMAN: Mm-hmm.
PETER NOELLE: Right? It's something similar to what went on. So it came out, and their characterization of the conversation between Reverend Sharpton and the Bronx District Attorney that day was that Sharpton was shouting at him. And, of course, what they did was I got them, you know, to try to reconstruct what happened. Of course, Sharpton was the only one who heard what Johnson was saying, because he was on the phone with him, but they heard what the Reverend was saying. So he got together with these aides, and they reconstructed what was said. And in that, of course, Reverend saying — accusing the Bronx District Attorney, asking, "Are you all trying to throw this case? You know, why is this weak cross-examination going on?" Johnson is saying, "Look, I am the District Attorney in this city. Are you accusing me of throwing the case?" They went on and on after that, the banter between them. It was a very hostile conversation that they had.
Of course, I mean, yesterday in the New York Post, Steve Reed, who is a spokesperson for the Bronx D.A., is calling what I wrote fiction, and I've asked Sharpton about it. Sharpton said, "Look, you know, of course, there was a disagreeable conversation going on." But Sharpton talked about the tone, and he says, "Well, it was not a blowout." But no one, at that time, denied the fact that Sharpton accused the Bronx District Attorney of throwing the case.
AMY GOODMAN: You write, in addition to this conversation that allegedly took place between Sharpton and Johnson —- and also Sharpton laying out specific points, like asking why the Assistant District Attorney Eric Warner, who our listeners heard all over the country as we went live to the trial in Albany, never cross-examined officers like Kenneth Boss about a previous -—
PETER NOELLE: Right.
AMY GOODMAN: —- killing he was involved with -—
PETER NOELLE: Right.
AMY GOODMAN: — a twenty-two-year-old man named Patrick Bailey, killed in 1997 — why they didn't even raise these issues.
PETER NOELLE: Right. Well, of course, as you know, Amy, a judge prohibited the prosecution, or anyone — we have information concerning Kenneth Boss, but the judge prohibited certain people who had access to this information about revealing anything concerning the prior shooting, which was the shooting of Patrick Bailey in 1997 on Halloween night in Brooklyn.
AMY GOODMAN: Unless a door was open.
PETER NOELLE: Right. And, you know, they — so nothing actually went on with Kenneth Boss. The door was open for the other police officers. It's kind of strange that it wasn't opened for Kenneth Boss. And I believe, at this point, that had the jury known something about this man's history — we know now that Kenneth Boss had three complaints against him concerning brutality. Of course, all of it was unsubstantiated. No one, pretty much, has any faith in the CCRB, the Civilian Complaint Review Board. And, of course, if these cases went to the Justice Department — I mean, to the New York Police Department, the police commissioner has the say about whether or not this case — it should go forward. So, you know, there is this kind of collusion in terms of whether or not they're going to go after people like Boss, who is racking up all of these arrests, getting all these commendations for taking guns off the streets. How are they doing this? Who are they stopping? Who are they criminalizing? All of these factors never really got a chance to come out.
AMY GOODMAN: Peter Noelle, you also write about how, in addition to these exchanges, or the key exchange between Johnson and Sharpton, that on the morning of February 17th, this was in the — was this in the middle of trial, at this point?
PETER NOELLE: Yes.
AMY GOODMAN: I'm trying to place it. Right. Sharpton headed to the US Department of Justice.
PETER NOELLE: Right.
AMY GOODMAN: And tell us about what happened there.
PETER NOELLE: Well, this was on the — this is, pretty much on the last day that the last officer testified. You know, Sharpton said, "Look" — Sharpton was noticeably absent from the courtroom that day. He said, "Look, I am going to the Justice Department." This is the second trip to the Justice Department to meet with Eric Holder. He knew at that time he wasn't going to meet with Holder, but he just wanted to make this trip with a letter, armed with a letter, in which he was complaining at the fact — Sharpton actually predicted that this verdict would actually come down in a way that Mrs. Diallo and her husband would not be happy. He says, of course, in the letter, that justice was swift, but would it be fair? He is asking these questions of Eric Holder in the letter.
So he had this sense of foreboding. He had this premonition that the verdict wouldn't go they way Mrs. Diallo and he wanted it to go, so he wrote this letter saying, look, we need a vigorous examination of the way the prosecution conducted this case. It's lackluster. They are not doing everything. It's not vigorous enough. Something is going on here. And it's more like a complaint.
I recall, about the letter, how they talked on the phone later on, and Eric Holder promised him, look, you know, we will monitor the case. We will look at the judge's charge. We will look at the jury's deliberation.
But Sharpton did something that was key, very important, so they can't say that now that he's writing a letter after the fact. He did it before based on the fact that he had this sense of foreboding as to how the case would turn out.
AMY GOODMAN: And Sharpton had gone there before, having met with — in January —- Bill Lann Lee -—
PETER NOELLE: Right.
AMY GOODMAN: — head of the Attorney General's Civil Rights Division.
PETER NOELLE: On January 25th, yes.
AMY GOODMAN: What was the response of the Bronx prosecution at that point?
PETER NOELLE: Oh, gosh, they flipped, according to some of these aides who were present when Sharpton was trying to talk to the Bronx District Attorney's office. Some of the prosecutors in that office said, "Look, you know, is Sharpton trying to undermine us? Why is he and Rangel doing this? Why are they going to look over the Bronx District Attorney's shoulder?"
And, of course, they stopped talking. You know, at some point they were actually giving a lot of briefings to the family and to the lawyers. They stopped inviting these lawyers for meetings, you know, because they were pretty upset. You know, one of the aides described it as the prosecution went ballistic — prosecutors went ballistic after learning that Sharpton had asked the Justice Department to overshadow what Johnson was doing.
So they are saying — the prosecution was saying, look, we can do our job, but here you are trying to undermine us. So they stopped talking to the lawyers for the family, they stopped talking to Sharpton, and they were only talking to these two people from Guinea, who knew nothing, pretty much, about the American justice system and its intricacies.
AMY GOODMAN: So now we have Sharpton and Rangel and many others headed to the Justice Department to make a demand for the civil right prosecution of the four officers. Where do you think that's going to go?
PETER NOELLE: Well, you know, of course, everybody is saying it's not going to happen. Of course, you know, the great expert, Rudy Giuliani, who was a former Justice Department official, saying it shouldn't happen. But, then again, you have to look at the facts. I think it will happen. You have to look at precedent here. Look at the situation involving Limerick Nelson in Crown Heights. Limerick Nelson was acquitted of killing Yankel Rosenbaum by a state Supreme Court.
AMY GOODMAN: This is during the Crown Heights riots.
PETER NOELLE: During the Crown Heights — after the Crown Heights thing. There was a big hue and cry from pretty much every decent human being in the city, saying, "Well, how did Yankel Rosenbaum die?" Something may have happened. Right or wrong, you know, Rudy Giuliani and some other people got together and pressed for a civil rights investigation. You can get a chance to pick your own judge.
Limerick Nelson is now sitting in jail serving nineteen years — he and another guy — for killing Yankel Rosenbaum, partly because of the pressure that was brought to bear on the criminal justice system and the Justice Department by people like Rudy Giuliani.
So how come now the mayor is saying that this case should not go to the Justice Department involving these police officers? What happened here? The Justice Department should be looking at a fact from, number one, why was this case taken out. Why was this case snatched away from the people of the Bronx and taken to Albany, where it was guaranteed that this police officer would not be convicted? That's the first thing. That's a violation of the civil rights of the people of the Bronx. That's the first violation that Rudy Giuliani is totally ignoring.
AMY GOODMAN: Peter Noelle, final question. Last night, a debate between the Democratic candidates for president, Al Gore and Bill Bradley in Los Angeles, both actually talking very favorably about Reverend Al Sharpton, they were asked a question by Jeff Greenfield of CNN about his reputation. What about Reverend Sharpton, once again, coming onto the national scene, and his significance, and the responses of Gore and Bradley?
PETER NOELLE: Well, I think it was cheap shot by John McCain, in the first place, to sort of like put Al Sharpton on the left with Farrakhan, of course. Of course, they're playing the religion card — religion as race card. Sharpton, of course — I mean, I am not here to defend him. He has his baggage. But, of course, anyone knows in this city now that if your son is shot in the back, he is the only one whose coming forward to say, "You know, alright. Let's bury him. Let's talk about the funeral costs and different things." The fact now that he has been injected into this national debate about race is very important, but he should not be used by people like John McCain, who is coming in here and appealing to Rudy Giuliani's supporters right now in order to get votes on Super Tuesday.
AMY GOODMAN: Well, Peter Noelle, I want to thank you for being with us. Peter Noelle's piece appears in this week's Village Voice, "Blaming the Bronx D.A." We'll follow what happens in Washington, D.C. Do you know the website of the Village Voice, if people want to read your article?
PETER NOELLE: Right. It's www.villagevoice.com.
AMY GOODMAN: Www.villagevoice.com for being with us.