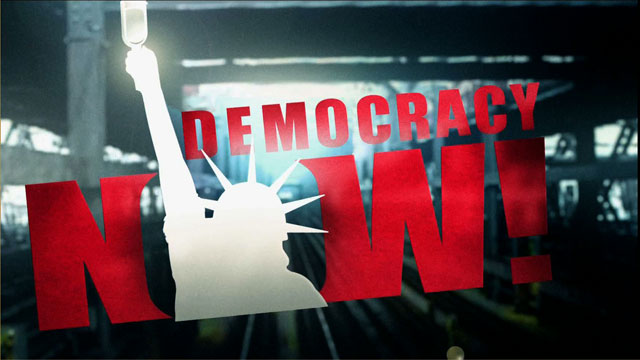 Media Options
After years of public criticism and charges of insensitivity to communities of color, police in Britain yesterday launched an unprecedented crackdown on "hate crime." Over 60 people with ties to hate groups were arrested in London. Three of the arrests were in connection with the 1993 murder of Stephen Lawrence. In the most famous case to date in Britain, Lawrence was killed in 1993 by a mob of white racists. The murder was compounded by a failed police investigation, and it became a huge public case in the country, transforming race politics and policing there. [includes rush transcript]
Tape:
Matthew Ryder, attorney for Stephen Lawrence family.
Related link:
---
Transcript
This is a rush transcript. Copy may not be in its final form.
AMY GOODMAN: After years of public criticism and charges of insensitivity to communities of color, police in Britain yesterday launched an unprecedented crackdown on what they call "hate crime." Over 60 people with ties to hate groups were arrested in London. Three of the arrests were in connection with the 1993 murder of Stephen Lawrence.
In the most famous case to date in Britain, Lawrence was killed in 1993—he was an 18-year-old student—as he stood by a bus stop, killed by a mob of white racists. The murder was compounded by a failed police investigation. It became a huge public case in the country, transforming race politics and policing there. Last year, major hearings were conducted throughout Britain into the police force as well as the Stephen Lawrence case. His family have become national celebrities in Britain.
Last week on Democracy Now!, Matthew Ryder joined us, the attorney for the Stephen Lawrence family, to talk about the case and his efforts to bring together the Lawrence family with the Amadou Diallo family, the parents of Amadou Diallo, gun downed by New York police, February of 1999.
So, when we heard this latest news of the unprecedented crackdown on hate crime and the arrests of three people supposedly implicated in the killing of Stephen Lawrence, we called Matthew Ryder, reached him just before the show. He was just about to go back into court, and he explained what he understood. Matthew Ryder, attorney in Britain.
MATTHEW RYDER: Very little information has been given by the police as to exactly what the allegations are involving the rest of the 62 people as a whole. We have been told that there was a large-scale operation yesterday which resulted in a large number of arrests for hate crimes. But we don't know if that's connected to three arrests that were made yesterday of people allegedly connected with the Stephen Lawrence case, the murder itself. What we have been told is that the three people who have been arrested in relation to the Stephen Lawrence case are not amongst the original five.
AMY GOODMAN: Explain what you mean.
MATTHEW RYDER: Well, five people were originally suspected of murdering Stephen Lawrence. There was a question mark amongst much of the evidence into whether a sixth person had been involved. And it may be or may not be people—I'm not sure at the moment, but there was a lot of suggestions at one stage that there was a sixth person involved, at least one or two other people. The three—the original five suspects of Stephen Lawrence have not been arrested. They're still at liberty. But they have not been arrested in this latest [inaudible], and it's believed that three people, not the original five, but we can only presume perhaps somebody thought to be one of the others or something of that nature—we don't know—have also been arrested. The three people have been arrested. But we don't know what the details are. We haven't been told, and we don't know what connects them. And, of course, at the moment, it's allegations only, and we understand that those people have been released on bail today.
AMY GOODMAN: For listeners who might not have heard our show last week or previous shows about Stephen Lawrence, can you refresh their memories about what happened in 1993 and how these people might have been connected?
MATTHEW RYDER: Sure. In 1993, Stephen Lawrence was murdered in a racist attack. It was suspected at least five, potentially more, people were involved in that attack. The police investigation was subject to a large-scale inquiry in England after the prosecution against some of the suspects failed. That inquiry found that the police investigation was seriously defective for many reasons, including race discrimination as part of that defective investigation.
The concern in England, right across the country, has been whether anybody will ever be brought to justice in relation to Stephen Lawrence's murder, and his case has essentially catalyzed a huge amount of English interest and English consideration for the first time about institutionalized racism and discrimination within the police force and the treatment of black victims of crime, as well as black suspects.
As a result, the police appear to be making efforts now to continue the investigation. We've always been told that it's an ongoing investigation. And for the first time now, we see three new arrests, and it seems that they're not connected with the original five suspects. But maybe it suggested they could be people additional to the original five.
It should, as a matter of record, as well, that—the notoriety that the five suspects obtained in England is enormous, because at one stage a national newspaper published the photographs of five of the suspects and said, "We believe these people are guilty. And if you want to contradict us, you can sue us." So it was an immensely provocative case, a hugely important case for English race relations.
And it seems that there may be a chance that Stephen's parents, who have been fighting with the criminal justice system right through this, might be given a opening. But at the moment we don't know. There's been many false starts in the Stephen Lawrence case, and it's very difficult to know whether something is really moving forward or whether it's just another false start or another situation where hopes are being built up.
AMY GOODMAN: Is it true that Stephen Lawrence's family launched a fresh appeal for justice on television on Tuesday?
MATTHEW RYDER: Yes, in conjunction with the anniversary of the report, which condemned the police behavior, Stephen Lawrence's parents went on television to appeal essentially to the families and people closely related to the suspects and the people who were guilty of the murder, to say, "If you know something, please break the wall of silence, and let's resolve this." It's become a huge case in the U.K. And, in fact, it's probably fair to say that the whole nation would like to see this case resolved in one way or another. And as a result, their appeal was quite timely, and it seems like it might have produced some information. But we don't know. We don't even know whether the appeal was connected to the arrests at all. It's impossible to tell on the information we have at the moment. What we do know—
AMY GOODMAN: Police are saying—
MATTHEW RYDER: Oh, sorry. Go on.
AMY GOODMAN: Police are saying that some 70 calls came in, in response to their plea?
MATTHEW RYDER: Yes, and it is quite interesting that we're getting to the stage now where they're still investigating it. A newspaper report today indicated that it's believed an end might be in sight for Stephen Lawrence's family and somebody might be brought to justice for his murder. But we really don't know. And for those of us in connection with the family, we're very apprehensive about getting our hopes up or getting any kind of comfort from what's going on. We just wait to see what happens, and we hope that the police will resolve it, one way or another. But we really don't know what's going to happen at this stage.
AMY GOODMAN: These arrests of suspected racists, at least 62 people arrested as police swooped down across London at dawn, would you say that it is connected to the Stephen Lawrence investigation and the overall investigation of police racism and brutality in England that came out of his killing?
MATTHEW RYDER: It's very difficult to say, but what we do know is that the police are now, it seems, taking race crime as more of a priority than they did before the Stephen Lawrence report. And that being the situation, it seems very important that those things are now being properly investigated. We haven't—we're not aware of a sweep like this before, and it would be very nice to think that the police are taking more seriously now. But we just don't know exactly what's happening. Certainly, race and hate crime have never been on the agenda, on the public agenda, in the public consciousness, like it is now.
AMY GOODMAN: Matthew Ryder is an attorney in Britain for the Stephen Lawrence family. And if you want more information on that case, you can go on the web to www.newsunlimited.co.uk/lawrence, and all these website addresses are on our website, and you can go to them any day at www.democracynow.org, as we go out on this day, March 23rd, 2000, a year to the day that we remember very well, because our dear colleague and friend Samori Marksman died one year ago today.
SAMORI MARKSMAN: …these people, what I'm reflecting on their thinking and their interests. Stay tuned. In a minute, coming up at 9:00 is Democracy Now!, and immediately following that is…
AMY GOODMAN: Samori Marksman, program director of Pacifica station WBAI, a great presence gone, but a man we will never forget.