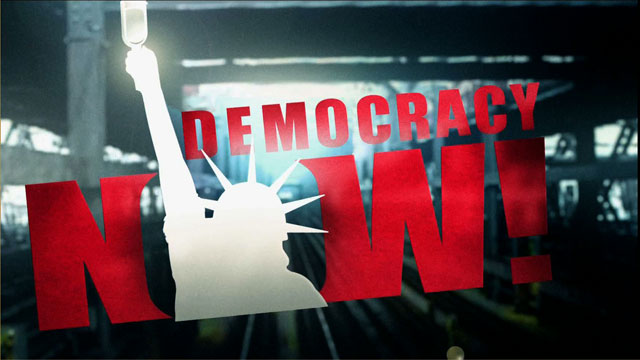 Media Options
The Elian Gonzalez custody case hurtled toward a climax today, with the boy's Miami relatives vowing to defy a government order to surrender him for a trip to Washington and a reunion with his father. "They will have to take this child from me by force," the boy's great-uncle declared to a crowd of supporters. [includes rush transcript]
After failing to reach an agreement with the family during a dramatic two-and-a-half-hour meeting attended by the Cuban boy, Attorney General Janet Reno ordered them to bring him to the Opa-Locka Airport outside Miami at 2:00 p.m. By early morning, fifty police cars ringed the airport, and 200 officers had been deployed to the area.
The great-uncle, Lazaro Gonzalez, defiantly insisted that he would not relinquish custody of the boy he has cared for since Elian's mother drowned off the Florida coast nearly five months ago. If the family does not show up at the airport, Reno said, "We will enforce the order." She did not elaborate, but government sources have said the Justice Department was prepared to send US marshals and immigration agents into the great-uncle's house in Little Havana to remove the boy.
Protesters have repeatedly said they would link arms and form a human chain around the house to block federal agents from going in.
Guest:
Francisco Aruca, founder and host of a program on Radio Progreso in Miami.
---
Transcript
This is a rush transcript. Copy may not be in its final form.
AMY GOODMAN:
As we said earlier in the program, the Elian Gonzalez case coming to a head. Attorney General Janet Reno went down to Florida, met with Elian's great-uncle, Lazaro Gonzalez, who says he won't turn the child over today at 2:00. He said that Elian will have to be taken by force. Crowd outside of Elian's — of Lazaro Gonzalez's house said that "We are with you until death."

So, we are now going down to Miami, Florida, to speak with Francisco Aruca, who is the host of a radio program on Radio Progreso. Welcome to Democracy Now!, again, Francisco Aruca.
FRANCISCO ARUCA:
Thank you for inviting me. A pleasure.
AMY GOODMAN:
Well, can you tell us what the scene is right now? I know you have to do a radio show in just a few minutes.
FRANCISCO ARUCA:
Yes. Well, the scene, as you can imagine, is confusing. Exactly as you described it, they — rather than, in a way, acknowledge what in the opinion of most people was a tremendous gesture on the part of the Attorney General, coming personally to Miami to talk to them, basically tried to convince to solve this in a way that would be better for the child and for Miami, the relatives have really maintained — and when I say the relatives, I — in a way, I get mad at myself. It is not just the relatives, it's the relatives and the forces around the relatives who are interested in keeping this at a radical level. So those forces, that include the relatives, have basically taken the position you described, that they are not going to take the child to Opa-Locka Airport at 2:00 p.m., nor are they going to go to Washington to meet with the father and hand the boy in. So, obviously, that position, if sustained, will lead to some kind of action, or should — not only would, it should — lead to some kind of action on the part of the federal government in order to implement the law.
What is going to happen? Nobody can basically predict, although my position is clear. If the authorities make it very clear that they're going to act with patience but firmness in implementing the law, that would be precisely the way to avoid a serious confrontation down here. This a group of Cuban Americans, very powerful ones, who are used to act with impunity. And if they assume that they're going to have impunity in that fanatical position they have taken, the worse the situation is going to become. So it's a touchy situation.


I think that the most important thing also that has been discussed here, given the fact that the Attorney General has again tried to recreate the possibility of a trip to Washington by the relatives and Elian to hand Elian in after meeting with the father in Washington, and that is an alternative that Attorney General wants to still keep open — it's a topic of very important conversation, and I would like you to understand why. The reason is that it is very clear now that that plan that was approved to have a meeting in Washington had the backing not only of Elian's father and his lawyer, Greg Craig, but also the Cuban American National Foundation, which is the single most-important exile group here in Miami, and also of the state — of the Justice Department. And now we know that it failed, but precisely because more radical factions within the group that wants Elian to stay in Miami, at least according to the head of Today, basically sabotaged the plan, and that has created also a very tough situation for the Cuban American National Foundation, which is now denying that they knew or that the meeting was going to take place to hand in Elian, precisely because they know it's going to cost them dearly among certain groups of the community.


So this situation, when you analyze the divisions that are taking place between, let's call, more moderate groups within that group of Cuban Americans who want Elian to stay here, and if not more moderate, at least they have more to lose, therefore, they are acting with a little more care, and those forces that, having less to lose and maybe even having political ambitions, as some of those lawyers are — they were chosen precisely because they have political careers ahead of them — that kind of division adds to a situation that is not only confusing, but dangerous. So we are going to be living very interesting hours and, in my opinion, very important hours in the next few hours here.


AMY GOODMAN:
Well, Francisco Aruca, we hope to touch base with you tomorrow to talk about what has happened today, and well, we'll just wait and see.
FRANCISCO ARUCA:
Thank you.
AMY GOODMAN:
Thank you for being with us, as he goes off to his radio program at Radio Progreso, his, one of the few dissenting public voices in Miami's Cuban community.