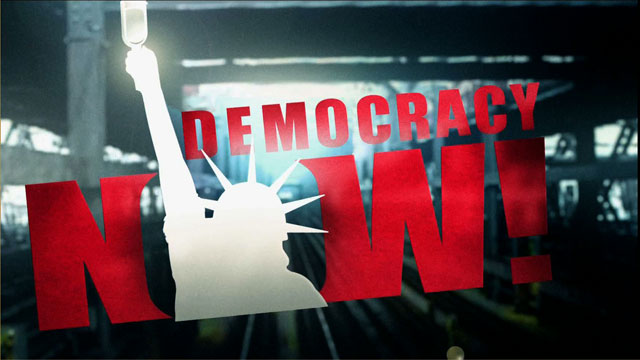 Media Options
GE says it brings good things to life. But does it really? General Electric is one of the most powerful corporations in the world. Its products are likely to be found in nearly every household, business and university in America. And it owns the media giant NBC. We now bring you a speech made by Bob Muehlenkamp, coordinator of a 14 union campaign at General Electric. He participated in an international conference at New York University last week entitled "Labor's Next Century: Alliances, Sweatshops and the Global South." He is highly critical of GE's labor practices in the world economy. [includes rush transcript]
Guest:
Bob Muehlenkamp, coordinator of a 14 union campaign at General Electric.
---
Transcript
This is a rush transcript. Copy may not be in its final form.
AMY GOODMAN: All over the country, teach-ins have been held around the issue of sweatshops and globalization leading up to the protests this weekend in Washington. I was at one this past weekend at the Judson Church in New York, part of New York University conference on "Labor's Next Century: Alliances, Sweatshops and the Global South." Bill Muehlenkamp spoke, who is the coordinator of a fourteen-union campaign against General Electric.
BOB MUEHLENKAMP: My job here this afternoon is to talk about the extreme other end of that global economy, to talk about high technology, high manufactured goods, at one time high-wage workers in this country, and to talk about — to tell the story, really, of what is certainly the richest corporation in the world and arguably the most powerful and important influence on this global economy, and that is the General Electric Company.
When I told a friend of mine part of this story the other day, she looked at me, and she said, "Bob, that is easily the best-kept secret in America." Until last spring, I knew little more about General Electric than probably most of you in this room. We recently did a poll within the last month of the American public, not of the members of these unions, but of the American public, to find out what they knew about General Electric and to test our themes and our slogans in the campaign to see how they played out with the American public. Here is what we found out: 92% of the American people know the name GE, compared to 86% for Microsoft; the net positive rating was 56% for GE, compared to, before last week, 45% for Microsoft. When you probed a little more and you asked people what they really knew about GE, 67% said, quote, "Virtually nothing." What you know is those ads on television that talk about bringing good things to life, and you think they're a nice American company that produces light bulbs and appliances. Only a small part of that is the truth. GE really stands for "Gone Elsewhere".
In Richmond, in two weeks, GE — your Richmond, Virginia — GE will hold its annual shareholder meeting, and there will be an attempt to tell two stories there. CEO Jack Welch, who last year was paid $164 million for one year's work, will tell the shareholders, once again, why and how GE is the most wonderful company in the world. And he will say things like the following: depending on what happens on Wall Street on which day, we are either the number one, two, or three most highly capitalized companies in the world, along with Microsoft and Cisco. We, last year, had revenues of $112 billion in one year, more revenues than all but fifty-three countries in the UN. Your shareholder value increased last year by 54% in one year. And for the first time in the history of the world, one company had over $10 billion in net after-tax profits. GE had $10.7 billion in profits last year. Just to put that into perspective, GM had a great year, its best year ever last year was $5.8 billion. And he'll talk about, therefore, why he is entitled to $164 million pay in one year.
The workers in the fourteen unions in this country, the 40,000 workers who have unions, will attempt to tell a very different story. They'll attempt to tell the story in Richmond, attempt to get press attention, about how those billions of dollars in profits came about. As I said, GE stands for "Gone Elsewhere." Over the last fifteen years, GE has shipped over 160,000 manufacturing jobs out of the United States.
By the way, GE doesn't just produce light bulbs and appliances. GE makes everything. And Jack Welch will brag about how each of their eighteen divisions is either number one or number two in the world in production of aircraft engines. The CDs that you all buy, virtually every single one of those is printed on GE plastics. GE makes more turbine engines and other electrical equipment than any other company in the world. They sold the equipment for the Three Gorges plants and everything else. GE owns more credit cards and credit card debt, more mortgages, more automobiles and more airplanes than anyone else in the world. They own them and lease them. So, it's into everything. And they have shipped all these jobs abroad.
Now, the campaign of — which I'm going to talk about in a minute — of these 40,000 workers in these fourteen unions is very new and very different for all of us in this coalition of these unions. One of the things we did recently was last week we had a meeting, first time ever, to create a World Council of Workers and Unions who work for GE around the world. And we had workers and unions from nineteen different countries come together in Washington to discuss how do you get your hands on this octopus?
And here's some of the stories that they told about what's happening with those jobs in other countries. Last summer, I was in Turkey. I met with the GE workers outside Istanbul who work in the GE lighting plant in Turkey. They came to this conference in Washington last week. They stood up and they said, "Last week GE called us in and met with us and with no notice told us they're closing the plant in Istanbul in two weeks." Why? Well, they're moving it to Hungary. Oh. We met with workers from France who make advanced medical equipment, and they're moving the jobs to Hungary. We met with workers making medical equipment in Italy, and they told us they're moving the jobs to Hungary.
Why Hungary? Well, it's not just the two dollars an hour labor cost, not two dollars an hour pay, labor costs — taxes, social security, everything — two dollars an hour. In Turkey, workers cost GE about $3.50 an hour, so they save that much by moving into the center of Eastern Europe.
What else is it? Hungary had a practice until recently of granting companies long-term agreements, if they would invest in Hungary, of paying no taxes for long periods of time. A reform candidate ran for president saying he was going to eliminate that. He got elected. GE was in the process of building some new plants. GE and others met with this newly elected president and told him that they would move that capital, even before they opened the plants — they're not due to open until May of this year — to either India or China, if he kept his campaign promise. He has not kept his campaign promise. GE had a ten-year guarantee on zero taxes. They just got another ten years. They will not ever pay taxes in Hungary.
The average manufacturing worker in Mexico makes 10% of what the average manufacturing worker in the United States makes. The average GE worker in Mexico — this is a company that made $11 billion in profits last year — makes 5% of what the average GE worker in the United States makes, and so on. You can go on and on around the world, how this company with this wonderful clean image that we all have of it is really leading this charge around the world.
In Richmond, at the shareholders' meeting, there will be three resolutions for shareholders to vote on. One of those will be about an international code of conduct, trying to get GE to agree to treat workers and communities around the world with some respect, to abide by some minimal core laboring community standards. Gee, does this sound familiar? They say they don't need it, because they already have their own code of conduct. They don't need it, right?
Second, there will be a resolution saying that the GE board of directors should look into how this is all harming their wonderful image, because they're going to get a bad reputation from this.
But, the third resolution is from the religious community and from GE retirees about GE's pension plan. GE — now if I told you that after you cover all pensions for all potential current workers at GE, management and everyone else, and everyone else is already retired for the next eighty years and you had $5 billion left over, that would be a lot of money, right? Five billion dollars over-funding in their pension plan. GE's pension plan is currently over-funded right now by $25 billion. They have $25 billion more than they have to have to pay everyone everything they're entitled to for the next eighty years. They use that for their profits, through various tax techniques that accrued $1.4 billion to those profits last year. There will be a resolution to try to use some of that money to improve the pensions of the retirees who worked for this company for forty years, and the average retiree in the United States for this wealthiest company in the world gets $700 a month, and there's $25 billion extra sitting there.
To sum up all this — and this is a quote from Jack Welch, who recently, I think many of you know, if you follow this stuff, was voted not only once again the CEO of the year, Jack Welch, a couple of weeks ago, was voted the "manager of the century." That's why it's important to tell this story. It's not just these numbers I'm giving you. GE is the most powerful and important influence on where this is going. This is a quote from Jack Welch, just about a year ago, when he bragged about how they moved a factory from Mexico to Taiwan in forty-five days, because they could get it cheaper there, quote: "Ideally, you'd have every plant you own on a barge," unquote. If there is one sentence that summarizes this economy, that's it, right? He doesn't mean a barge that takes it from Lynn, Massachusetts and parks it in Bangkok. What does he mean? He means it ties up temporarily in Bangkok, because they might decide to enforce minimum wage laws or pass environmental laws or make them pay taxes, and you slip the noose and you go somewhere else. So, that's the actual practice that follows from these ideas we've been talking about here for two days.
Now, what's the point of all this? How do 40,000 workers in this one country in fourteen unions fight General Electric? There was a wonderful big strike at GE just about thirty years ago in 1969, a hundred-day strike. It was pretty successful, GE got real serious after that. And for every three years in the last thirty years, these unions sat down and negotiated with GE, and they have been slipping backwards for thirty years. And it got to the point where three years ago in 1997 these unions became so disgusted with this process that they said, "Gee, we gotta think different about this, that if it is these 40,000 workers against this company, and that's all it is, we basically have no chance to change this equation. We have to think differently about who they are and who the 'we' is. Who's on our side? What alliances do we have?" And so, they started this campaign that I'm helping to coordinate, which is reaching out to as many communities on as many fronts as we can.
For example, as I said, the pension resolution is being sponsored by the retirees and the religious community. In the past, the active workers hardly even spoke with the retirees, and we are working closely — if you can believe that — and we are working closely with GE retirees and the religious community. Also, for example, on the day before, one of the other five largest companies in America has its shareholder meeting in Cleveland. IBM has its shareholder meeting on the 25th of April in Cleveland. And if you follow this, there's a great movement among IBM workers for the first time in history, resisting what IBM is trying to do with their pension fund. We are having GE workers go to their rally in Cleveland, and they're coming to our rally in Richmond. And we're trying to raise as a much broader question, not just what's happening with the GE pension and 40,000 people trying to fight it, but this is a national public policy question, and to come together with workers who don't even have unions in other corporations to raise this and put it on the public policy agenda of this country. The meeting that we had of workers around the world — first time it happened in this country — to form a council of workers from the same company from around the world.
Just one other example, and I'll just throw out some suggestions to those of you who are here from the wonderful student movement and what you've already accomplished, and I'm not suggesting at all that you distract yourselves from the focus that you have, but you know what? It is very likely that there is not a building on a campus in North America that doesn't have GE inside it, inside the walls or in the equipment in that building. In one of the workshops just before this one, talked about capital and pension funds and so forth. It is very unlikely — we've researched this — almost every major university and college has in its portfolio GE stock. You could wage a struggle about how your trustees at your university vote that stock on these issues, for example, these fundamental issues. I suspect GE comes and recruits on your campuses. Those of us during the antiwar movement remember Dow coming to try to recruit on the campuses and what happened around that. GE gives and receives research from your universities of major proportions, right? There are all kinds of natural links between the struggles of these workers and the opportunities for the student movement to expand its idea about the word "sweatshop."
AMY GOODMAN: Bob Muehlenkamp, coordinator of a fourteen-union campaign at General Electric, General Electric, which also owns NBC. Its profits last year, just around NBC, were more than a billion dollars. He was speaking last weekend at a conference in New York called "Labor's Next Century: Alliances, Sweatshops and the Global South."